---
New Books - May & June 2005
---
This section contains books added to the website during May and June 2005 and allows customers to quickly find our new stock. All items listed here are also listed in the appropriate section within the main Books category. Items in this section are listed by category - click on the category heading to go to the full listing of the books in that category.
All books are British hardback editions without dustwrapper (D/W) unless otherwise stated. A description of the condition of each book is given using the following terms/abbreviations:
Mint - as new; VG - very good condition; Good - obviously used but complete with no major faults; Ex library - from a public or school library and may contain the occasional stamp or label but in many cases this is the only indication.
As stock is continually changing please email Tennis Collectables with a list of the item(s) you are interested in. We will then get back to you with details of postage costs. All prices include postage within the UK; overseas customers will be charged postage – it costs around $6 to send an average hardback book by Priority Airmail to the USA. We can accept payment by Credit Card (Visa, Mastercard and American Express), PayPal, Sterling cheques and Postal Orders, Switch/Maestro, and International Money Orders in sterling.
---
---
2. BIOGRAPHIES - MEN
BORIS BECKER
THE PLAYER: THE AUTOBIOGRAPHY` - BORIS BECKER WITH ROBERT LUBENOFF & HELMUT SORGE. Bantam; 2004 1st Edition; 306 pages. Candid autobiography in which Boris Becker tells the real story behind the headlines – winning Wimbledon at 17, tax evasion, marriage, illegitimate daughter, painful divorce and his emotions at the end of his tennis career.
VG in VG D/W (ex library copy with usual inkstamps and labels) £12.50 (approx $21.25)

BJORN BORG
BORG VERSUS MCENROE: THE GREATEST RIVALRY THE GREATEST MATCH - MALCOLM FOLLEY. Headline; 2005 1st Edition; 214 pages. A look at the professional rivalry between Bjorn Borg and John McEnroe, which was encapsulated in their epic 1980 Wimbledon Final. 16 pages of b&w photos.
Mint in Mint D/W £17.50 (approx $29.75)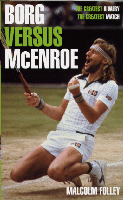 PAT CASH
UNCOVERED: THE AUTOBIOGRAPHY OF PAT CASH - PAT CASH. Greenwater; 2002 1st Edition; 333 pages. Pat Cash's controversial autobiography. 16 pages of photos.
Near Mint in lightly edgeworn D/W £20.00 (approx $34.00)

JOHN MCENROE
BORG VERSUS MCENROE: THE GREATEST RIVALRY THE GREATEST MATCH - MALCOLM FOLLEY. Headline; 2005 1st Edition; 214 pages. A look at the professional rivalry between Bjorn Borg and John McEnroe, which was encapsulated in their epic 1980 Wimbledon Final. 16 pages of b&w photos.
Mint in Mint D/W £17.50 (approx $29.75)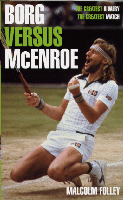 ANDY RODDICK
COMING OF AGE: ANDY RODDICK'S BREAKTHROUGH YEAR – TOM & BETH DONELSON. iUniverse Inc; 2004 1st US Softcover Edition; 174 pages. A year in the tennis life of Andy Roddick. The book follows him on the 2003 tennis tour in which he breaks through into the top flight. 9 pages of b&w photos.
Mint £20.00 (approx $34.00)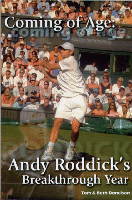 ---
---
4. COMPILATION BIOGRAPHIES
BORG VERSUS MCENROE: THE GREATEST RIVALRY THE GREATEST MATCH - MALCOLM FOLLEY. Headline; 2005 1st Edition; 214 pages. A look at the professional rivalry between Bjorn Borg and John McEnroe, which was encapsulated in their epic 1980 Wimbledon Final. 16 pages of b&w photos.
Mint in Mint D/W £17.50 (approx $29.75)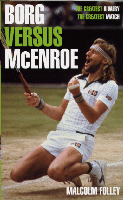 ---
5. FITNESS, TRAINING & SPORTS MEDICINE
---
---
7. HISTORIES OF MAJOR LAWN TENNIS TOURNAMENTS
FRENCH OPEN

WIMBLEDON

DAVIS CUP

---
8. HUMOROUS BOOKS
PLAYING THE MOLDOVANS AT TENNIS – TONY HAWKS. Ebury Press; 2001 Paperback Edition; 258 pages. The unpredictable and often hilarious account of Tony Hawks attempt to beat each member of the Moldovan national football team at tennis. 8 pages of photos.
VG £6.50 (approx $11.05)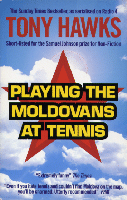 ---
9. INSTRUCTION AND COACHING TO 1918

---
10. INSTRUCTION AND COACHING 1919 TO 1930
---
11. INSTRUCTION AND COACHING 1931 TO 1980
ART OF LAWN TENNIS - WILLIAM T TILDEN. Methuen. Tilden's classic book on the techniques and fundamentals of the game of tennis. Illustrated by photographs of Tilden.
1935 10th Edition; 96 pages. VG in lightly worn D/W £15.00 (approx $25.50)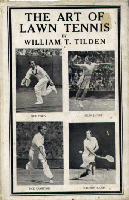 LAWN TENNIS: HOW TO SUCCEED - F R BURROW. Evans Brothers; 1933 1st Softcover Edition; 48 pages. An instructional booklet which covers the basics and is well supported by photos of the stars in action including Bill Tilden, Suzanne Lenglen, Betty Nuthall.
VG (small patch of surface damage to front cover) £12.50 (approx $21.25)

---
12. INSTRUCTION AND COACHING 1981 TO 2004

---
13. LAWN TENNIS ANNUALS
DUNLOP ANNUALS

WIMBLEDON ANNUALS

---
---
15. MEDIA GUIDES
WOMENS TOUR
2004 WTA & ATP Official Guide to Professional Tennis containing both ATP & WTA media guides; Justine Henin/Andy Roddick; approx 800 pages (bump to lower corner) £25.00 (approx $42.50)



MENS TOUR
2004 WTA & ATP Official Guide to Professional Tennis containing both ATP & WTA media guides; Justine Henin/Andy Roddick; approx 800 pages (bump to lower corner) £25.00 (approx $42.50)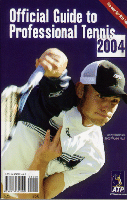 FRENCH OPEN

WIMBLEDON

US OPEN

DAVIS CUP

OTHER MEDIA GUIDES

---
---
---
18. REAL TENNIS, OTHER RACKET SPORTS & CROQUET

---
19. REFERENCE, ENCYCLOPAEDIAS & RECORD BOOKS
TOTAL TENNIS: THE ULTIMATE TENNIS ENCYCLOPEDIA - EDITED BY BUD COLLINS. Sport Media Publishing; 2003 1st US Edition; 938 pages. An enormous book which covers the history of tennis with detailed year-by-year reviews covering 1919-2002; Player Registers covering both Amateur & Open Eras; History, Winners & Records from all the Grand Slams, Fed Cup, Davis Cup, Wightman Cup & Olympics; Biographies of 175 top players; Results & Statistics from WTA & ATP Tours. Over 150 photos including a colour photo section.
Near Mint in Near Mint D/W (small piece missing from rear inner flap of jacket) £30.00 (approx $51.00)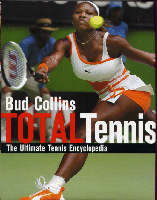 ---
---
21. TENNIS ANTHOLOGIES & QUOTATIONS

---
22. TENNIS ART & PHOTOGRAPH BOOKS

---
23. TENNIS COURT CONSTRUCTION & MAINTENANCE

---
24. TENNIS TRIVIA & QUIZ BOOKS

---
25. WTA ATP & ITF OFFICIAL RULEBOOKS

---