---
Instruction & Coaching Books
1931 to 1980
---
This section contains Coaching/Instruction books published between 1931 and 1980. The books are listed in alphabetic order of title.
All books are British hardback editions without dustwrapper (D/W) unless otherwise stated. A description of the condition of each book is given using the following terms/abbreviations:
Mint - as new; VG - very good condition; Good - obviously used but complete with no major faults; Ex library - from a public or school library and may contain the occasional stamp or label but in many cases this is the only indication.
As stock is continually changing please email Tennis Collectables with a list of the item(s) you are interested in. We will then get back to you with details of postage costs. All prices include postage within the UK; overseas customers will be charged postage – it costs around $6 to send an average hardback book by Priority Airmail to the USA. We can accept payment by PayPal, Sterling cheques and Postal Orders, and International Money Orders in sterling.
---
ADVANCED TENNIS FOR COACHES TEACHERS AND PLAYERS - GUNDARS TILMANIS. Lea & Febiger; 1974 1st US Softcover Edition; 126 pages. Aimed particularly at coaches this book gives an understanding of the mechanics involved in playing tennis. There are a large number of routines to facilitate group teaching. Well illustrated with many action photos.
VG (covers faded at spine) £12.50 (approx $21.25)

AMERICA'S TENNIS BOOK - CURTIS W CASEWIT. Scribners; 1975 1st US Edition; 214 pages. Comprehensive guide to tennis covering equipment, techniques of play, tennis related careers and a survey of tennis resort schools & ranches. Many photographs.
VG in edgeworn D/W £11.50 (approx $19.55) SOLD OUT

ANATOMY AND PSYCHOLOGY OF TENNIS - R A FISH. Fish; 1968 2nd Revised Softcover Edition; 121 pages. 20 biographical sketches support the author's methods on how to play tennis and what it takes to become a champion.
Near Mint £7.50 (approx $12.75)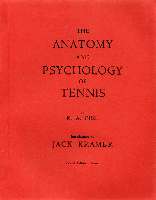 ART OF LAWN TENNIS - WILLIAM T TILDEN. Methuen. Tilden's classic book on the techniques and fundamentals of the game of tennis. Illustrated by photographs of Tilden.
1935 10th Edition; 96 pages. VG in lightly worn D/W £15.00 (approx $25.50) SOLD OUT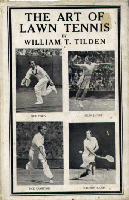 1947 11th Edition; 96 pages. VG £10.00 (approx $17.00)
<![if !supportLineBreakNewLine]>
<![endif]> ART OF TENNIS - HENRI COCHET. Jarrolds; 1936 1st Edition; 182 pages. One of the 4 Musketeers writes about how he plays tennis. Each chapter deals with a particular stroke or position on the court, together with useful suggestions on keeping fit. Many action photographs.
VG in worn D/W £25.00 (approx $42.50) SOLD OUT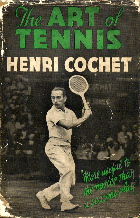 ART OF TENNIS - EDITED BY ALAN TRENGOVE. Hodder & Stoughton; 1964 1st Edition; 192 pages. 10 champions write on aspects of game that made them famous - Rosewall on backhand and dropshot & half volley, Gonzales on serve, Laver on being left handed, Gimeno on forehand, Hoad on volley and lobbing & smashing, Segura on singles, Trabert on doubles, Sedgman 'Talent is not enough', and Budge 'Don't give up at 50'. Illustrated by 25 b&w photos.
VG in lightly edgeworn D/W £15.00 (approx $25.50) SOLD OUT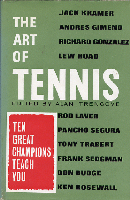 <![if !supportLineBreakNewLine]>
<![endif]> BATHROOM TENNIS - ALAN S BOLTIN. Ballantine; 1978 1st US Edition; 64 pages. '8 minutes a day to learn, improve and maintain your tennis game at home'. Includes a special training programme that can be done each day in the bathroom.
VG £10.00 (approx $17.00)

BETTER TENNIS - HARRY HOPMAN. Kaye & Ward; 1972 1st Edition; 96 pages. The top Australian coach passes on his knowledge to the younger player. Many photos.
VG in VG D/W £10.00 (approx $17.00)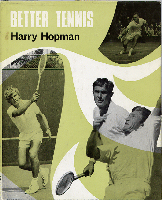 BETTER TENNIS - HAZEL HOTCHKISS WIGHTMAN. George Allen & Unwin; 1933 1st Edition; 131 pages. Mrs Wightman includes details of her own tennis career as well as setting out the principles necessary to develop a good game. B&W photos.
VG in worn and torn D/W (loss to base of spine) £20.00 (approx $34.00)
CHAMPIONSHIP TENNIS - MAUREEN CONNOLLY. Muller; 1954 1st Edition; 81 pages. Many classic photos of 'Little Mo' in this mainly coaching book.
VG in damaged D/W £7.50 (approx $12.75)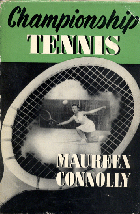 COACHING TIPS FOR YOUNG TENNIS PLAYERS - DAN MASKELL. Small 6 page booklet produced to advertise Dextrosol glucose tablets in which Dan Maskell gives basic coaching tips. Not dated but ?1950s.
VG £5.00 (approx $8.50)

COMPETITIVE TENNIS A GUIDE FOR PARENTS AND YOUNG PLAYERS - DAVID A BENJAMIN. Lippincott; 1979 1st US Edition; 168 pages. A practical guide for preparing young players for the rigours of tournament tennis. Part 2 of the book covers the 1978 NCAA Championships with special reference to the emergence of John McEnroe
VG in VG D/W £15.00 (approx $25.50)

COMPLETE LAWN TENNIS PLAYER – NORMAN H PATTERSON. A&C Black; 1956 3rd Edition; 198 pages. A clear comprehensive and well-illustrated guide to the principles, theory and practice of the game of lawn tennis. 24 pages of b&w photos of the top players demonstrating the shots. For all levels of player.
VG in worn D/W (some loss to upper edge) £12.50 (approx $21.25)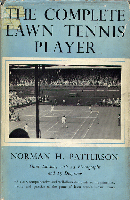 COVERING THE COURT – EDWARD T CHASE. Doubleday; 1976 1st US Edition; 63 pages. Part of the USTA instructional series this book concentrates on improving your ability to cover the court and keep maximum pressure on your opponent.
VG in VG D/W £10.00 (approx $17.00)
ELLSWORTH VINES QUICK WAY TO BETTER TENNIS - ELLSWORTH VINES. Sun Dial Press; 1939 1st US Softcover Edition; 76 pages. Large format book with over 200 large action photographs of Vines showing how to prepare for and play all the strokes.
Good (cover is detached and has creasing/wear/marks and is splitting at spine; staples rusting) £40.00 (approx $68.00) SOLD OUT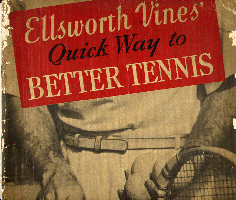 <![if !supportLineBreakNewLine]>
<![endif]>EXTRAORDINARY TENNIS FOR THE ORDINARY PLAYER - SIMON RAMO. Crown; 1970 US Softcover Edition; 158 pages. Subtitled 'Winning strategy for the tennis enthusiast who plays for fun' this humorously written book concentrates on teaching the ordinary player how to beat his opponent without prolonged practice and training.
VG £5.00 (approx $8.50)
GAME OF SINGLES IN TENNIS - W F TALBERT & B S OLD. Lippincott; 1962 1st US Edition; 151 pages. A complete course in singles for every player from beginner to tournament champions. Profusely illustrated with drawings and diagrams.
VG in worn D/W £12.50 (approx $21.25) SOLD OUT

GAME'S THE SAME - SIR JOHN SMYTH. Cassell; 1956 1st Edition; 104 pages. Discussion of the styles, strokes and court behaviour of leading players with analogies drawn from stars of other sports.
VG in VG D/W £7.50 (approx $12.75)
HANDBOOK FOR COACHING LAWN TENNIS - EVELYN DEWHURST. Dewpool School of Lawn Tennis; 1963 New & Revised Softcover Edition; 77 pages. How to teach lawn tennis, with exercises and gamelike situations to help improve your pupils play.
VG £8.50 (approx $14.45)

HOW TO BEAT BETTER TENNIS PLAYERS - LORING FISKE. Doubleday; 1970 1st US Edition; 296 pages. Fiske uses his 35 years experience to help you develop a winning style.
VG in edgeworn D/W £12.50 (approx $21.25)

HOW TO IMPROVE YOUR TENNIS - HARRY 'CAP' LEIGHTON. Athletic Institute; US 1960s Softcover Edition; 82 pages. Many photographs and amusing cartoons illustrate the essentials.
Good £6.00 (approx $10.20)

HOW TO PLAY AND WIN AT TENNIS - PANCHO GONZALES & DICK HAWK. Souvenir Press; 1963 1st UK Edition; 123 pages. Pancho Gonzales explains every aspect of the game from gripping the racket through to psychology of winning. Many illustrative photographs.
VG (front endpaper removed, remains of brown label to back of front board) £7.50 (approx $12.75) SOLD OUT
<![if !supportLineBreakNewLine]>
<![endif]> HOW TO PLAY CHAMPIONSHIP TENNIS - OSCAR FRALEY. Nicholas Kaye, 1960 Revised Edition; 98 pages. Coaching manual which devotes separate chapters to each of the main strokes. Illustrated by action photographs of top players such as Rosewall, Hoad, Connolly and Hart.
VG in worn D/W £12.50 (approx $21.25)

HOW TO PLAY CHAMPIONSHIP TENNIS - ROD LAVER & JACK POLLARD. MacMillan; 1968 4th US Printing; 148 pages. Laver on how to play championship tennis. Includes anecdotes from his own experience.
VG in edgeworn D/W £10.00 (approx $17.00)

HOW TO PLAY MIXED DOUBLES - BILLIE JEAN KING & FRED STOLLE. Simon & Schuster; 1980 1st US Edition; 191 pages. This coaching book concentrates on how to play mixed doubles better, enjoy it more and win more often! Written by two of the greats of the mixed game.
VG in VG D/W £20.00 (approx $34.00)

HOW TO PLAY TENNIS - EDITED BY P CASSIDY. Mirror Books; 1980 Softcover Edition; 127 pages. Using picture strips this book takes the beginner through the rules and elementary techniques onto tactics, strategy and competition play. Bjorn Borg on cover.
Good £3.00 (approx $5.10)

HOW TO PLAY TENNIS: THE BEASLEY SYSTEM OF TENNIS INSTRUCTION - MERCER BEASLEY. Garden City Publishing Co Inc; 1937 US Edition; 174 pages. This book details the Mercer Beasley System of Tennis Instruction; his pupils included Ellsworth Vines, Frank Parker and Wilmer Allison. 'Whether you play tennis seriously or just for exercise you can't afford to miss the advice of Beasley on how to play tennis'. 30 pages of b&w photos, some showing top players in action.
VG in worn D/W (minor insect damage to rear board) £22.50 (approx $38.25) SOLD OUT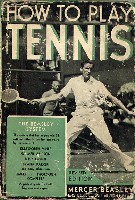 HOW TO PLAY TENNIS THE PROFESSIONAL WAY - EDITED BY ALAN TRENGOVE. Simon & Schuster; 1964 1st US Edition; 160 pages. Top players such as Rosewall, Laver, Gonzales, Hoad, Budge contribute chapters aimed at improving your standard of play. Many photographs.
VG in edgeworn D/W £12.50 (approx $21.25)

HOW TO PLAY TOP NOTCH TENNIS – KRAMER, CONNOLLY, TRABERT, HARDWICK & KING. Wilson Sporting Goods Co; 1968 1st US Softcover Edition; 24 pages. Booklet containing coaching advice from 5 all-time greats – Jack Kramer on forehand drive, Tony Trabert on backhand drive, Mary Hardwick on service, Billie Jean King on volleying, and Maureen Connolly on practice and tournament play. Also contains Rules of Lawn Tennis.
VG in VG D/W £12.50 (approx $21.25) SOLD OUT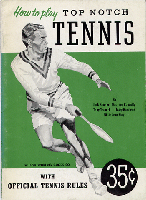 HOW TO PLAY WINNING TENNIS - ROD LAVER & JACK POLLARD. Pelham; 1964 1st UK Edition; 112 pages. Laver tells how to play championship tennis and includes anecdotes from his own spectacular experience. 24 pages of b&w photos.
VG in worn D/W (some loss to upper edge) £12.50 (approx $21.25)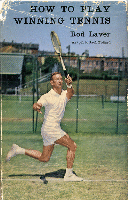 <![if !supportLineBreakNewLine]>
<![endif]> HOW TO WIN AT LADIES DOUBLES - ALLEGRA CHARLES. Arco; 1975 1st US Softcover Edition; 151 pages. Strategies and tactics, concentration, conditioning and practice, 'gameswomanship' and how to develop winning habits when playing ladies doubles. First coaching book devoted to the ladies doubles game.
VG (edges of covers lightly creased) £12.00 (approx $20.40)
INITIATION AU TENNIS: PRINCIPES ESSENTIELS ET PREPARATION PHYSIQUE - SUZANNE LENGLEN AND MARGARET MORRIS. Albin Michel; 1937 1st French Softcover Edition; 159 pages. French language book in which Suzanne Lenglen outlines what you need to do to improve your tennis with 17 black and white photos of Suzanne demonstrating the strokes. The second section of the book is 'a set of exercises giving the exact positions for each stroke, to develop the necessary muscles and establish good habits'!
VG £50.00 (approx $85.00)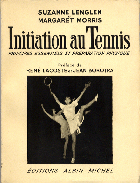 INNER GAME OF TENNIS - W TIMOTHY GALLWEY. Cape; 1975 1st Edition; 141 pages. Classic book which focuses on the mind of the player and how to solve nervousness, self doubt & lapses of concentration.
VG in VG D/W £12.50 (approx $21.25)

INSIDE TENNIS FOR WOMEN - LESLEY HUNT. Contemporary Books; 1978 1st US Softcover Edition; 126 pages. Instruction book geared to the female player which covers the fundamentals plus tactics, psyching-up, conditioning and equipment. Many photos.
VG £12.50 (approx $21.25) SOLD OUT

INTRODUCING TENNIS - GEOFFREY CLAYTON. John Crowther; 1946 1st Edition; 45 pages. A good little coaching manual which contains 34 line illustrations demonstrating the strokes.
VG £10.00 (approx $17.00)
KEN ROSEWALL ON TENNIS WITH STEP-BY-STEP PHOTOGRAPHIC INSTRUCTIONS - KEN ROSEWALL. Coles; 1978 US Softcover Edition; 173 pages. Lots of action photographs of Ken Rosewall illustrate this coaching manual aimed at the young beginner.
VG £12.50 (approx $21.25)

KNOW THE GAME: LAWN TENNIS. EP Publishing; 1953 Revised Paperback Edition; 40 pages. Detailed description of principal strokes and the rules. Many illustrations.
VG (some discolouration to left edge of front cover) £2.50 (approx $4.25)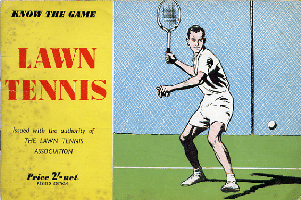 KNOW THE GAME: LAWN TENNIS. EP Publishing; 1967 7th Paperback Edition; 40 pages. Detailed description of principal strokes and the rules. Many illustrations.
Good (covers lightly creased) £2.50 (approx $4.25)

KNOW THE GAME: LAWN TENNIS. EP Publishing; 1968 8th Paperback Edition; 40 pages. Detailed description of principal strokes and the rules. Many illustrations.
VG £2.50 (approx $4.25)

KNOW THE GAME: LAWN TENNIS. EP Publishing; 1973 11th Paperback Edition; 40 pages. Detailed description of principal strokes and the rules. Many illustrations.
VG £2.50 (approx $4.25)

KNOW THE GAME: LAWN TENNIS. EP Publishing; 1977 Reprint Paperback Edition; 40 pages. Detailed description of principal strokes and the rules. Many illustrations.
VG £2.50 (approx $4.25)

LAWN TENNIS - L A GODFREE & H B T WAKELAM. Dent; 1937 1st Edition; 233 pages. Excellent coaching manual with beautifully clear action photographs of all the main strokes. Also includes photos of all the leading players of the era.
VG £12.50 (approx $21.25)

LAWN TENNIS – C M JONES. Arco; 1961 1st Softcover Edition; 168 pages. Comprehensive guide to tennis with coaching guide and advice from the champions. Illustrated by b&w photos.
VG £5.00 (approx $8.50)

LAWN TENNIS - LOUIS T STANLEY. Hutchinson's; 1951 1st Edition; 128 pages. Analytical studies of the world's greatest players illustrated by many fascinating photos of over 75 players including Hart, Moran, Sedgman, Drobny, Borotra, von Cramm, Savitt, Larsen, Seixas.
VG in worn D/W £15.00 (approx $25.50)

LAWN TENNIS -'VANTAGE'. Warne; 1931 Paperback Edition; 64 pages. A little coaching manual aimed at the beginner.
VG but some damage to spine and marks to covers £5.00 (approx $8.50)

LAWN TENNIS A STEP-BY-STEP BOOK - MIKE DAVIES. Museum Press; 1962 1st Edition; 89 pages. Instruction manual by the former British Number 1 aimed at the young beginner but will also help more advanced players to improve their technique. 24 pages of black and white photographs.
VG in lightly edgeworn D/W (ex library copy but only indications are remains of labels on endpapers) £10.00 (approx $17.00) SOLD OUT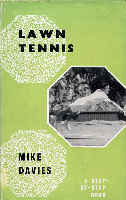 <![if !supportLineBreakNewLine]>
<![endif]> LAWN TENNIS FOR BEGINNERS - JOHN OLLIFF. W & G Foyle; 1954 3rd Edition; 82 pages. Coaching manual covering all the strokes, and looks at the techniques of the stars. 4 pages of b&w photos.
Good (wear to paper covering the spine) £5.00 (approx $8.50)

LAWN TENNIS FOR CLUB PLAYERS - WILLIAM T TILDEN. Methuen; 1933 3rd Edition; 57 pages. Coaching manual for the average player. Contains 11 photographs including Suzanne Lenglen and Kitty McKane.
VG (covers faded) £12.50 (approx $21.25)

LAWN TENNIS FOR MEN - C R D TUCKEY. Blackie & Sons; 1937 1st Edition; 88 pages. Instruction book with excellent flicker photo series on serve, forehand, backhand & volley.
Good in very worn D/W £12.50 (approx $21.25)
VG £12.50 (approx $21.25)

LAWN TENNIS FOR SCHOOLS - J T HANKINSON. George Allen & Unwin; 1951 1st Edition; 51pages plus 48 illustrative plates. An instruction book illustrated with photos of both young players and 'lifelike puppets'.
VG in worn D/W £7.50 (approx $12.75)

LAWN TENNIS FOR WOMEN - MARY HARDWICK. Blackie & Sons; 1937 1st Edition; 88 pages. Instruction book covering all the main strokes plus tactical hints. Book contains excellent flicker photo series demonstrating the serve, forehand drive, backhand drive & backhand volley.
VG £10.00 (approx $17.00)

LAWN TENNIS: HOW TO BECOME A CHAMPION - MARK COX. William Luscombe; 1975 1st Softcover Edition; 123 pages. Coaching book which is well illustrated by photographs of the top pros - Evert, Connors, Nastase, Rosewall, Laver and Smith.
VG (cover marked) £5.00 (approx $8.50) SOLD OUT

LAWN TENNIS: HOW TO MASTER THE STROKES - JOY MOTTRAM & STANLEY DOUST. Foulsham; 1952 1st Paperback Edition; 91 pages. Coaching manual aimed at the club player who wishes to enter matches and tournaments. Contains full rules of the game and 4 pages of b&w photos.
VG in worn D/W £5.00 (approx $8.50)

LAWN TENNIS: HOW TO SUCCEED - F R BURROW. Evans Brothers; 1933 1st Softcover Edition; 48 pages. An instructional booklet which covers the basics and is well supported by photos of the stars in action including Bill Tilden, Suzanne Lenglen, Betty Nuthall.
VG (small patch of surface damage to front cover) £12.50 (approx $21.25)


<![if !supportLineBreakNewLine]>
<![endif]> LAWN TENNIS MADE EASY - BUNNY AUSTIN. Methuen; 1935 1st Edition; 109 pages. A coaching book detailing the Austin/Caulfield System, as promoted by the British Davis Cup player. Many photographs of Austin demonstrating the strokes.
VG £12.50 (approx $21.25) SOLD OUT

LAWN TENNIS MANUAL OF INSTRUCTION - COMPILED BY C M JONES. British Lawn Tennis & Squash; 1951 3rd Edition; 96 pages. 9 well known contributors pass on instructional tips - Doris Hart, Dan Maskell, Bobby Riggs, Alice Marble, Jack Kramer, Ted Schroeder, Margaret Du Pont, GP Hughes. Illustrated by b&w photos throughout the book.
VG in remains of D/W £12.50 (approx $21.25) SOLD OUT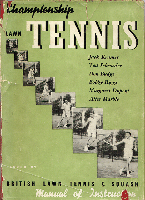 <![if !supportLineBreakNewLine]>
<![endif]> LAWN TENNIS SIMPLIFIED - TED BUDRODEEN. Budrodeen; 1935 1st Australian Softcover Edition; 33 pages. 'A modern treatise for aspiring players and beginners' which covers the basics and is illustrated by b&w photos of Ted Budrodeen.
Good (staples rusted and light foxing throughout) £20.00 (approx $34.00) SOLD OUT

LAWN TENNIS TECHNIQUE, TRAINING & TACTICS – D W GRESHAM & A E MILLMAN. Bell; 1953 1st Edition; 128 pages. Good coaching manual by two professional coaches. Includes 16 page photo section featuring Ken McGregor, Frank Sedgman and Maureen Connolly.
Good £7.50 (approx $12.75)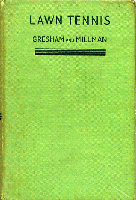 <![if !supportLineBreakNewLine]>
<![endif]> LAWN TENNIS THE AUSTRALIAN WAY - ED BY JACK POLLARD. Lansdowne Press; 1963 1st Australian Edition; 143 pages. An interesting book in which 22 leading Australians outline their simple, practical methods of play. Includes 'how to' chapters by Sedgman, Crawford, Hoad, Smith, Emerson, Laver. Many photos.
VG in lightly edgeworn D/W £20.00 (approx $34.00) SOLD OUT

LAWN TENNIS THE AUSTRALIAN WAY - ED BY JACK POLLARD. Angus & Robertson; 1964 1st Edition; 143 pages. An interesting book containing 'how to' chapters by all the greats of Australian tennis - Sedgman, Crawford, Hoad, Smith, Emerson, Laver et al.
VG in edgeworn D/W £17.50 (approx $29.75)

LE TENNIS - YVON PETRA. Bornemann; 1963 French Softcover Edition; 80 pages. French language coaching book written by the French Champion. Illustrated with line drawings.
VG £7.50 (approx $12.75)

LET'S PLAY TENNIS - ROBIN DAVISON-LUNGLEY. Octopus; 1980 Reprint Edition; 96 pages. Large format comprehensive introduction to tennis for the younger player with lots of colour photos and illustrations and a chapter on the history of the game.
VG £7.50 (approx $12.75)
MASTER STROKES OF THE TENNIS STARS - C M JONES. British Lawn Tennis & Squash; 1952 1st Softcover Edition; 30 pages. Booklet which contains photo sequences of top players in action - includes Sedgman, Talbert, Larsen, Trabert, Savitt, Hart and Patty.
VG £15.00 (approx $25.50)

MODERN LAWN TENNIS - DOROTHY ROUND. Newnes; 1934 1st Edition; 106 pages. Coaching manual written by one of Britain's leading ladies of the 1930s. 8 pages of b&w photos.
VG (spine discoloured; light foxing throughout) £20.00 (approx $34.00)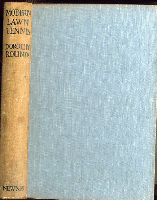 <![if !supportLineBreakNewLine]>
<![endif]> MODERN TENNIS - HELEN HULL JACOBS. Bobbs-Merrill; 1933 1st US Edition; 220 pages. Predominantly a coaching book but contains many anecdotes about her fellow players.
VG (spine faded and edges of cover lightly frayed/rubbed) £35.00 (approx $59.50)

MODERN TENNIS DOUBLES - STAN SMITH & BOB LUTZ. Atheneum; 1975 1st US Edition; 150 pages. A direct and uncomplicated approach to doubles by one of America's top doubles teams.
VG £10.00 (approx $17.00)

MODERN TENNIS DOUBLES - STAN SMITH & BOB LUTZ. Angus & Robertson; 1976 1st UK Edition; 150 pages. A direct and uncomplicated approach to doubles by one of America's top doubles teams.
VG in VG D/W £12.50 (approx $21.25)


<![if !supportLineBreakNewLine]>
<![endif]> OLLIFF ON TENNIS - JOHN OLLIFF. Eyre & Spottiwoode; 1948 1st Edition; 188 pages. Coaching manual concentrating on match play and the tactical side of the game. Lots of analysis of top players games and anecdotes from the authors life in tennis. 16 pages of b&w photos.
VG in edgeworn D/W (2 areas of small loss to jacket at spine) £12.50 (approx $21.25) SOLD OUT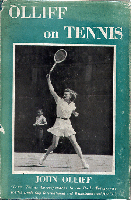 <![if !supportLineBreakNewLine]>
<![endif]>PHOTOGRAPHIC GUIDE TO TENNIS FUNDAMENTALS - DAVID LITZ. Arco; 1978 1st US Edition; 110 pages. Aimed at the average player this large format coaching book explains the basics of the game as well as giving advice on strategy and psychology. Many photographs.
VG in edgetorn D/W £7.50 (approx $12.75)

PLAYING TENNIS - SUE BARKER. Batsford; 1979 1st Edition; 133 pages. Coaching hints from Britain's former No 1 plus an insight into life as a professional.
VG in VG D/W £7.50 (approx $12.75) SOLD OUT

PLAY TENNIS THE 'TEACH' TENNANT WAY - ELEANOR 'TEACH' TENNANT. The Evening News; 1952 Softcover Edition; 32 pages. 24 tennis lessons reprinted from The Evening News in which Bobby Wilson and Maureen Connolly demonstrate the strokes.
VG £15.00 (approx $25.50)
Good (some browning to the pages and staples rusting) £7.50 (approx $12.75)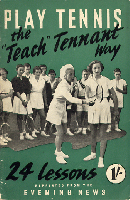 <![if !supportLineBreakNewLine]>
<![endif]> POWER TENNIS - MAUREEN CONNOLLY. Barnes; 1954 1st US Edition; 85 pages. The American edition of 'Championship Tennis'. Many photographs of 'Little Mo' demonstrating the correct way to play in this mainly coaching book.
VG (pages browning at edges) £12.50 (approx $21.25)
PSYCHO-DYNAMIC TENNIS - ETHAN GOLOGOR. Morrow; 1979 1st US Edition; 227 pages. 'You, your opponent and other obstacles to perfection'. How to improve your understanding of tennis and thus your game itself.
VG in edgeworn D/W £12.50 (approx $21.25)
QUICK WAY TO BETTER TENNIS - A J MOTTRAM. Le-Roye Productions; 1952 1st Edition; 61 pages. The former British number 1 has produced a coaching manual which is illustrated by frame-by-frame action photographs of the author.
VG in damaged D/W £6.50 (approx $11.05)

R F & H L DOHERTY ON LAWN TENNIS - R F & H L DOHERTY. Lawn Tennis & Badminton; 1932 Reprinted Edition; 87 pages. The classic book by the British brothers describes their methods of play and includes an appreciation of The Dohertys by Scrivener. A scarce book.
VG (minor wear to covers, front endpaper removed) £100.00 (approx $170.00)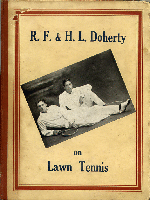 ROD LAVER'S TENNIS DIGEST - EDITED BY ROD LAVER & BUD COLLINS. Follett Publishing; 1973 1st US Softcover Edition; 288 pages. A variety of articles in this large format book covering instruction, personalities and styles of play.
VG (cover marked) £10.00 (approx $17.00)

ROD LAVER'S TENNIS DIGEST: NEW 2ND EDITION - EDITED BY LAVER & COLLINS. Follett Publishing; 1975 Softcover Edition; 288 pages. A second volume covering instruction, personalities, tournaments and styles of play.
VG (cover slightly creased) £10.00 (approx $17.00)
SINISTER TENNIS: HOW TO PLAY AGAINST AND WITH LEFT HANDERS - PETER SCHWED. Pelham; 1976 1st UK Edition; 94 pages. Strategy for playing with and against left handers.
VG in VG D/W £10.00 (approx $17.00)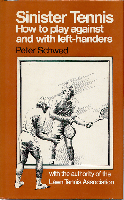 SIX INSIDIOUS TRAPS OF COLLEGE TENNIS & HOW TO AVOID THEM! - GORDON HULL. Goodworth; 1979 1st US Edition; 212 pages. The author uses his experience in tennis to outline what every player (and parent) should know before they enrol for college. 11 successful college coaches also give their advice.
VG in VG D/W £12.50 (approx $21.25)

SKILLS AND TACTICS OF TENNIS - TONY MOTTRAM. Marshall Cavendish; 1980 Softcover Edition; 152 pages. How to master all the essential skills. Plenty of step-by-step illustrations plus action photographs of the pros. Bjorn Borg on front cover.
VG (ex library copy although only indication is small inkstamp and small label on front endpaper) £5.00 (approx $8.50) SOLD OUT

SPORTS ILLUSTRATED BOOK OF TENNIS. Lippincott; 1961 1st US Edition; 89 pages. Players such as Don Budge demonstrate the fundamentals of the game. Many illustrations.
VG in edgeworn D/W £10.00 (approx $17.00)

START LAWN TENNIS WITH DAN MASKELL: THE LTA BOOK FOR THE YOUNG PLAYERS. George Allen & Unwin; 1963 1st Softcover Edition; 64 pages. Useful little coaching book for the beginner containing 16 plates of instructional photos.
VG £8.00 (approx $13.60)
<![if !supportLineBreakNewLine]>
<![endif]> STEADY GAME - MANOLO ORANTES WITH BARRY TARSHIS. Bantam; 1977 1st US Paperback Edition; 117 pages. The clay-court expert Orantes explains how to play better tennis on any surface. Contains 32 pages of photographs of Orantes in action.
VG but covers creased and small stain near spine £12.50 (approx $21.25)

STEPPING STONES TO BETTER TENNIS - R F STROUD. Privately published; ?1950s 1st Indian Edition; 72 pages plus adverts. Basic instruction with quizzes to test your knowledge. Flicker pictures for the forehand, backhand and serve.
VG in worn (some loss) D/W £15.00 (approx $25.50)

STROKE MINDER: BACKHAND. 1976 1st US Softcover Edition; approx 128 pages. An excellent flicker book showing Stan Smith demonstrating the backhand stroke. The colour photos show the stroke from 2 different angles.
VG £10.00 (approx $17.00)

STROKE MINDER: BACKHAND VOLLEY. 1976 1st US Softcover Edition; approx 128 pages. An excellent flicker book showing Stan Smith demonstrating the backhand volley. The colour photos show the stroke from 2 different angles.
VG £10.00 (approx $17.00)

STROKE MINDER: FOREHAND VOLLEY. 1976 1st US Softcover Edition; approx 128 pages. An excellent flicker book showing Stan Smith demonstrating the forehand volley. The colour photos show the stroke from 2 different angles.
VG £10.00 (approx $17.00)

STROKE MINDER: OVERHEAD. 1976 1st US Softcover Edition; approx 128 pages. An excellent flicker book showing Stan Smith demonstrating the overhead stroke. The colour photos show the stroke from 2 different angles.
VG £10.00 (approx $17.00)




SUCCESSFUL TENNIS - NEALE FRASER. Pelham; 1974 1st UK Edition; 80 pages. 'From beginner to expert in 40 lessons' from the Australian Davis Cup captain. Well illustrated with photographs of the top players.
VG in edgeworn D/W £10.00 (approx $17.00)
TACKLE LAWN TENNIS THIS WAY - ANGELA BUXTON. Stanley Paul; 1962 2nd impression; 132 pages. Coaching manual with plenty of technical advice plus biographical memories. 12 pages of b&w photos.
VG in edgeworn D/W (ex-school library copy with endpapers stuck to boards and usual inkstamps) £7.50 (approx $12.75)

TACTICS FOR TENNIS - DUDLEY GEORGESON. Georgeson; 1968 1st Softcover Edition; 34 pages. A privately produced booklet concentrating on tactical play. Includes suggestions for general, basic, counter and particular tactics and is aimed at both players and coaches.
VG (small split at spine) £7.50 (approx $12.75) SOLD OUT

TACTICS IN WOMEN'S SINGLES, DOUBLES & MIXED DOUBLES - REX LARDNER. Doubleday; 1975 1st US Edition; 135 pages. A comprehensive coaching book aimed specifically at the female player. Part of the USTA instructional series.
VG in VG D/W (upper edge of jacket trimmed) £10.00 (approx $17.00)

TEACHING CHILDREN TENNIS THE VIC BRADEN WAY - VIC BRADEN & BILL BRUNS. Little Brown; 1980 1st US Edition; 342 pages. What and how to teach the game of tennis to youngsters. Emphasis is on enjoyment of playing rather than winning at any cost. Detailed step-by-step instructions on teaching the basic strokes plus advice on teaching relationships - what to expect realistically, when to call it quits, how to handle hiring a coach and how to remain involved as an interested parent.
VG in VG D/W £15.00 (approx $25.50) SOLD OUT

TEACH YOURSELF LAWN TENNIS - F N S CREEK. EUP; 1952 1st Edition; 180 pages. Detailed lessons on all the strokes and tactics of the game.
VG in edgeworn D/W £5.00 (approx $8.50)

TENNIS - PANCHO GONZALES & DICK HAWK. Avenel; 1962 1st US Edition; 123 pages. Gonzales explains how to play and win at tennis. Also includes a history of Gonzales' career by Gladys Heldman.
VG in VG D/W £12.50 (approx $21.25) SOLD OUT

TENNIS - JOAN JOHNSON & PAUL XANTHOS. Brown & Benchmark; 1972 2nd US Softcover Edition; 80 pages. An American coaching book which covers all the basics in detail and with many illustrations and photographs.
VG £6.50 or $9.75
1993 6th US Softcover Edition; 166 pages. VG £8.50 (approx $14.45)

TENNIS - JAMES MEDLYCOTT. Macmillan; 1975 1st Edition; 89 pages. Published as part of the Leisure Guides series this useful little book covers the basics of playing and the major championships and champions. Many photographs. Bjorn Borg on front cover.
VG £3.50 (approx $5.95)

TENNIS - BARRY PELTON. Goodyear; 1980 3rd US Softcover Edition; 116 pages. Step by step explanations of the basics plus strategy, drills and correction of the six most common faults.
VG £5.00 (approx $8.50) SOLD OUT

TENNIS A TO Z - WILLIAM T TILDEN. Gollancz; 1950 1st Edition; 192 pages. Tilden passes on all he has learned of the game and shows you how to play better tennis.
VG in edgeworn D/W £17.50 (approx $29.75) SOLD OUT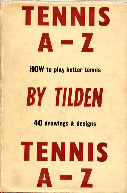 TENNIS DOUBLES: TACTICS AND FORMATIONS - PAUL METZLER. Sterling; 1975 1st Edition; 160 pages. An instructional book devoted to the doubles game. Aims to show you exactly where to position yourself and what tactics to use. Front cover shows action picture of Chris Evert and Jimmy Connors.
VG £10.00 (approx $17.00) SOLD OUT

TENNIS FOR EVERYONE - PAULINE BETZ ADDIE. Acropolis; 1973 1st US Softcover Edition; 119 pages. Coaching manual by the former US & Wimbledon champion with many illustrative photos of the author and other top players.
VG £10.00 (approx $17.00)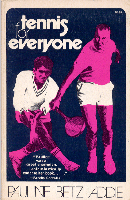 <![if !supportLineBreakNewLine]>
<![endif]> TENNIS FOR SCHOOLS - HARCOURT ROY. Pelham; 1974 1st Edition; 227 pages. A simplified instructional textbook aimed at both the PE specialist and the general teacher in introducing tennis to school children.
VG in VG D/W £12.50 (approx $21.25) SOLD OUT

TENNIS FOR WOMEN - EDITED BY FORD HOVIS. Angus & Robertson; 1975 1st UK Edition; 256 pages. 10 of world's top women players reveal how they improved their play. Over 400 photos.
VG in VG D/W £12.50 (approx $21.25) SOLD OUT

TENNIS FOR WOMEN - EDITED BY FORD HOVIS. Doubleday; 1980 US Softcover Edition; 256 pages. 10 of world's top women players reveal how they improved their play. Over 400 photos.
Good £10.00 (approx $17.00)

TENNIS FUNDAMENTALS - FRANK SEDGMAN. Reed; 1978 Revised & Updated Australian Softcover Edition; 79 pages. A coaching book in which Frank Sedgman analyses stroke production and basic techniques, and discusses advanced shots, net play, tactics and strategy. Illustrated by photos of Frank Sedgman demonstrating the correct methods
VG (light creasing to covers) £10.00 (approx $17.00) SOLD OUT

TENNIS GUIDE - C M JONES. Hamlyn; 1975 1st Softcover Edition; 96 pages. A useful pocket-sized handbook which contains playing tips & pointers, playing strategy, scoring, and advice to juniors and veterans. Includes Grand Slam & Davis Cup, top players of 1974 with drawn portrait (Connors, Rosewall, Borg, Evert, King & Wade).
VG £3.50 (approx $5.95)

TENNIS IN PICTURES - TOM OKKER. Sterling Publishing; 1975 US Edition; 160 pages. A coaching manual which is full of photographs of Tom Okker demonstrating the strokes. Also contains a short biography of Tom Okker.
VG £15.00 (approx $25.50)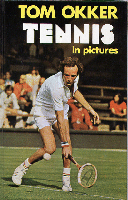 VG (Ex library copy with usual ink stamps and ticket holder removed) £10.00 (approx $17.00)

TENNIS INSTRUCTION FOR FUN AND COMPETITION - VIRGINIA KRAFT. Grosset & Dunlap; 1978 US Reprint Edition; 176 pages. From adult beginner to club tournament player in one season ! Over 100 photos illustrate the proper techniques.
VG £10.00 (approx $17.00)

TENNIS LOVE: A PARENTS' GUIDE TO THE SPORT - BILLIE JEAN KING & GREG HOFFMAN. MacMillan; 1978 1st US Edition; 164 pages. Billie Jean advises parents on guiding and motivating their children to play the game well and with a sense of fun and fulfilment. She enlists the help of Snoopy to illustrate the essentials.
VG in damaged D/W £12.50 (approx $21.25)

TENNIS MADE EASY - JOEL BRECHEEN. Wilshire; 1972 US Softcover Edition; 111 pages. The author gives many useful tips in this well illustrated little coaching book.
VG £5.00 (approx $8.50)

TENNIS PRACTICES AND EXERCISES - DUDLEY GEORGESON. Georgeson; 1966 1st Softcover Edition; 40 pages. A privately produced booklet full of exercises aimed at coaches. Includes competitive games and ball-sense and racket handling exercises.
VG (small splits at spine and crease to front cover) £7.50 (approx $12.75) SOLD OUT

TENNIS PROFESSIONAL'S NOTEBOOK - DUDLEY GEORGESON. Georgeson; ?1967 1st Softcover Edition; 41 pages. A privately produced booklet aimed at improving your tennis whatever your ability or ambition. Covers ball-sense, position, fitness, character and temperament.
VG (minor stains to some pages, small amount of highlighting to text) £7.50 (approx $12.75) SOLD OUT

TENNIS SIMPLIFIED FOR EVERYBODY - ELLSWORTH VINES. American Sports Publishing; 1933 1st US Softcover Edition; 125 pages. The basics of the game explained in an illustrated series of questions and answers. 35 full page photos of Vines demonstrating the strokes.
VG £30.00 (approx $51.00)

TENNIS TO WIN - BILLIE JEAN KING WITH KIM CHAPIN. Pelham; 1971 1st Edition; 157 pages. A good coaching book for the serious player from one of the world's best known players. Takes you from the fundamentals through to the sophisticated aspects of modern strategy.
VG in edgeworn D/W £8.50 (approx $14.45)

TENNIS TO WIN - BILLIE JEAN KING WITH KIM CHAPIN. Pelham; 1974 US Paperback Edition; 175 pages. A good coaching book for the serious player from one of the world's best known players. Takes you from the fundamentals through to the sophisticated aspects of modern strategy.
VG SIGNED ON TITLE PAGE BY BILLIE JEAN KING £25.00 (approx $42.50) SOLD OUT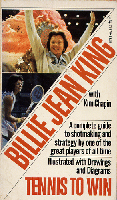 TENNIS UP TO TOURNAMENT STANDARD - ELLWANGER. EP Sport; 1977 Reprint; 119 pages. Coaching manual which sets out in simple practical form the basic ideas of the sports. All strokes are covered with photos and diagrams with grip, position, swing and striking the ball clearly explained.
VG £7.50 (approx $12.75)

UNDERHANDED SERVE OR HOW TO PLAY DIRTY TENNIS - REX LARDNER. Hawthorn; 1968 US Paperback Edition; 122 pages Strategy and psychological moves aimed at undermining your opponent in this humorous book. A valuable book for those players who find classic strokes alone are not enough to ensure victory!
VG £7.50 (approx $12.75)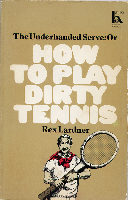 <![if !supportLineBreakNewLine]>
<![endif]> WATCH THE BALL, BEND YOUR KNEES, THAT'LL BE $20 PLEASE ! - ED COLLINS. Caroline House; 1977 1st US Softcover Edition; 216 pages. A compilation of 100 tennis instructional articles, with each article covering a step in learning tennis and with a practice drill to help you improve. Written in a very easy to read style, this is an instructional book containing plenty for players of all levels.
VG (light crease to rear cover) £15.00 (approx $25.50)
WINNING TENNIS - JACK KRAMER. Sampson Low; 1949 1st Edition; 203 pages. Jack Kramer explains how to acquire outstanding skill in tennis. He covers covers every phase of the game & offers advice to more advanced players. Illustrated throughout by many action photos of Jack Kramer.
VG in worn D/W £15.00 (approx $25.50) SOLD OUT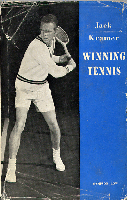 YOUNG SPORTSMAN'S GUIDE TO TENNIS - HELEN HULL JACOBS. Thomas Nelson; 1961 1st US Edition; 96 pages. Coaching book aimed at the complete beginner. Basic strokes all covered together with strategy and tactics. Many photographic illustrations of top players.
VG in edgeworn D/W £10.00 (approx $17.00)

YOUR SERVE - ARTHUR ASHE AND CLARK GRAEBNER. Grow Ahead Press; US Softcover Edition; 32 pages. In this 1970s book Arthur Ashe & Clark Graebner illustrate how to get more from your game. Book contains many line drawings of Ashe and Graebner in action.
VG £7.50 (approx $12.75)
---