---
Histories Of Major Lawn Tennis Tournaments
---
The following books contain detailed accounts of the major events on the international lawn tennis calendar. They contain many photographs and much statistical and record information. They have been subdivided into the following sections - Australian Open, French Open, US Open, Wimbledon and Davis Cup. For general histories of lawn tennis see section Histories of Lawn Tennis.
All books are British hardback editions without dustwrapper (D/W) unless otherwise stated. A description of the condition of each book is given using the following terms/abbreviations:
Mint - as new; VG - very good condition; Good - obviously used but complete with no major faults; Ex library - from a public or school library and may contain the occasional stamp or label but in many cases this is the only indication.
As stock is continually changing please email Tennis Collectables with a list of the item(s) you are interested in. We will then get back to you with details of postage costs. All prices include postage within the UK; overseas customers will be charged postage – it costs around $6 to send an average hardback book by Priority Airmail to the USA. We can accept payment by PayPal, Sterling cheques and Postal Orders, and International Money Orders in sterling.
---
AUSTRALIAN OPEN
GAME, SET AND GLORY: A HISTORY OF THE AUSTRALIAN TENNIS CHAMPIONSHIPS - BRUCE MATTHEWS. Five Mile Press; 1985 1st Australian Edition; 138 pages + colour plates. A lavishly illustrated history of the Australian Championships. Full of the great names of tennis, this is a record of the highlights, the surprise wins, the agony and the stress of this Grand Slam event.
VG in lightly edgeworn D/W £20.00 (approx $34.00) SOLD OUT



GREAT PLAYERS OF AUSTRALIAN TENNIS - PAUL METZLER. Harper & Row; 1979 1st Australian Edition; 202 pages. The great moments of tennis in Australia from the halcyon days of Brookes & Wilding in 1905 through to the recent champions such as Hoad, Laver, Rosewall, Goolagong, Court.
VG in VG D/W £35.00 (approx $59.50) SOLD OUT

ILLUSTRATED HISTORY OF AUSTRALIAN TENNIS - R S WHITINGTON. MacMillan; 1975 1st Australian Edition; 126 pages. This large format book traces the development of Australian tennis from its beginnings through to the 1970s. The big names of Australian tennis (Laver, Newcombe, Rosewall, Court, Goolagong) are all covered together with their illustrious adversaries (Tilden, Kramer, Riggs, Perry).
VG in edgeworn D/W £30.00 (approx $51.00)
VG in torn D/W £25.00 (approx $42.50)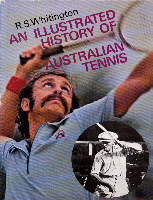 SERVE TO AUTHORITY: KOOYONG 100 YEARS OF HEROES AND HEADLINES - RICHARD YALLOP. MappCorp Pty; 1992 1st Australian Edition; 194 pages. A history of the Kooyong Lawn Tennis Club which hosted the Australian Open up to 1987 and was also where many memorable Davis Cup matches were played. Many photographs.
VG in VG D/W £35.00 (approx $59.50) SOLD OUT
---
FRENCH OPEN
See Roland Garros Annuals under Annuals, and Media Guides
LES GRANDES HEURES DE ROLAND GARROS – GILLES DELAMARRE. PAC Editions; 1984 French Softcover Edition; 214 pages. A French language celebration of half a century of tennis at Roland Garros. 24 pages of colour photographs and 48 pages of b&w photographs.
VG (light edgewear to covers) £30.00 (approx $51.00)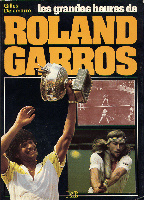 ROLAND-GARROS SOIXANTE ANS DE TENNIS – GERARD MARCHADIER. La Manufacture; 1987 1st French Edition; 189 pages. A French language celebration of 60 years of tennis at Roland Garros. Lots of photographs. Gives results of singles events from quarterfinals from 1928 to 1986.
VG in VG D/W £35.00 (approx $59.50) SOLD OUT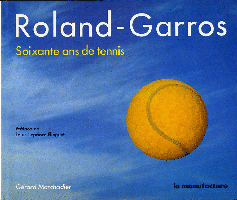 ---
U S OPEN
(See also Media Guides)
FOREST HILLS AND THE AMERICAN TENNIS CHAMPIONSHIP - JULIAN MAY. Creative Education; 1976 1st US Edition; 48 pages. A history of the US Championships aimed at the younger reader. Emphasis is on he American winners, King, Ashe, Connors and Evert. Illustrated with many photos of the stars
Good (an ex-library copy with the usual ink stamps, labels and ticket holder, piece cut from title and last page) £10.00 (approx $17.00)

FOREST HILLS: AN ILLUSTRATED HISTORY - ROBERT MINTON. Lippincott; 1975 1st US Edition; 240 pages. An outstanding history of West Side Tennis Club and an informal history of tennis in America. Many photos.
VG in worn/edgetorn D/W £25.00 (approx $42.50)

OPEN XXXIII - EUGENE L SCOTT. Tennis Week; 2001 1st US Edition; 168 pages. Review of the 2000 US Open from the writers of Tennis Week magazine. Winners were Marat Safin and Venus Williams. Features on Marat Safin, Magnus Norman. Detailed results and records. Many photos. Venus Williams on cover.
Near Mint in Near Mint D/W £25.00 (approx $42.50)

OPEN XXXIV - EUGENE L SCOTT. Tennis Week; 2001 1st US Edition; 168 pages. Review of the 2001 US Open from the writers of Tennis Week magazine. Winners were Lleyton Hewitt and Venus Williams. Many photos. Lleyton Hewitt on cover.
VG in edgeworn D/W £25.00 (approx $42.50)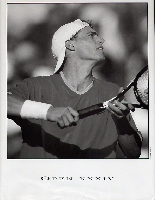 TENNIS OBSERVED: THE USLTA MEN'S SINGLES CHAMPIONS 1881-1966 - BILL TALBERT. Barre; 1967 1st US Edition; 142 pages. A very large format book (in white cloth boards) which covers all the USLTA Men's Singles champions from Richard Sears in 1881at Newport, Rhode Island through to Fred Stolle in 1966 at Forest Hills. Gives a biography of each winner plus the full singles draw sheet for each year.
Fine in D/W with very minor edgewear £100.00 (approx $170.00)
VG - edges of boards lightly marked with dent to upper rear edge; dustjacket very worn/stained £50.00 or $80.00

US OPEN AT THE USTA NATIONAL TENNIS CENTER - MOIRA SAUCER. Taylor; 1988 1st US Edition; 172 pages. A sumptuous large format book which recalls the drama of the first 10 years of the US Open at Flushing Meadows. Packed with action colour photos of the stars.
VG (boards bumped particularly at corners) in edgeworn D/W £22.50 (approx $38.25)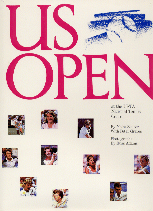 US OPEN GAME SET UNMATCHED - ROGER WILLIAMS. Time Life; 1997 1st US Edition; 192 pages. A sumptuous large format book which tells the story, in words and dramatic photos, of the US Open from 1881 to 1996. Packed with action colour photos of the stars. Profiles of 'The Legends' and detailed results section.
VG in VG D/W £25.00 (approx $42.50) SOLD OUT

US OPEN RECORD BOOK: 104 YEARS OF NATIONAL CHAMPIONSHIPS - BILL SHANNON. USTA; 1985 US Softcover Edition; 48 pages. Comprehensive statistics on the US National Championships. Includes chapters National Finals, Champions, Seeded Players Records, Individual Records, Match Records, All-Time Greats (Sears, Tilden, Wills and Evert) and Historical Highlights.
Good - light damp staining and wrinkling throughout £10.00 (approx $17.00) SOLD OUT

US OPEN 1987 RECORD BOOK: 106 YEARS OF NATIONAL CHAMPIONSHIPS - BILL SHANNON. USTA; 1987 US Softcover Edition; 52 pages. Comprehensive statistics on the US National Championships. Includes chapters National Finals, Champions, Seeded Players Records, Individual Records, Match Records, All-Time Greats (Sears, Tilden, Wills and Evert), Historical Highlights and draw sheet for Mens 1881 Championships.
VG £12.50 (approx $21.25)

WEST SIDE TENNIS CLUB STORY - EDWARD C POTTER. West Side Tennis Club; 1952 1st US Edition; 46 pages. The West Side Tennis Club is perhaps better known as Forest Hills and this book, produced to celebrate its 60th Anniversary, records the many important matches played. Many fascinating photographs. This is a privately printed edition.
VG £65.00 (approx $110.50)
---
WIMBLEDON
(See also Wimbledon Annuals (English, French & German versions) listed under Annuals; and Media Guides)
BALLAD OF WORPLE ROAD: A POETIC HISTORY OF THE EARLY WIMBLEDON CHAMPIONSHIPS - MAX ROBERTSON. Queen Anne Press; 1997 1st Edition; 128 pages. In 5000 lines of epic verse Max Robertson celebrates the delightfully eccentric early years of the Renshaws and Dohertys, Dod and Chambers, Lenglen and Tilden. This is a lighthearted history of the birth of lawn tennis and the legendary characters who helped to shape the world's most popular and prestigious tournament.
VG in VG D/W £12.50 (approx $21.25)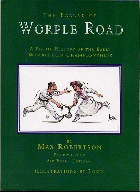 BEHIND THE SCENES AT WIMBLEDON - MACAULAY & SMYTH. Collins; 1965 1st Edition; 320 pages. Interesting account of what has actually happened at the world's most famous tournament. Covers period 1922-1964. Illustrated by black and white photographs.
VG in edgeworn D/W £15.00 (approx $25.50)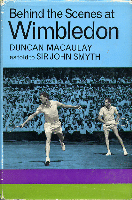 BOOK OF WIMBLEDON - RONALD ATKIN. Heinemann/Quixote Press; 1981 1st Softcover Edition; 93 pages. Lavishly illustrated book portraying The Championships. Looks at the personalities who have dominated the Centre Court. Many colour and b&w photos of the stars - Borg, McEnroe, Navratilova, Evert, Nastase, Connors, King.
Good (some edgewear and creasing to covers) £5.00 (approx $8.50)
Robinsons Barley Water Softcover Edition. VG £7.50 (approx $12.75)

CENTRE COURT. AELTC; 1993 1st Softcover Edition; 68 pages. Magazine produced by Wimbledon to celebrate the 100th Ladies Championships. Tells story of Wimbledon's Lady Champions from 1884 to the present day. Feature article on Martina Navratilova.
VG £7.50 (approx $12.75)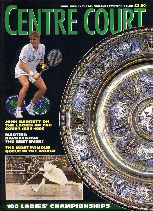 CENTRE COURT AND OTHERS - F R BURROW. Eyre & Spottiswoode; 1937 1st Edition; 312 pages. Burrow's reminiscences of Wimbledon and the many other tournaments he has refereed. 11 b&w plates.
VG but cover faded/discoloured particularly at spine £40.00 (approx $68.00)
Good – cover discoloured and cloth partially split at spine, boards slightly bowed; internally in very good condition (ex RAC Library) £30.00 (approx $51.00)

CENTRE COURT STORY - MAURICE BRADY. Foulsham; 1957 1st Edition; 227 pages. Brady writes of the players who have graced the world's most famous tennis court - Lenglen, Wills, Jacobs, Tilden, The Musketeers, Connolly, Rosewall and he reveals the story of tennis from the inside.
VG in slightly torn D/W £15.00 (approx $25.50)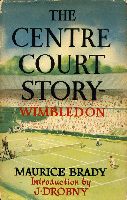 CLASSIC MOMENTS OF WIMBLEDON - CHARLES LANDON. Moorland Publishing; ?1982; 143 pages. Includes a resume of the early years with an in depth look at later years and biographies of all the singles champions.
VG in VG D/W £12.50 (approx $21.25)
VG £10.00 (approx $17.00)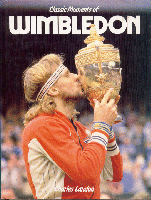 FIELD STORY OF WIMBLEDON: 100 YEARS OF CHAMPIONSHIPS. Associated Magazines; 1986 1st Edition; 80 pages. Large format paperback recalls origin of Wimbledon through to the major event of today.
VG £5.00 (approx $8.50)

FIFTY YEARS OF WIMBLEDON 1877 TO 1926 - A WALLIS MYERS. AELTC; 1926 1st Edition; 96 pages. Story of The Championships published as the official Jubilee Souvenir. An excellent history of the early days of tennis as well as of Wimbledon with many historic photos.
Popular Edition in VG condition apart from some discolouration to covers £75.00 (approx $127.50)
Popular Edition in VG condition apart from minor water mark to lower right corner £65.00 (approx $110.50)
<![if !supportLineBreakNewLine]>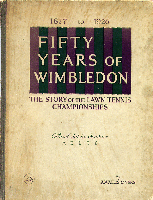 <![endif]>
FRIENDS AT COURT: WIMBLEDON AND SLAZENGER SINCE 1902 - BRIAN SIMPSON WITH HUGH BARTY-KING. Quiller Press; 2002 1st Softcover Edition; 58 pages. History of the Slazenger Company and the tennis equipment it manufactures, and its links wih Wimbledon from 1902 in a 100 year partnership. Many photos and reproductions of equipment adverts. Tim Henman on front cover.
VG (light water mark to bottom ¼" of pages) £10.00 (approx $17.00)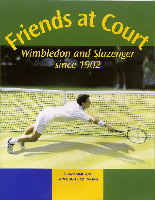 GUIDE TO THE CHAMPIONSHIPS. AELTC; Paperback Edition; 16 pages. A brief spectators guide to The Championships with ground map, facilities for spectators and 'do's and don'ts'.
1997 Edition VG £2.00 (approx $3.40)
2004 Edition Near Mint £2.50 (approx $4.25)



KNOW YOUR WIMBLEDON: FACTS & FIGURES ABOUT THE CHAMPIONSHIPS AT WIMBLEDON. AELTC; 1970 Softcover Edition; 16 pages. A brief guide to The Championships with history of AELTC, records, management of the Championships, general information and spectator facilities. Contains update sheet for 1975.
VG £5.00 (approx $8.50)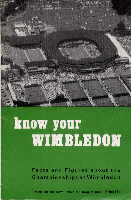 <![if !supportLineBreakNewLine]>
<![endif]>
LADIES OF THE COURT - VIRGINIA WADE WITH JEAN RAFFERTY. Pavilion; 1984 1st Edition; 192 pages. Celebration of a century of women at Wimbledon with a look at all the characters of the womens game. Lavishly illustrated.
VG in VG D/W (upper edge of boards lightly faded) WHITE CARD SIGNED 'BEST WISHES, VIRGINIA WADE' PASTED TO HALF TITLE PAGE £30.00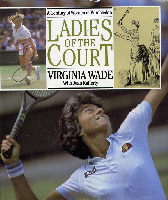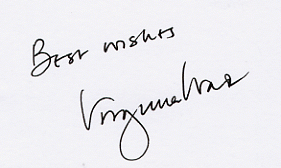 VG in VG D/W (ex library copy with usual inkstamps and front endpaper removed) £10.00 (approx $17.00)

ONE HUNDRED WIMBLEDON CHAMPIONSHIPS: A CELEBRATION - JOHN BARRETT. Willow Books; 1986 1st Edition; 287 pages. A large book which describes decade by decade the 100 championships at Wimbledon. Photos of every singles champion with short biographies. Complete singles results for each year. Hundreds of photos.
Mint in lightly creased D/W £25.00 (approx $42.50) SOLD OUT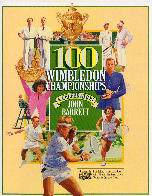 ONE HUNDRED YEARS OF THE WIMBLEDON TENNIS CHAMPIONSHIPS - JAMES MEDLYCOTT. Hamlyn; 1977 1st Edition; 93 pages. A record of the first 100 years of a tennis institution. Many photographs.
VG in VG D/W £10.00 (approx $17.00)



ONE HUNDRED YEARS OF WIMBLEDON - LANCE TINGAY. Guinness Superlatives; 1977 1st Edition; 256 pages. The official and authoritative history of The Lawn Tennis Championships. Many photos.
VG in VG D/W £20.00 (approx $34.00) SOLD OUT
ROMANCE OF WIMBLEDON - JOHN OLLIFF. Hutchinson; ?1949 1st Edition; 183 pages. Many photographs in this book which looks at the old and new Wimbledon – Suzanne Lenglen's struggle to win in 1919, the showmanship and tragic fate of Bill Tilden, the fall of Borotra, the mysterious genius of Cochet and the beauty of Helen Wills.
Good £7.50 (approx $12.75)

THIS IS WIMBLEDON. AELTC. The official guide to The Championships with a brief history of the Club, facilities for spectators, notable records, interesting facts and figures. A useful little softcover book!
1991 11th Edition; 48 pages. VG £5.00 (approx $8.50)
1994 14th Edition; 48 pages. Mint £5.00 (approx $8.50)
1999 19th Edition; 52 pages. VG £5.00 (approx $8.50)
2000 20th Edition, 48 pages. Mint £6.00 (approx $10.20)

VISIONS OF WIMBLEDON A CELEBRATION OF THE WORLDS FINEST WIMBLEDON PHOTOGRAPHY. Andre Deutsch; 2000 1st Edition; 144 pages. A sumptuous large format book containing over 200 stunning tennis photographs taken over the years by Allsport. There are supporting interviews with Tim Henman, Stefan Edberg, Rod Laver, Martina Navratilova and Roy Emerson. Features all the top players of recent years.
VG in edgeworn D/W (corners lightly bumped) £20.00 (approx $34.00)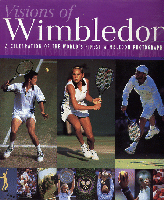 <![if !supportLineBreakNewLine]>
<![endif]> WIMBLEDON - NANCY GILBERT. Creative Education; 1990 1st US Edition; 32 pages. A short history of Wimbledon aimed at children with numerous colour and black and white photos of Becker, Graf, McEnroe, Borg, Evert, Lendl and Navratilova etc.
VG £20.00 (approx $34.00)

WIMBLEDON 88 – PETER GARTNER. Delphin Verlag; 1988 1st German Edition; 120 pages. German language review of the 1988 Wimbledon tournament with the singles titles won by Edberg and Graf. Second half of book looks at the history of Wimbledon and the great matches and rivalries. Many photographs. Becker & Graf on cover.
VG £30.00 (approx $51.00)

WIMBLEDON 100 YEARS OF MEN'S SINGLES - M ROWLEY. Sidgwick & Jackson; 1986 1st Softcover Edition; 120 pages. A large format book celebrating 100th anniversary of men's singles using facsimiles of contemporary press reports. Lots of photos of the greats in action at Wimbledon.
VG £12.50 (approx $21.25)
VG (ex library with usual inkstamps) £7.50 (approx $12.75)

WIMBLEDON 1869-1921 THE CHANGING FACE OF WORPLE ROAD – ALAN LITTLE. Wimbledon Museum; 2003 1st Softcover Edition; 32 pages. A fascinating history of Wimbledon's original grounds at Worple Road. Includes a year-by-year listing of the changes made to the grounds from 1869 to 1921. Many black and white photographs.
Mint £10.00 (approx $17.00) SOLD OUT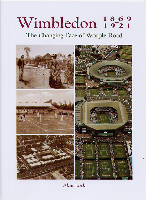 WIMBLEDON 1877 - 1977. AELTC; 1977 Softcover Edition; 62 pages. This official centenary magazine produced by Wimbledon celebrates the first 100 years of The Championships. Many photographs.
VG £5.00 (approx $8.50)

WIMBLEDON 1877 - 1977 - MAX ROBERTSON. Arthur Barker; 1977 1st Edition; 180 pages. A celebration of 100 years of the most famous tournament in the world. Over 100 photos.
VG in edgeworn D/W £12.50 (approx $21.25)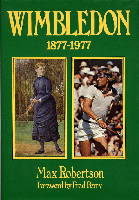 <![if !supportLineBreakNewLine]>
<![endif]>
WIMBLEDON A CELEBRATION - MCPHEE AND EISENSTAEDT. Viking; 1972 1st US Edition; 136 pages. In both words and photographs McPhee and Eisenstaedt record their impressions of Wimbledon in this tribute to the world's greatest tournament.
VG £10.00 (approx $17.00) SOLD OUT

WIMBLEDON CENTRE COURT OF THE GAME - MAX ROBERTSON. BBC; 1981 Revised & Updated Edition; 308 pages. Originally published as 'Wimbledon 1877-1977' this is a celebration of the world's premier tennis tournament from its earliest beginnings.
VG in VG D/W £15.00 (approx $25.50)

WIMBLEDON CENTRE COURT OF THE GAME: FINAL VERDICT - MAX ROBERTSON. BBC; 1987 3rd Revised & Updated Edition; 500 pages. Originally published as 'Wimbledon 1877-1977' this is a celebration of the world's premier tennis tournament from its earliest beginnings.
VG in torn D/W £12.50 (approx $21.25) SOLD OUT

WIMBLEDON COMPENDIUM - ALAN LITTLE. AELTC. Goldmine of information about Wimbledon - dates of every meeting, seedings, results, players records etc. Updated and revised annually.
1992 Paperback Edition; 224 pages. Mint £9.00 (approx $15.30)
1993 Paperback Edition; 256 pages. VG £9.50 (approx $16.15)
1994 Paperback Edition; 264 pages. VG £9.50 (approx $16.15)
1996 Paperback Edition; 328 pages. Mint £11.50 (approx $19.55)
1998 Paperback Edition; 364 pages. VG £12.00 (approx $20.40)
1999 Paperback Edition; 376 pages. VG £12.00 (approx $20.40)
2003 Paperback Edition; 456 pages. Near Mint £15.00 (approx $25.50)
2005 Paperback Edition; 480 pages. Near Mint £15.00 (approx $25.50)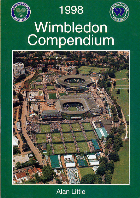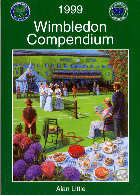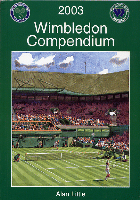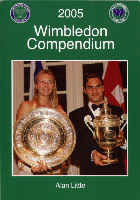 WIMBLEDON LADIES: A CENTENARY RECORD 1884-1984 THE SINGLES CHAMPIONS - ALAN LITTLE & LANCE TINGAY. Wimbledon Museum; 1984 1st Softcover Edition; 80 pages. The 'Queen's' of Wimbledon from Maud Watson to Martina Navratilova. Gives details of each champion's Wimbledon record together with a brief biography.
Mint £5.50 (approx $9.35)
VG £4.50 (approx $7.65)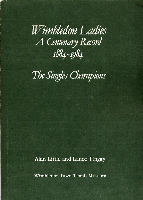 WIMBLEDON MEN: A HUNDRED CHAMPIONSHIPS 1877-1986 THE SINGLES CHAMPIONS - ALAN LITTLE & LANCE TINGAY. Wimbledon Museum; 1986 1st Softcover Edition; 120 pages. The 'King's' of Wimbledon from Spencer Gore to Boris Becker. Gives details of each champion's Wimbledon record together with a brief biography.
VG £7.50 (approx $12.75)

WIMBLEDON ON CAMERA - ARTHUR COLE. Rothmans Publications; 1981 1st Edition; 256 pages. Dramatic pictorial record of Wimbledon by one of the world's best tennis action photographers.
VG in edgeworn/torn D/W (inscription on front endpaper) £10.00 (approx $17.00)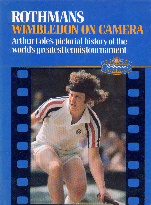 WIMBLEDON SERVING THROUGH TIME: A HANDBOOK FROM THE WIMBLEDON LAWN TENNIS MUSEUM – JOHN BARRETT. Wimbledon Museum; 2003 1st Softcover Edition; 72 pages. Official handbook of the Wimbledon Museum, opened in 1977. Book full of photos of the Museum's historic exhibits and the accompanying text provides a fascinating history of tennis at Wimbledon. Chris Evert and Fred Perry on front cover.
Mint £12.50 (approx $21.25)<![if !supportLineBreakNewLine]> <![endif]> SOLD OUT<![if !supportLineBreakNewLine]>



<![endif]> WIMBLEDON STORY - NORAH GORDON CLEATHER. Sporting Handbooks; 1947 1st Edition; 231 pages. A behind the scenes view of Wimbledon between the Wars by a former secretary at the AELTC.
VG £12.50 (approx $21.25)

WIMBLEDON THE HIDDEN DRAMA - GWEN ROBYNS. David & Charles; 1973 1st Edition; 200 pages. A behind the scenes look at Wimbledon with action photos of leading players.
VG in VG D/W £12.50 (approx $21.25)
Softcover Edition; VG £7.50 (approx $12.75)

WIMBLEDON THE OFFICIAL HISTORY OF THE CHAMPIONSHIPS - JOHN BARRETT. Collins Willow Books; 2001 1st Edition; 468 pages. A massive book which describes The Championships at Wimbledon decade by decade from 1877 to 2000. Photos of every singles champion with short biographies. Complete singles draws with results for each year. Hundreds of photos. Now out of print and scarce.
Mint in Near Mint D/W £50.00 (approx $85.00)<![if !supportLineBreakNewLine]>
<![endif]>

<![if !supportLineBreakNewLine]>
<![endif]> WIMBLEDON THE ULTIMATE CHALLENGE - CAS FISH. Fish; 1988 1st Paperback Edition; 122 pages. The story of the first 101 Gentlemen's Singles Finals - all you wanted to know about the 1877 to 1987 Mens Singles finals and the men who won them.
Near Mint £7.50 (approx $12.75)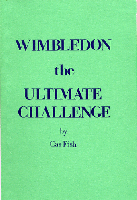 <![if !supportLineBreakNewLine]>
<![endif]> WIMBLEDON WHO'S WHO AND TENNIS CELEBRITIES. Dunlop; 1934 1st Softcover Edition; 154 pages. Biographical profiles of all the players together with Championship records.
VG £25.00 (approx $42.50)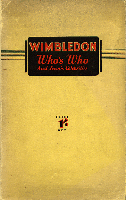 VG but lower half of front cover and spine missing £12.50 (approx $21.25)
Good (rear cover and lower 1" of spine covering missing) £7.50 (approx $12.75)

WIMBLEDON WORLD TENNIS FOCUS - JULIAN MAY. Creative Education; 1975 1st US Edition; 47 pages. Brief history of Wimbledon aimed at teenagers. Includes pictures of some of the leading stars - Lenglen, Tilden, Wills, Jacobs, Budge, Riggs, Moran, Gonzales, Laver, Goolagong, King, Evert and Connors.
VG (ex library copy but with usual inkstamps and labels) £25.00 (approx $42.50)

WONDERFUL WIMBLEDON - ALISTAIR REVIE. Pelham; 1972 1st Edition; 141 pages. This history of the Wimbledon Championships celebrates 50 years of tennis at the Church Road grounds.
VG in VG D/W £10.00 (approx $17.00)
---
DAVIS CUP
(See also Media Guides)
AUSTRALIA AND THE DAVIS CUP: A CENTENARY HISTORY - ALAN TRENGOVE. Hardie Grant; 2000 1st Australian Edition; 248 pages. Packed with photos, statistics and anecdotes, this comprehensive and entertaining history recalls Australia's 27 Davis Cup victories. Looks at Australia's sporting heroes from Norman Brookes and Anthony Wilding through Jack Crawford, John Bromwich, Harry Hopman, Frank Sedgman,Lew Hoad, Ken Rosewall, Roy Emerson, Rod Laver, Tony Roche, John Newcombe, Pat Cash, Pat Rafter, The Woodies and Lleyton Hewitt. Lleyton Hewitt on front cover. Includes complete Australian results 1900-1999 plus individual players win/loss records 1905-May 2000.
VG in edgeworn D/W (minor wrinkling to lower corner of pages) £25.00 (approx $42.50)

AUSTRALIAN DAVIS CUP TENNIS FOUNDATION ANNUAL REPORT 1995. ADCTF; 1995 Softcover Edition; 40 pages. Annual report and accounts of the Australian Davis Cup Foundation which also includes much historic information/results on Australia's involvement in the Davis Cup. Small black and white photos of Roche, Newcombe, Philippoussis, Rafter and The Woodies.
VG £7.50 (approx $12.75)

AUSTRALIAN DAVIS CUP TENNIS FOUNDATION ANNUAL REPORT 1996. ADCTF; 1996 Softcover Edition; 36 pages. Annual report and accounts of the Australian Davis Cup Foundation which also includes much historic information/results on Australia's involvement in the Davis Cup. Small black and white photos of Philippoussis, Rafter, The Woodies, Draper, Fromberg and Stoltenberg
VG £7.50 (approx $12.75)

AUSTRALIAN DAVIS CUP TENNIS FOUNDATION ANNUAL REPORT 2002. ADCTF; 2001 Softcover Edition; 48 pages. Annual report and accounts of the Australian Davis Cup Foundation which also includes much historic information/results on Australia's involvement in the Davis Cup. 8 pages of colour photos of the Australian Davis Cup team - Hewitt, Rafter, Woodbridge, Woodforde, Arthurs. Lleyton Hewitt on front cover.
VG £7.50 (approx $12.75)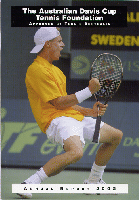 CUP! A COMPILATION OF PICTURES & RECORDS ON THE 127 US DAVIS CUP PLAYERS – EUGENE L SCOTT. Tennis Week; 2000 1st US Edition; 128 pages. A record of the 127 players who have represented the United States at Davis Cup 1900-2000 with a photo and a summary of their Davis Cup playing record.
Near Mint in Near Mint D/W £25.00 (approx $42.50) SOLD OUT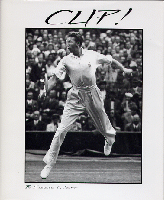 <![if !supportLineBreakNewLine]>

<![endif]> DAVIS CUP - EDWARD C POTTER. Barnes; 1969 1st US Edition; 142 pages. A complete history of the first 70 years of the Davis Cup. Many photographs.
VG in VG D/W £22.50 (approx $38.25)
VG in repaired D/W (ex library copy with usual inkstamps/labels) £12.50 (approx $21.25)




DAVIS CUP BY NEC: THE YEAR IN TENNIS 1998 - CHRISTOPHER CLAREY. Universe; 1999 1st Edition; 128 pages. A round-by-round account of the 1998 World Group of the Davis Cup, won by Sweden. Also looks at the personalities. Lots of superb colour photographs.
Mint in Mint D/W apart from bump to top corner £25.00 (approx $42.50)

DAVIS CUP BY NEC: THE YEAR IN TENNIS 1999 - CHRISTOPHER CLAREY. Universe/ITF; 2000 1st Edition; 128 pages. A round-by-round account of the 1999 World Group of the Davis Cup, won by Australia. Includes profiles of Gustavo Kuerten, Cedric Pioline, Lleyton Hewitt, Mark Philippoussis. Foreword by Pat Rafter. Lots of superb colour photographs.
Mint in Mint D/W £30.00 (approx $51.00)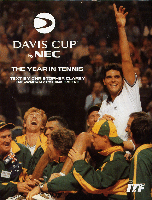 <![if !supportLineBreakNewLine]>
<![endif]> DAVIS CUP BY NEC: THE YEAR IN TENNIS 2001 – NEIL HARMAN. Universe/ITF; 2002 1st Edition; 128 pages. A round-by-round account of the 2001 World Group of the Davis Cup, won by France. Includes profiles of Roger Federer, Raemon Sluiter, Lleyton Hewitt, Greg Rusedski, Nicolas Ecude. Foreword by Guy Forget. Lots of superb colour photographs.
Mint in Mint D/W £30.00 (approx $51.00)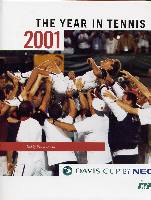 DAVIS CUP BY BNP PARIBAS: THE YEAR IN TENNIS 2004 – CHRIS BOWERS. Universe/ITF; 2005 1st Edition; 128 pages. A round-by-round account of the 2004 World Group of the Davis Cup, won by Spain. Includes profiles of Rafael Nadal, Vladimir Voltchkov, Bob & Mike Bryan, Nicolas Massu and Carlos Moya. Foreword by Carlos Moya. Lots of superb colour photographs.
Mint in Mint D/W £30.00 (approx $51.00)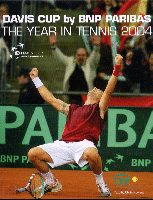 <![if !supportLineBreakNewLine]>
<![endif]>DAVIS CUP: CELEBRATING 100 YEARS OF INTERNATIONAL TENNIS - RICHARD EVANS. Ebury Press; 1998 1st Edition; 256 pages. Authoritative history of the Davis Cup, illustrated by colour and black and white photographs. Foreword by John McEnroe.
VG in VG D/W £20.00 (approx $34.00)

DAVIS CUP STORY: SUN NEWS-PICTORIAL SPORTS BOOK. ?1946 Australian Edition; 32 pages. Small booklet published in Australia for the 1946 Davis Cup Challenge Final between USA and Australia in Melbourne. Book contains history of the Davis Cup plus profiles of the American and Australian players. Many photographs. Scarce.
VG £25.00 (approx $42.50)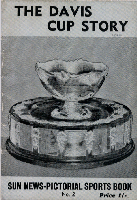 DAVIS CUP YEARBOOK 1996 - RONALD ATKIN. Universe; 1996 1st US Edition; 128 pages. A sumptuous large format book which recalls the events of the 1996 Davis Cup competition in text and pictures. Lots of excellent colour photos, detailed results and foreword by Stefan Edberg.
Mint in VG D/W £30.00 (approx $51.00)

HISTORY OF THE DAVIS CUP - D C COOMBE. Hennel Locke; 1949 1st Edition; 288 pages. Detailed year by year history of the Davis Cup from 1900 to 1948.
VG £10.00 (approx $17.00)

QUEST OF THE DAVIS CUP - S WALLIS MERRIHEW. American Lawn Tennis; 1928 1st Edition; 377 pages. A classic and scarce book on the early days of the Davis Cup. 'A picturesque record of the first 25 years' struggle for International supremacy in lawn tennis, whose first ripples in 1900 have steadily widened until 25 different nations contest each year for the famous trophy. Not mere scores and statistics but a 'human interest' story of the yearly struggle that has been taking place between generations of players, and its wonderful effects on the game. Profusely illustrated from photographs taken in many lands, and the players who took part in them'. Published as Volume VI of The Lawn Tennis Library.
Book is in lovely clean condition with gilt lettering to spine and front board; there is a little rubbing to the edges of the boards (particularly to the base of the spine) and a little minor scuffing to the upper part of the front board. The extremely scarce dust jacket is very fragile with approx 1" strips missing to the ends of the spine and the upper front; there is wear to all edges and 2 horizontal and 1 vertical split at the spine £200.00 (approx $340.00)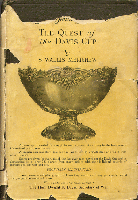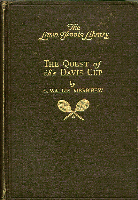 <![if !supportLineBreakNewLine]>
<![endif]> STORY OF THE DAVIS CUP - ALAN TRENGOVE. Stanley Paul; 1985 1st Edition; 577 pages. A record of the contest from its beginnings in 1900. Graphically retells the major incidents plus full year by year results.
VG in edgeworn D/W £12.50 (approx $21.25)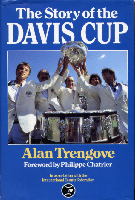 STORY OF THE DAVIS CUP - ALAN TRENGOVE. Stanley Paul; 1991 Revised Softcover Edition; 677 pages. A record of the contest from its beginnings in 1900. Graphically retells the major incidents plus full year by year results. Illustrated by b&w photographs.
VG £12.50 (approx $21.25)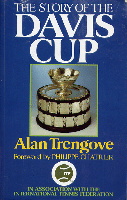 TRIUMPHE - HELMUT ZIMMERMAN. Deutschen Tennis Bund; ?1989 1st German Edition; 188 pages. Comprehensive look at Davis Cup tennis from a German perspective. Lots of colour photos of Boris Becker and Germany's 1988 win. Also looks back at Davis Cup tennis over the years and Germany's success in Fed Cup.
VG (minor damage to the ends of the spine) £15.00 (approx $25.50) SOLD OUT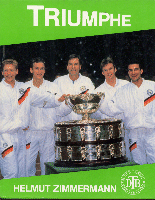 ---