---
Schoolgirl Annuals
---
The following books were issued in Britain. All are large format hardback books and contain a variety of short stories plus, in some of the books, puzzles, things to do and make and factual articles. The books often have an attractive tennis cover and all contain at least one story with a tennis theme - see descriptions for fuller details.
All books are British hardback editions without dustwrapper (D/W) unless otherwise stated. A description of the condition of each book is given using the following terms/abbreviations:
Mint - as new; VG - very good condition; Good - obviously used but complete with no major faults; Ex library - from a public or school library and may contain the occasional stamp or label but in many cases this is the only indication.
As stock is continually changing please email Tennis Collectables with a list of the item(s) you are interested in. We will then get back to you with details of postage costs. All prices include postage within the UK; overseas customers will be charged postage – it costs around $6 to send an average hardback book by Priority Airmail to the USA. We can accept payment by PayPal, Sterling cheques and Postal Orders, and International Money Orders in sterling.
---
BIG BUDGET FOR GIRLS. Blackie; nd (?1930s). Girls compendium containing 14 stories. The front cover shows colour picture of girl playing forehand.
This copy is worn at edges of boards £7.50 (approx $12.75)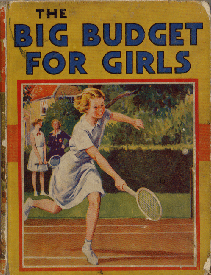 COLLINS GIRLS ANNUAL. Collins; 1958 1st Edition; 128 pages. Front cover features head and shoulders portrait of girl with tennis racket.
VG in edgeworn D/W £12.00 (approx $20.40)
VG in repaired D/W with small loss to back £10.00 (approx $17.00)

COLLINS SPORTS ANNUAL. Collins; not dated (?1928) 1st Edition; 208 pages. Book of sporting facts and advice for youngsters. Includes 'The Making Of A Lawn Tennis Player' by AE Beamish, 'How I Try To Be A Good Partner' by Betty Nuthall, and 'Lawn Tennis – Today's Great Opportunities For Youth' by Frank Wilde. Book has 5 colour and 2 b&w plates present (1 b&w plate missing). Other sports covered include rugby, golf, football, cricket and hockey.
Good (cloth of spine frayed at edges, edges of boards worn, one plate missing) £12.50 (approx $21.25)

EVERY GIRL'S BOOK OF SPORT FOR 1954. Guilford Press; 1954 Edition; 149 pages. A comprehensive sports book for girls. Includes 7 page article 'Improve Your Tennis' plus 4 pages of b&w pictures of Dan Maskell, 6 page article 'Where Are Our Tennis Players' plus 4 pages of b&w photos, 6 page profile of Maureen Connolly plus 2 full page photos (1 colour), and 2 page profile of Frank Sedgman plus 1 full page b&w photo.
Good in worn D/W with some loss to ends of spine and lower edge £12.50 (approx $21.25)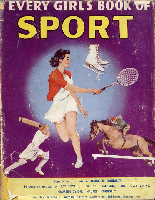 GIRLS' BOOK OF HEROINES. Birn Brothers; nd (?1938); 188 pages. Large 'annual' style book which includes a section on Heroines of Sport and 12 pages plus colour plate on Tennis - featured players include Suzanne Lenglen, Helen Wills, and Dorothy Round. Colour plate of Dorothy Round plus b&w drawings of Lenglen, Wills, Stammers and Round.
VG in worn and edgetorn D/W £20.00 (approx $34.00)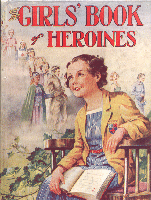 GIRLS' BOOK OF HEROINES - ARTHUR BROOM. Birn Brothers; nd (?1953); 125 pages. Large 'annual' style book which includes a section on Heroines of Sport and 8 pages on 'the greatest women's sport' Tennis - featured players include Kitty Godfree, Suzanne Lenglen, Helen Wills, Helen Jacobs, Pauline Betz and Gussy Moran. Colour action drawings of the featured players.
Good (boards are edgeworn particularly at corners) £7.50 (approx $12.75) SOLD OUT

GIRLS' BUDGET. Blackie; not dated (?1930s); 160 pages. A compendium of girls stories. The colour pictorial boards open to show girls playing a doubles match on a grass court.
VG - all edges of boards worn, some minor dampstains to top edge, surface scratches to rear board, frontispiece loose £15.00 (approx $25.50)

GIRLS' BUDGET. Blackie; not dated (inscription dated 1937). A compendium of girls stories. The colour pictorial boards open to show girls playing a doubles match on a clay court.
VG - all edges of boards worn, 1 inch tear at top of spine, minor surface scratches to boards, frontispiece loose £17.50 (approx $29.75)



GIRLS' FAVOURITE BOOK. Collins; not dated (?1930s). Large format 'annual' style of girls book. Frontispiece features colour picture of 2 girls playing tennis on grass court, captioned 'The tennis party was a great success' referring to the first story 'Joyce of XY2'.
A worn copy with the boards stained/discoloured, with corners and edges of boards rubbed and some staining/discolouration to the internal pages £5.00 (approx $8.50)

MONSTER BOOK FOR GIRLS. Dean; not dated (inscription dated 1954); 124 pages. Contains 13 page tennis based story 'Understudy In The Wings' by Heather White with full-page colour tennis illustration. Also includes a 13 page story Badminton Blues.
VG (edges of boards rubbed, spine partially faded) £5.00 (approx $8.50)

SCHOOLGIRLS' STORIES. Collins; not dated (?1940s); approx 104 pages. Contains an 8 page tennis based story 'Helen Proves A Winner' by Dora Chapman and a colour frontispiece showing tennis match in progress. Cover shows attractive tennis scene of 2 schoolgirls at net on grass tennis court.
Good (wear to edges of boards and a few illustrations neatly coloured) £12.50 (approx $21.25) SOLD OUT

SPLENDID BOOK FOR GIRLS. Birn Brothers; not dated (?1940s); 156 pages. Features colour picture of girl with tennis racket on the boards. Contains 15 page story 'The Impertinent Tennis Star' by Winifred Bear with tennis illustrations.
VG (edges of boards and spine rubbed, boards bowed) £15.00 (approx $25.50)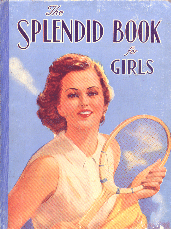 ---