---
WTA, ATP & ITF Official Rulebooks
---
These softcover books are intended to help tournaments, players, officials and the media understand the the rules and regulations of the professional tours. Each contain details of tournament categories, player commitments, tour tournament & player responsibilities, prize money, code of conduct etc. All are at least VG condition unless otherwise stated.
All books are softcover editions without dustwrapper (D/W) in at least Very Good condition unless otherwise stated.
As stock is continually changing please email Tennis Collectables with a list of the item(s) you are interested in. We will then get back to you with details of postage costs. All prices include postage within the UK; overseas customers will be charged postage – it costs around $6 to send an average hardback book by Priority Airmail to the USA. We can accept payment by PayPal, Sterling cheques and Postal Orders, and International Money Orders in sterling.
---
WOMEN'S GAME
1983 Rules and Regulations for the Virginia Slims World Championship Series; 85 pages £15.00 (approx $25.50)
1998 Corel WTA Tour Rules; 246 pages (spiral bound) £15.00 (approx $25.50)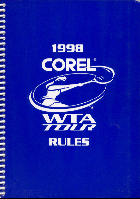 2001 Sanex WTA Tour Official Rulebook; 279 pages (spiral bound) £15.00 (approx $25.50)
2004 WTA Tour Official Rulebook; 395 pages (light edgewear to covers) £15.00 (approx $25.50) SOLD OUT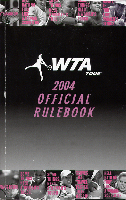 ---
MEN'S GAME
1998 ATP Tour Official Rulebook; 254 pages (creasing to covers, wrinkling to lower edges of pages) £12.50 (approx $21.25)
1999 ATP Tour Official Rulebook; 266 pages (creasing to covers) £15.00 (approx $25.50)


2000 ATP Tour Official Rulebook; 258 pages (crease to front cover) £15.00 (approx $25.50)
2001 ATP Tour Official Rulebook; 264 pages (heavy crease to front cover) £15.00 (approx $25.50)
2002 ATP Tour Official Rulebook; 272 pages £15.00 (approx $25.50)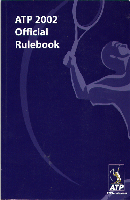 2003 ATP Tour Official Rulebook; 277 pages (spiral bound with section dividers) £15.00<![if !supportLineBreakNewLine]> (approx $25.50)

<![endif]>
---
INTERNATIONAL TENNIS FEDERATION (ITF)
Junior Circuit Regulations 2000; 70 pages £7.50 (approx $12.75)
Regulations For The 2000 Junior Team Competitions; 140 pages £7.50 (approx $12.75)
Vets Handbook 2000; 77 pages (Covers ITF Vets Team Competitions & World Championships; comprehensive results/records) £7.50 (approx $12.75)
Women's Circuit Regulations 2001; 104 pages (covers ITF Women's Circuit) £7.50 (approx $12.75)
Men's Circuit Rule Book 2001; 53 pages (covers ITF Futures Tournaments & Satellite Circuits) £7.50 (approx $12.75)
---