---
Lawn Tennis Annuals
---
The following books are packed with information on the game. Here you will find detailed results, tournament records, statistics and biographical details on your favourite players. Sub-divided into Ayres Almanacks, Dunlop Annuals, LTA Handbooks & Yearbooks, World of Tennis Annuals, ITF Yearbooks, Wimbledon Annuals, Wimbledon Jahrbuch, Wimbledon Le Livre Officiel, Roland Garros Annuals, USTA Yearbooks, and Other Annuals & Yearbooks. Listed by publication date within each section.

All books are softcover editions without dustwrapper (D/W) in at least Very Good condition unless otherwise stated.
As stock is continually changing please email Tennis Collectables with a list of the item(s) you are interested in, and which country you are based in. We will then get back to you with details of postage costs. All prices include postage within the UK; overseas customers will be charged postage – it costs around $6 to send an average hardback book by Priority Airmail to the USA. We can accept payment by PayPal, Sterling cheques and Postal Orders, and International Money Orders in sterling.
---
AYRES ALMANACKS
These hardback annuals ran from 1908 to 1938 and were edited by A Wallis Myers. They give a very comprehensive review of the previous season and there is much interesting editorial matter as well as player biographies together with their home addresses! The spine is covered with a thin cloth and is very often heavily worn. Hence the Almanacs are difficult to find in very good condition, as the boards tend to detach. The following are all in at least Good condition unless otherwise stated.
1925; Spine covering flaking, front board detached, adhesion marks to edges of boards and spine £35.00 (approx $59.50) SOLD OUT
1926; Spine covering very worn, rear board detached, old tape repair to inside of front board £45.00 (approx $76.50) SOLD OUT
---
DUNLOP ANNUALS
The following annuals were all edited by G.P. Hughes. They review the previous season and look forward to the coming season. The scarce first annual was issued in 1939; there were no annuals issued 1940 to 1945 due to the Second World War and the final annual was issued in 1958. They are all at least VG condition unless otherwise stated. Players featured on the front cover are indicated.
Dunlop Lawn Tennis Almanack 1939; 432 pages (covers worn and creased) £40.00 (approx $68.00) SOLD OUT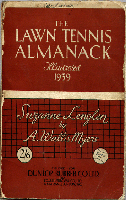 Dunlop Lawn Tennis Almanack 1947; 304 pages £25.00 (approx $42.50) SOLD OUT
Dunlop Lawn Tennis Almanack 1950; 336 pages (cover creased; signed on title page 'With best wishes Pat Hughes) £25.00 (approx $42.50) SOLD OUT
Dunlop Lawn Tennis Annual and Almanack 1951; 344 pages £25.00 (approx $42.50) SOLD OUT
Dunlop Lawn Tennis Annual and Almanack 1952; Savitt; 320 pages £25.00 (approx $42.50) SOLD OUT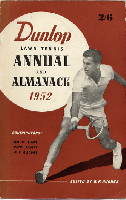 Dunlop Lawn Tennis Annual and Almanack 1954; Seixas; 336 pages £25.00 (approx $42.50) SOLD OUT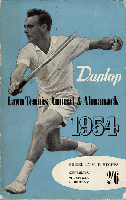 Dunlop Lawn Tennis Annual and Almanack 1955; Drobny; 356 pages £25.00 (approx $42.50) SOLD OUT
Dunlop Lawn Tennis Annual and Almanack 1956; Trabert; 360 pages £25.00 (approx $42.50) SOLD OUT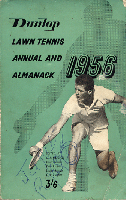 Dunlop Lawn Tennis Annual 1957; Hoad; 388 pages £25.00 (approx $42.50) SOLD OUT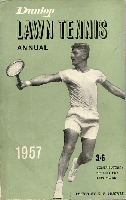 Dunlop Lawn Tennis Annual 1958; Hoad; 396 pages £25.00 (approx $42.50) SOLD OUT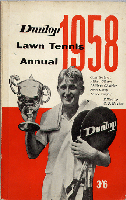 ---
LAWN TENNIS ASSOCIATION OFFICIAL HANDBOOKS & YEARBOOKS
The following books are all softback editions and in at least VG condition unless otherwise stated. They are listed in date order.
Lawn Tennis Handbook 1910; 206 pages (Hardcover; edges of boards rubbed, front hinge weak and covers lightly soiled) £75.00 (approx $127.50) SOLD OUT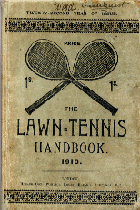 LTAs Annual Handbook 1932; 362 pages plus adverts; hole punched through top corner at spine with red cord threaded through, otherwise VG £17.50 (approx $29.75) SOLD OUT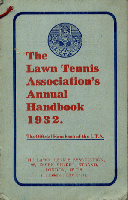 LTAs Annual Handbook 1934; 372 pages plus adverts; hole punched through top corner at spine with red cord threaded through, otherwise VG £17.50 (approx $29.75) SOLD OUT
LTA Official Handbook 1947; 200 pages (plus adverts) £15.00 (approx $25.50) SOLD OUT
LTA Official Handbook 1948; 288 pages £15.00 (approx $25.50) SOLD OUT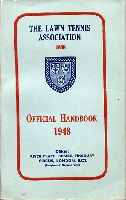 LTA Official Handbook 1949; 328 pages £15.00 (approx $25.50) SOLD OUT
LTA Official Handbook 1981; 503 pages (some staining to the rear cover and last 6 pages) £7.50 (approx $12.75)<![if !supportLineBreakNewLine]>
<![endif]>LTA Official Handbook 1993; 384 pages £10.00 (approx $17.00)<![if !supportLineBreakNewLine]><![endif]><![if !supportLineBreakNewLine]>
<![endif]> LTA Official Handbook 2003; 271 pages (ex library copy with usual inkstamps) £7.50 (approx $12.75)<![if !supportLineBreakNewLine]>
<![endif]>Tennis '80 LTA Yearbook; 320 pages £7.50 (approx $12.75) SOLD OUT
Tennis '81 LTA Yearbook; 320 pages £7.50 (approx $12.75)
Tennis '82 LTA Yearbook; 313 pages £7.50 (approx $12.75) SOLD OUT
Tennis '83 LTA Yearbook; 322 pages £7.50 (approx $12.75)
Tennis Great Britain 1984; 504 pages (creasing to lower corner of front cover) £7.50 (approx $12.75)
Tennis Great Britain 1985; 520 pages £7.50 (approx $12.75)
Tennis Great Britain 1986; 520 pages £7.50 (approx $12.75) SOLD OUT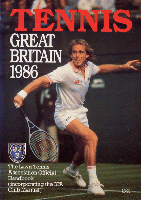 Tennis Great Britain 1987; 520 pages (creasing to lower corner of front cover) £7.50 (approx $12.75)
LTA Events & Tournaments Handbook 1991; 128 pages £2.50 (approx $4.25) SOLD OUT
LTA Official Events & Tournaments 1992; 56 pages £2.50 (approx $4.25)
LTA Official Events & Tournaments 1993; 72 pages £2.50 (approx $4.25)
LTA Your Guide To Events & Tournaments 1994; 68 pages £2.50 (approx $4.25)
LTA Your Guide To Events & Tournaments 1998 53 pages £2.50 (approx $4.25)
LTA Rules And Regulations 2001; 77 pages £5.00 (approx $8.50)
---
WORLD OF TENNIS ANNUALS
The following annuals are edited by John Barrett. They are a valuable source of information on the game and again review the previous season and look forward to the coming season. They are all at least VG condition. The player appearing on the front cover is named. Last issued in 2001 and replaced by the ITF Year Book.
HARDBACK EDITIONS
1970; Laver; 288 pages (Issued as BP Year Book of World Tennis) tears to D/W with some loss at upper edge £30.00 (approx $51.00) SOLD OUT


1973; King/Nastase/Smith; 352 pages (laminated; ex reference library copy but only indication is 1 label and 2 inkstamps) £20.00 (approx $34.00) SOLD OUT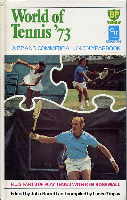 1975; Connors; 352 pages; (laminated) £20.00 (laminated; approx $34.00) SOLD OUT
1977; Borg; 384 pages (D/W) £20.00 (approx $34.00)
1977; Borg; 384 pages (D/W; Ex Library) £10.00 (approx $17.00)<![if !supportLineBreakNewLine]>
<![endif]>1980; Austin; 416 pages (D/W) £20.00 (approx $34.00)
1981; McEnroe; 416 pages (D/W) £25.00 (approx $42.50) SOLD OUT
1984; Navratilova; 416 pages (D/W; ex reference library copy with usual inkstamps and front endpaper removed) £15.00 (approx $25.50) SOLD OUT
1985; McEnroe; 480 pages (D/W; dent to upper edge of front board) £20.00 (approx $34.00)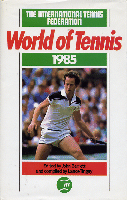 SOFTCOVER EDITIONS
1970; Laver; 288 pages (Issued as BP Year Book of World Tennis) £30.00 (approx $51.00) SOLD OUT
1971; Rosewall; 320 pages £25.00 (approx $42.50)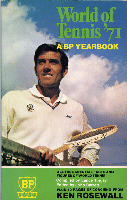 1972; Newcombe/King/Smith/Goolagong; 351 pages £25.00 (approx $42.50) SOLD OUT
1973; Smith/King/Nastase; 352 pages £25.00 (approx $42.50) SOLD OUT
1975; Connors; 352 pages £20.00 (approx $34.00) SOLD OUT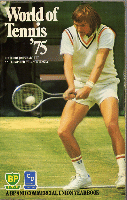 1977; Borg; 384 pages £17.50 (approx $29.75)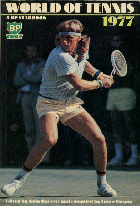 1978; Wade; 416 pages £20.00 (approx $34.00) SOLD OUT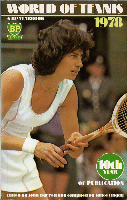 1979; Borg; 416 pages £20.00 (approx $34.00) SOLD OUT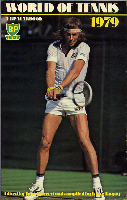 1980; Austin; 416 pages £15.00 (approx $25.50)
1980; Austin; 416 pages (crease to front cover) £12.50 (approx $21.25)
1981; McEnroe; 416 pages £20.00 (approx $34.00) SOLD OUT
1982; Evert; 416 pages £15.00 (approx $25.50) SOLD OUT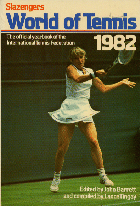 1983; Connors; 416 pages £20.00 (approx $34.00)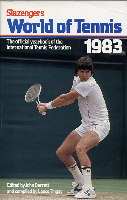 1984; Navratilova; 416 pages £25.00 (approx $42.50)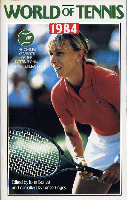 1985; McEnroe; 480 pages (light creasing to covers) £25.00 (approx $42.50) SOLD OUT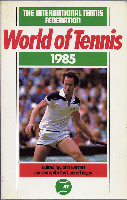 1986; Becker; 480 pages (some edgewear to covers) £27.50 (approx $46.75) SOLD OUT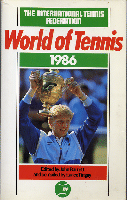 1988; Graf; 512 pages £27.50 (approx $46.75) SOLD OUT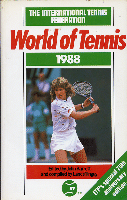 1989; Graf; 480 pages £27.50 (approx $46.75)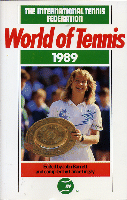 1990; Becker/Graf; 480 pages (light creasing to covers) £20.00 (approx $34.00)
1990; Becker/Graf; 480 pages (creasing to rear cover) £15.00 (approx $25.50)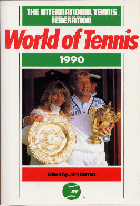 1991; Edberg; 448 pages £20.00 (approx $34.00)
1992; Forget/Leconte; 448 pages £25.00 (approx $42.50) SOLD OUT
1993; Capriati; 464 pages £20.00 (approx $34.00)
1994; Sampras; 464 pages £20.00 (approx $34.00) SOLD OUT
1995; Sanchez; 474 pages £27.50 (approx $46.75)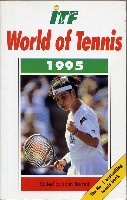 1996; Agassi; 512 pages £25.00 (approx $42.50)
1996; Agassi; 512 pages (light crease to cover) £20.00 (approx $34.00)
1996; Agassi; 512 pages (crease to corner of rear cover and results from magazine stuck to approx 3 pages) £15.00 (approx $25.50)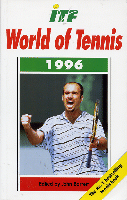 <![if !supportLineBreakNewLine]>
<![endif]>1997; Woodbridge/Woodforde; 512 pages £20.00 (approx $34.00)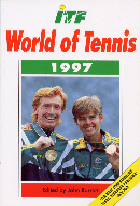 1998 30th Anniversary Issue; Hingis/Rafter/Rosewall/Court; 544 pages £25.00 (approx $42.50)
1998 30th Anniversary Issue; Hingis/Rafter/Rosewall/Court; 544 pages (light creasing to covers) £20.00 (approx $34.00)<![if !supportLineBreakNewLine]>
<![endif]>1999; Novotna/Hingis/Rafter; 544 pages £25.00 (approx $42.50)
1999; Novotna/Hingis/Rafter; 544 pages (crease to front cover and first 32 pages) £20.00 (approx $34.00)
1999; Novotna/Hingis/Rafter; 544 pages (ex reference library with 2 inkstamps and 2 labels) £15.00 (approx $25.50)
2001; Sampras/Kafelnikov/V Williams/Hewitt; 543 pages £25.00 (approx $42.50)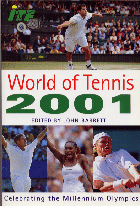 ---
THE INTERNATIONAL TENNIS FEDERATION YEARBOOKS
The following annuals are a comprehensive record of the ITFs activities - Grand Slams, Davis Cup, Fed Cup, World Champions, wheelchair tennis and the ITFs men's and women's professional circuits. Contains full results of the 4 Slams plus historic records. Illustrated by colour photos. Results relate to the year in the title.
2001; 328 pages £17.50 (approx $29.75)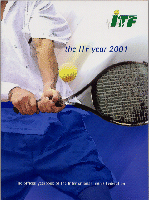 ---
THE CHAMPIONSHIPS, WIMBLEDON OFFICIAL ANNUALS
A complete record of each years Wimbledon. Each annual contains many excellent photographs as well as full results. First published in 1983, the early editions are very scarce; many of the later years are also elusive. The winners of the Singles titles are pictured on the front of the dustjackets as indicated within the descriptions.
1983; 160 pages; McEnroe & Navratilova; VG in lightly edgeworn D/W £150.00 (approx $255.00)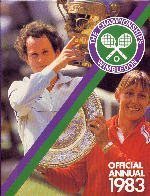 1984; 160 pages; McEnroe & Navratilova; VG in VG D/W £75.00 (approx $127.50)
1984; 160 pages; McEnroe & Navratilova; VG in lightly edgeworn D/W £65.00 (approx $110.50)
1984; 160 pages; McEnroe & Navratilova; VG in edgeworn D/W £50.00 (approx $85.00)
1984; 160 pages; McEnroe & Navratilova; VG in edgeworn D/W with some old sellotape marks to inside of covers and a little surface damage to inner flaps of D/W £40.00 (approx $68.00)<![if !supportLineBreakNewLine]>
<![endif]>

1985; 160 pages; Becker & Navratilova; VG in lightly edgeworn D/W (minor surface damage to lower edge of inside of front and rear covers) £75.00 (approx $127.50)<![if !supportLineBreakNewLine]>
<![endif]>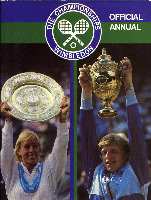 <![if !supportLineBreakNewLine]>
<![endif]>1986; 158 pages; Becker & Navratilova; Near Mint in Near Mint D/W £35.00 (approx $59.50)
1986; 158 pages; Becker & Navratilova; VG in lightly edgeworn D/W (book plate on front pastedown) £25.00 (approx $42.50)
1986; 158 pages; Becker & Navratilova; VG in edgeworn D/W £25.00 (approx $42.50)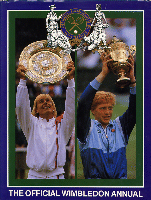 1987; 152 pages; Cash & Navratilova; VG in VG D/W £30.00 (approx $51.00)
1987; 152 pages; Cash & Navratilova; VG in VG D/W (minor bump to upper edge) £25.00 (approx $42.50)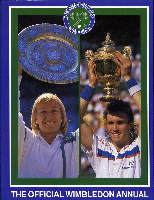 1988; 156 pages; Edberg & Graf; VG in VG D/W On front endpaper is official Wimbledon 1988 presentation bookplate with reproduction signatures of Stefan Edberg & Steffi Graf (spine of D/W sun faded) £35.00 (approx $59.50)
1988; 156 pages; Edberg & Graf; VG in VG D/W £30.00 (approx $51.00)
1988; 156 pages; Edberg & Graf; VG in edgeworn D/W (spine of D/W sun faded) £25.00 (approx $42.50)
1989; 156 pages; Becker & Graf; VG in D/W which has bottom 1/16" trimmed £20.00 (approx $34.00)
1990; 156 pages; Edberg & Navratilova; VG in VG D/W £35.00 (approx $59.50)
1991; 156 pages; Stich & Graf; VG in VG D/W £30.00 (approx $51.00)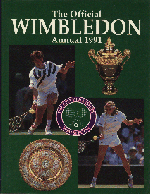 1992; 156 pages; Agassi & Graf; VG in lightly edgeworn D/W £25.00 (approx $42.50)
1992; 156 pages; Agassi & Graf; VG in edgeworn D/W £20.00 (approx $34.00)
1993; 156 pages; Sampras & Graf; VG in VG D/W (light bumps to corners of boards) £75.00 (approx $127.50)
1994; 160 pages; Sampras & Martinez; VG in VG D/W £75.00 (approx $127.50)
1994; 160 pages; Sampras & Martinez; VG in edgeworn D/W £50.00 (approx $85.00)
1995; 160 pages; Sampras & Graf; VG in VG D/W £35.00 (approx $59.50)<![if !supportLineBreakNewLine]>
<![endif]>1995; 160 pages; Sampras & Graf; VG in edgeworn D/W (corners bumped) £20.00 (approx $34.00)
1995; 160 pages; Sampras & Graf; VG (corners bumped) in damaged D/W £17.50 (approx $29.75)
1996; 160 pages; Krajicek & Graf; Mint in Mint D/W £25.00 (approx $42.50)
1996; 160 pages; VG in VG D/W £20.00 (approx $34.00)
1997; 160 pages; Sampras & Hingis; Near Mint in Near Mint D/W £80.00 (approx $136.00)
1997; 160 pages; Sampras & Hingis; VG in VG D/W £50.00 (approx $85.00)


1998; 160 pages; Sampras & Novotna; Near Mint in Near Mint D/W £30.00 (approx $51.00)
1998; 160 pages; VG in lightly edgeworn D/W £25.00 (approx $42.50)<![if !supportLineBreakNewLine]>
<![endif]>1999; 160 pages; Sampras & Davenport; Mint in Mint D/W £25.00 (approx $42.50)
1999; 160 pages; Sampras & Davenport; VG in VG D/W £20.00 (approx $34.00)
2000; 160 pages; Sampras & V Williams; Mint in Mint D/W £25.00 (approx $42.50)
2000; 160 pages; Sampras & V Williams; VG in D/W which is edgeworn with 1" tear at upper edge £17.50 (approx $29.75)
2001; 160 pages; Ivanisevic & V Williams; Near Mint in Near Mint D/W £25.00 (approx 42.50)
2001; 160 pages; Ivanisevic & V Williams; Near Mint in edgeworn D/W £20.00 (approx $34.00)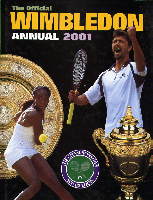 2002; 160 pages; Hewitt & S Williams; Near Mint in lightly edgeworn D/W (minor bumps to edges of boards) £27.50 (approx $46.75)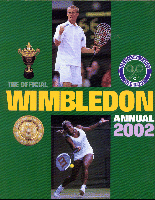 2003; 160 pages; Hewitt & S Williams; Mint in Mint D/W £27.50 (approx $46.75)
2003; 160 pages; Hewitt & S Williams; Near Mint in lightly edgeworn D/W (minor bumps to edges of boards) £22.50 (approx $38.25)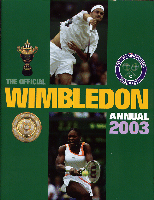 2004; 160 pages; Federer & Sharapova; Mint in Mint D/W £27.50 (approx $46.75)
2004; 160 pages; Federer & Sharapova; VG in VG D/W (gift inscription to front endpaper) £22.50 (approx $38.25)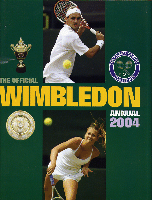 2005; 160 pages; Federer & V Williams; Near Mint in lightly edgeworn D/W £25.00 (approx $42.50)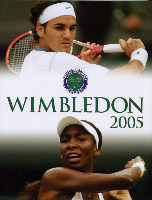 2006; 160 pages; Federer & Mauresmo; Mint in Mint D/W £27.50 (approx $46.75)
2007; 160 pages; Federer & V Williams; Mint in Mint D/W £27.50 (approx $46.75)
---
WIMBLEDON DAS OFFIZIELLE JAHRBUCH
German language record of the annual Wimbledon Championships with lots of colour photographs. Reviews the whole tournament in words and pictures with a section devoted to the German competitors. Authorised by the All England Club these books are completely different to the British version. Issued without dustwrappers.
1990; 160 pages; VG (wear to edges of boards) £30.00 (approx $51.00)
1991; 160 pages; VG £30.00 (approx $51.00)
1992; 160 pages; VG £30.00 (approx $51.00)
1992; 160 pages; VG (wear to edges of boards and damage to bottom of spine) £20.00 (approx $34.00)
1993; 160 pages; Near Mint £30.00 (approx $51.00)
1994; 160 pages; Near Mint £30.00 (approx $51.00)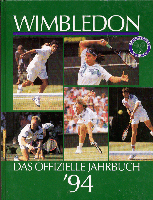 1995; 160 pages; Mint £30.00 (approx $51.00)
1996; 160 pages; Mint £30.00 (approx $51.00)
1997; 160 pages; Near Mint (this book has Exquisa sponsors logo on front cover) £30.00 (approx $51.00)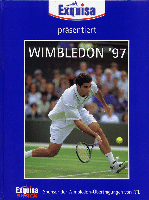 1998; 160 pages; Mint £30.00 (approx $51.00)
---
WIMBLEDON LE LIVRE OFFICIEL DE L'ANNEE
French language record of the annual Wimbledon Championships with lots of spectacular full page colour photographs. Reviews the whole tournament in words and pictures. Authorised by the All England Club these books are completely different to the British version. Issued without in pictorial boards without dustwrappers.
1990; 160 pages; VG (some wear to edges of boards) £30.00 (approx $51.00)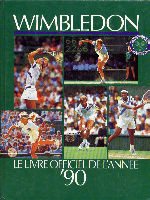 1991; 160 pages; VG £30.00 (approx $51.00)
---
ROLAND GARROS ANNUALS
French language record of the annual French Open Championships with lots of spectacular photographs.

ROLAND GARROS 86 - DENIS LALANNE. Hachette/FFT; 1986 1st French Edition; 117 pages. A pictorial record of the 1986 French Open in which Lendl beat Pernfors and Evert beat Navratilova. A large format book which contains many excellent colour action photographs with French captions.
VG corners bumped £30.00 (approx $51.00)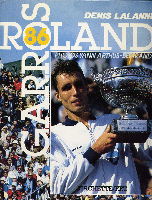 ROLAND GARROS 1990 - CHRISTIAN QUIDET. Du Chene/FFT/Antenne 2; 1990 1st French Edition; 120 pages. A pictorial record of the 1990 French Open in which Gomez beat Agassi and Seles beat Graf. A large format book which is full of excellent colour photographs by 30 of the world's top photographers. There is also a day-by-day narrative (in French) plus all results.
The book is in excellent condition but the bottom of the spine is bumped where book has been dropped; the slip-case is also damaged at the lower corner £40.00 (approx $68.00)


<![if !supportLineBreakNewLine]>
<![endif]>ROLAND GARROS 1991 - PATRICE DOMINGUEZ. Hachette/FFT; 1991 1st French Edition; 120 pages. A pictorial record of the 1991 French Open in which Jim Courier beat Andre Agassi and Monica Seles beat Arantxa Sanchez. A large format book which is full of excellent colour photographs by 30 of the world's top photographers. There is also a day-by-day narrative (in French) plus all results.
The book and D/W are in Near Mint condition with minor bump at base of spine; slip-case has very light edgewear £50.00 (approx $85.00)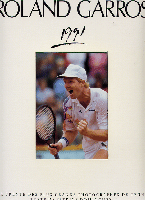 <![if !supportLineBreakNewLine]>
<![endif]> ROLAND GARROS 1993 - PATRICE DOMINGUEZ. Hachette/FFT; 1993 1st French Edition; 120 pages. A pictorial record of the 1993 French Open in which Sergi Bruguera beat Jim Courier and Steffi Graf beat Mary Joe Fernandez. A large format book which is full of excellent colour photographs by 22 of the world's top photographers. There is also a day-by-day narrative (in French) plus all results.
The book, D/W and the slip-case are all in Mint condition and still in the manufacturers original shrink-wrap £55.00 (approx $93.50)
Book and D/W in excellent condition in lightly worn slip-case £40.00 (approx $68.00)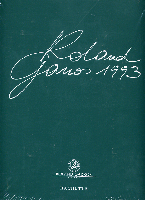 <![if !supportLineBreakNewLine]>
<![endif]> ROLAND GARROS 1994 - PATRICE DOMINGUEZ. Hachette/FFT; 1994 1st French Edition; 120 pages. A pictorial record of the 1994 French Open in which Sergi Bruguera beat Alberto Berasategui and Arantxa Sanchez beat Mary Pierce. A large format book which is full of excellent colour photographs by 20 of the world's top photographers. There is also a day-by-day narrative (in French) plus all results.
The book, D/W and the slip-case are all in Mint condition and still in the manufacturers original shrink-wrap £55.00 (approx $93.50)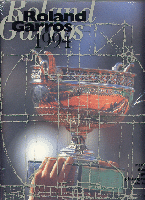 <![if !supportLineBreakNewLine]>

<![endif]> ROLAND GARROS 2004 - PATRICE DOMINGUEZ. FFT; 2004 1st French Edition; approx 120 pages. A pictorial record of the 2004 French Open in which Gaston Gaudio beat Guillermo Coria and Anastasia Myskina beat Elena Dementieva. A sumptuous, large format, book full of spectacular colour photographs. There is also a day-by-day narrative (in French) plus all results.
Mint £30.00 (approx $51.00)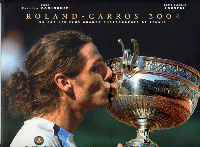 ---
UNITED STATES TENNIS ASSOCIATION YEARBOOKS
The emphasis is mainly on the American tennis scene but includes a review of the previous year and a mine of statistical information. All are softback editions and are at least VG condition unless otherwise stated. The player appearing on the front cover is named.
1959; Davis Cup; 280 pages £20.00 (approx $34.00) SOLD OUT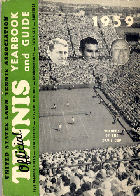 1960; Forest Hills; 352 pages £17.50 (approx $29.75) SOLD OUT
1961; Darlene Hard; 352 pages (covers worn) £20.00 (approx $34.00) SOLD OUT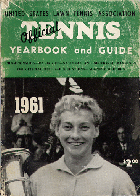 1963; McKinley; 368 pages (light creasing to covers) £20.00 (approx $34.00) SOLD OUT
1969; US Davis Cup Team; 416 pages £25.00 (approx $42.50) SOLD OUT
1972; Stan Smith; 496 pages (surface wear to covers) £20.00 (approx $34.00) SOLD OUT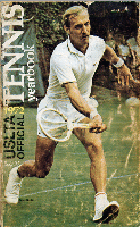 1975; Connors; 496 pages £20.00 (approx $34.00) SOLD OUT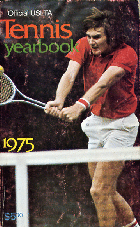 1976; Evert/Ashe; 512 pages (some surface damage to rear cover) £20.00 (approx $34.00) SOLD OUT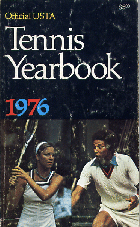 1977: Evert; 528 pages (Book covered in clear plastic, label removed damaging front cover, covers torn, 2 sheets stuck to final pages, some underlining) £7.50 (approx $12.75) SOLD OUT
1984; Martina Navratilova; 624 pages £15.00 (approx $25.50) SOLD OUT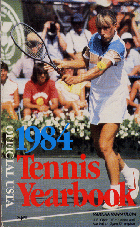 1985; John McEnroe; 644 pages £15.00 (approx $25.50) SOLD OUT
1986; US Wightman Cup Team; 692 pages £22.50 (approx $38.25) SOLD OUT
1987; Martina Navratilova; 696 pages (some creasing to front cover) £15.00 (approx 25.50) SOLD OUT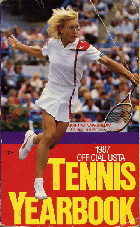 1988; Chris Evert/Jimmy Connors; 704 pages £15.00 (approx $25.50)
1989; US Olympic Team; 736 pages £15.00 (approx $25.50)
1990; Chris Evert; 729 pages £22.50 (approx $38.25)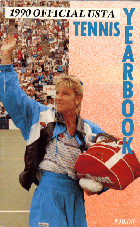 1991; US Davis Cup & Fed Cup Teams; 758 pages £15.00 (approx $25.50)
1992; Jim Courier; 772 pages £15.00 (approx $25.50)
1993; Capriati, Gigi & Mary Joe Fernandez; 792 pages £22.50 (approx $38.25)
1995; Andre Agassi; 768 pages £22.50 (approx $38.25)
1996; Pete Sampras; 768 pages (crease to rear cover) £22.50 (approx $38.25)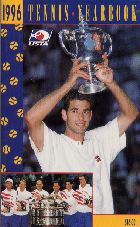 1998; Arthur Ashe Stadium; 740 pages £22.50 (approx $38.25)
1999; Lindsay Davenport; 418 pages (crease to front cover) £22.50 (approx $38.25)
2000; S Williams/Agassi; 405 pages £22.50 (approx $38.25)
2001; V Williams/Roddick; 468 pages £20.00 (approx $34.00)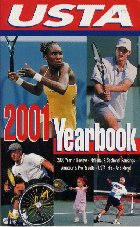 ---
RACQUET & TENNIS CLUB, CLUB BOOKS
These Club Book are published by the Racquet & Tennis Club, 370 Park Avenue, New York. They Contain Certificate of Incorporation; Officers, Committees & Managers; List of Members; By-Laws and Rules; Roll of Officers & Managers; Winners at Games
1973 1st US Edition; 160 pages. VG but minor marks to cover £15.00 (approx $25.50)
---
OTHER ANNUALS & YEARBOOKS
All are softbacks in at least VG condition unless otherwise stated. Listed in alphabetic order of title.
Asociation Argentina De Lawn Tennis 1933; 280 pages. (Hardcover in Spanish language) Light water stains and wrinkling to first 70 pages £25.00 (approx $42.50)
British Women's Tennis Association Guide To Tournaments 1979; 100 pages £7.50 (approx $12.75) SOLD OUT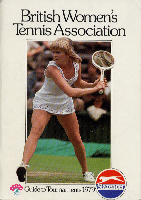 Dawson's International Lawn Tennis Almanac 1960; 416 pages £20.00 (approx $34.00) SOLD OUT
Cooper's Annual of Lawn Tennis 1961; 415 pages (manufacturers clear lamination peeling at spine) £20.00 (approx $34.00) SOLD OUT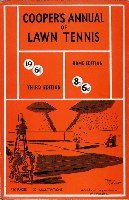 Dawson's International Lawn Tennis Almanac 1961; 416 pages £20.00 (approx $34.00) SOLD OUT
Dawson's International Lawn Tennis Almanac 1961; 416 pages (covers worn) £15.00 (approx $25.50) SOLD OUT
Lancashire Tennis 96: The Lancashire LTA Handbook; 88 pages. Contains Officials & Organisations, County Events & Fixtures 1996, County Reports 1995, Tournament & League Results 1995, Championship Roll and Membership & Affiliation. Illustrated with b&w photos. £7.50 (approx $12.75)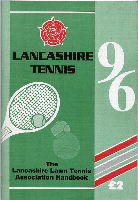 Lancashire Tennis 97: The Lancashire LTA Handbook; 80 pages. The final edition of the handbook in this book; contains Officials & Organisations, County Events & Fixtures 1997, County Reports 1996, Tournament & League Results 1996, Championship Roll and Membership & Affiliation. Illustrated with b&w photos. £7.50 (approx $12.75)


Lowe's Lawn Tennis Annual 1935; 475 pages plus adverts; book has been damp resulting in some staining to covers and endpapers, backstrip of spine missing, and part of 1 advert page missing otherwise contents Good £10.00 SOLD OUT
Lowe's Lawn Tennis Annual 1936; 407 pages plus adverts; covers worn at edges with tear at top of spine otherwise VG £25.00 (approx $42.50) SOLD OUT
Prudential Tennis Annual 1979; 192 pages. Emphasis is on the British scene with detailed Wimbledon review £10.00 (approx $17.00)


Surbiton Lawn Tennis Club Handbook, Fixtures & Rules 1953; 32 pages. Contains Rules, Bye-Laws, 2 page History of Surbiton Lawn Tennis Club, Fixtures for Summer 1953, and a List of Members. £10.00 (approx $17.00) SOLD OUT
Surbiton Lawn Tennis Club Handbook, Fixtures & Rules 1955. 32 pages. Contains Rules, Bye-Laws, 2 page History of Surbiton Lawn Tennis Club, Fixtures for Summer 1955, and a List of Members. £10.00 (approx $17.00) SOLD OUT
Surbiton Lawn Tennis Club Handbook, Fixtures & Rules 1957. 32 pages. Contains Rules, Bye-Laws, 2 page History of Surbiton Lawn Tennis Club, Fixtures for Summer 1957, and a List of Members. £10.00 (approx $17.00) SOLD OUT
Tennis Annee 1980 - The Official Guide of the French Tennis Federation; 416 pages. The French equivalent of World of Tennis Annual; in French language £10.00 (approx $17.00)
---