---
Biographies of Tennis Players:
WOMEN
---
This section is listed in alphabetic order of player surname. See also the sections Biographies of Tennis Players - Men for biographies of female players, and Compilation Biographies for biographies/portraits featuring more than one player.
All books are British hardback editions without dustwrapper (D/W) unless otherwise stated. A description of the condition of each book is given using the following terms/abbreviations:
Mint - as new; VG - very good condition; Good - obviously used but complete with no major faults; Ex library - from a public or school library and may contain the occasional stamp or label but in many cases this is the only indication.
As stock is continually changing please email Tennis Collectables with a list of the item(s) you are interested in, and which country you are based in. We will then get back to you with details of postage costs. All prices include postage within the UK; overseas customers will be charged postage – it costs around $6 to send an average hardback book by Priority Airmail to the USA. We can accept payment by PayPal, Sterling cheques and Postal Orders, and International Money Orders in sterling.
---
TRACY AUSTIN
BEYOND CENTER COURT: MY STORY - TRACY AUSTIN. Morrow; 1992 1st US Edition; 224 pages. Autobiography of the young American whose career was curtailed by injury.
VG in VG D/W £20.00 (approx $34.00)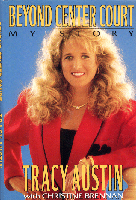 <![if !supportLineBreakNewLine]>
<![endif]> TRACY AUSTIN - S H BURCHARD. Harcourt Brace Jovanovich; 1982 1st US Edition; 64 pages. An early biography of Tracy Austin aimed at the younger reader. Follows the early part of her career up to her win at the US Open in 1981. Many B&W photos. Scarce.
VG £25.00 (approx $42.50)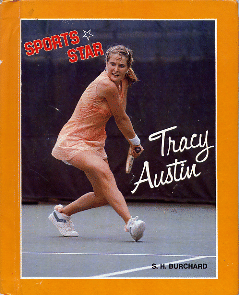 TRACY AUSTIN: POWERHOUSE IN PINAFORE - JAMES & LYNN HAHN. EMC Corp; 1978 1st US Edition; 40 pages. A scarce early biography of Tracy Austin, covering her exploits at the 1977 US Open, where as a 14 year old she reached the quarterfinals. Many black and white photographs.
Good (ex library copy with usual inkstamps and ticket holder; lower edge of boards worn) £25.00 (approx $42.50)

TRACY AUSTIN: TEENAGE CHAMPION - ANNE HARLER. Children's Press; 1980 1st US Edition; 45 pages. A biography of the teenage sensation who won the US Open in 1979 at the age of 17. Aimed at the younger reader, this scarce book contains many photos of Tracy.
Near Mint with accompanying audio tape (ex library copy but only indication is 1ink stamp) £25.00 (approx $42.50)

TRACY AUSTIN: TEENAGE SUPERSTAR - NANCY ROBISON. Harvey House; 1978 1st US Edition; 63 pages. A scarce early biography of Tracy Austin up to the age of 15, when she became the youngest player to achieve the number 4 ranking in the US.
Good (ex library copy with usual inkstamps and ticket holder) £17.50 (approx $29.75)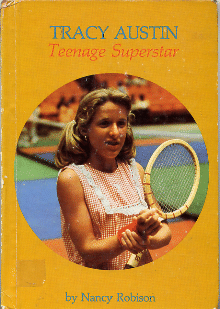 TRACY AUSTIN: TEEN TENNIS CHAMPION - NANCY ROBISON. Harvey House; 1980 US Edition; 80 pages. A scarce updated biography of Tracy Austin up to the age of 16, and her first US Open win.
VG (ex library copy with fep removed and usual inkstamps) £30.00 (approx $51.00)

TRACY AUSTIN: TENNIS WONDER - PETER TALBERT. Putnam; 1979 1st US Softcover Edition; 48 pages. A biography of Tracy Austin which climaxes with her US Open win in 1979 at the age of 15. Aimed at the younger reader there are many photographs of Tracy.
VG £15.00 (approx $25.50) SOLD OUT

TRACY AUSTIN: WORLD'S FASTEST RISING TENNIS STAR - GLORIA MIKLOWITZ. Tempo Books; 1978 1st US Softcover Edition; 87 pages. The story of Tracy Austin as an up-and-coming tennis champion! Aimed at the younger reader this rare book contains many B&W photos.
A well used copy with creased cover and bumped corners £6.00 (approx $10.20)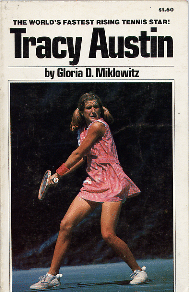 ---
PAULINE BETZ
WINGS ON MY TENNIS SHOES - PAULINE BETZ. Sampson Low Marston; 1949 1st Edition; 198 pages. Story of the first post-war Wimbledon Champion.
VG in edgeworn D/W (one plate taped in, 2 magazines photos of Betz glued to preliminary pages) £20.00 (approx $34.00) SOLD OUT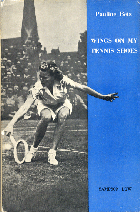 ---
ANGELA BUXTON
THE MATCH: ALTHEA GIBSON & ANGELA BUXTON – BRUCE SCHOENFELD. Amistad; 2004 1st US Edition; 304 pages. Biography of Althea Gibson & Angela Buxton and how they overcame racial and religious prejudice to triumph together at Wimbledon in 1956. An inspiring story of 2 underdogs who refused to let bigotry stop them.
VG in edgeworn D/W £15.00 (approx $25.50)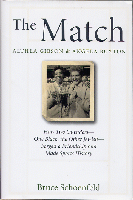 ---
JENNIFER CAPRIATI
JENNIFER CAPRIATI - MIKKI MORRISSETTE. Sports Illustrated for Kids; 1991 1st US Paperback Edition; 58 pages. A biography of Jennifer Capriati aimed at the younger reader. Contains colour photos and a comic-book style story insert.
Mint but edges of pages beginning to brown £12.50 (approx $21.25)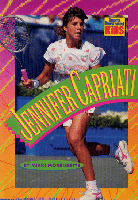 JENNIFER CAPRIATI - JAMES R ROTHAUS. Childs World; 1991 1st US Edition; 31 pages. A biography of the early part of Jennifer Capriati's career aimed at the younger reader. Alternate pages are colour photographs.
VG (ex library copy with usual inkstamps) £15.00 (approx $25.50)

JENNIFER CAPRIATI - ELLEN EMERSON WHITE. Scholastic; 1991 1st US Paperback Edition; 86 pages. Another early biography of Jennifer Capriati aimed at the younger reader. Contains an 8 page full colour photograph insert.
VG but heavy crease to corner of front cover £10.00 (approx $17.00)

JENNIFER CAPRIATI RISING STAR - PATRICIA LAKIN. Rourke Enterprises; 1993 1st US Edition; 48 pages. Traces the life of the young woman who turned professional at 13 and won the Olympic gold medal in 1992. Aimed at the younger reader; many colour pictures of Jennifer.
Mint £20.00 (approx $34.00)

JENNIFER CAPRIATI TEENAGE TENNIS STAR - BILL GUTMAN. Millbrook Sports World; 1993 1st US Edition; 48 pages. A biography of Jennifer Capriati which covers the early part of her career. Many colour photographs.
Mint £20.00 (approx $34.00)

JENNIFER CAPRIATI TENNIS SENSATION - MARGARET J GOLDSTEIN. Lerner; 1993 1st US Edition; 55 pages. The most up-to-date biography of Jennifer Capriati which covers her Olympic Gold medal. Many photographs.
Mint £20.00 (approx $34.00)
1993 Softcover Edition; Mint £12.50 (approx $21.25)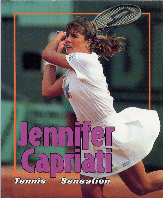 ON THE COURT WITH JENNIFER CAPRIATI – MATT CHRISTOPHER Little Brown; 2004 1st US Softcover Edition; 84 pages. Biography of Jennifer Capriati which traces her tennis career, and how she returned to the top of the women's game after her teenage hiatus. Aimed at the younger reader. B&W photos
Mint £10.00 (approx $17.00)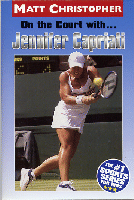 ---
DOROTHEA CHAMBERS
DOROTHEA CHAMBERS - ALAN LITTLE. Wimbledon Museum; 1985 1st Paperback Edition; 32 pages. A biography of the woman who won Wimbledon 7 times between 1903 and 1914.
Mint £5.00 (approx $8.50) SOLD OUT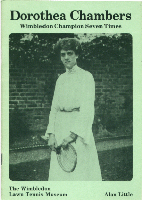 ---
KIM CLIJSTERS
BELLES DE MATCH: HISTOIRES BELGES & BELLES VICTOIRES - MIGUEL TASSO. Editions Reporters; 2003 1st Belgian Edition; 207 pages. Spectacular large format book celebrating the 2003 tennis year from a Belgian perspective. Reviews the 4 Grand Slams, Proximus Diamond Games, and The Masters and celebrates the successes of Justine Henin and Kim Clijsters. Also includes profiles of Belgium's other leading players – Els Callens, Olivier Rochus, Kristof Vliegen, Xavier Malisse, Christophe Rochus, and Kirsten Flipkens. Book full of stunning colour photographs by Philippe Buissin and Didier Mossiat (many full page) which are accompanied by text (in French language) by Miguel Tasso.
Mint apart from some bumping to the corners and the lower edge of front board £40.00 (approx $68.00) SOLD OUT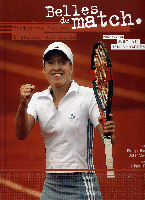 ---
MAUREEN CONNOLLY
(See also Championship Tennis under Instruction/Coaching)
FOREHAND DRIVE - MAUREEN CONNOLLY AS TOLD TO TOM GWYNNE. MacGibbon & Kee; 1957 1st Edition; 185 pages. 'Little Mo's' own account of her rise to tennis fame and the story behind her triumphs.
VG in lightly edgeworn D/W (D/W has minor loss at corners and internal repair to base of spine) £25.00 (approx $42.50) SOLD OUT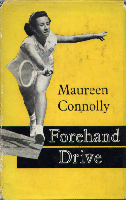 LITTLE MO'S LEGACY: A MOTHER'S LESSONS A DAUGHTER'S STORY – CINDY BRINKER SIMMONS WITH ROBERT DARDEN. Tapestry Press; 2001 1st US Edition; 126 pages. Maureen Connolly's daughter recalls life with 'Little Mo' on and off the court and how she coped with the tragedy of her mother's death when she was only 12 years old. The second part of the book contains the seven lessons that Little Mo taught her daughter. 16 pages of b&w photos.
VG in VG D/W £20.00 (approx $34.00)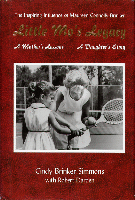 ---
MARGARET COURT
COURT ON COURT - MARGARET SMITH COURT WITH GEORGE MCGANN. W H Allen; 1976 1st British Edition; 211 pages. The second volume of autobiography by the Australian who won the Grand Slam in 1970.
VG in VG D/W £15.00 (approx $25.50)
Good in VG D/W (Ex library with usual ink stamps and removed ticket holder) £7.50 (approx $12.75)

MARGARET SMITH STORY - MARGARET SMITH WITH DON LAWRENCE. Stanley Paul; 1965 1st Edition; 192 pages. The first volume of Margaret Court's autobiography.
VG in VG D/W £20.00 (approx $34.00)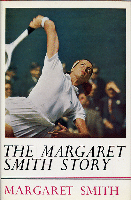 VG in edgetorn D/W £15.00 (approx $25.50)
VG (front endpaper removed) £7.50 (approx $12.75)

WINNING FAITH: THE MARGARET COURT STORY - BARBARA OLDFIELD. Sovereign World; 1993 Paperback Edition; 126 pages. A biography of Margaret Court which covers her playing career, her conversion to Christianity and her work with Margaret Court Ministries.
VG SIGNED 'BEST WISHES, MARGARET COURT' £35.00 (approx $59.50) SOLD OUT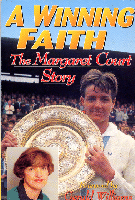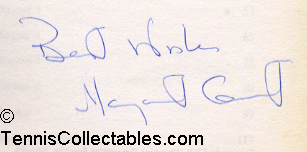 VG £7.50 (approx $12.75) SOLD OUT

WINNING WORDS: THE CREATIVE POWER OF WHAT YOU SAY - MARGARET COURT. Strand Publishing; 1999 1st Australian Softcover Edition; 155 pages. Margaret Court shares the story of her battle with illness, exhaustion and depression and how discovering God's Word led her to personal wholeness and a life of helping others.
VG £12.50 (approx $21.25)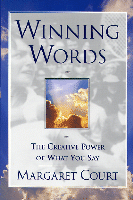 ---
LOTTIE DOD
LOTTIE DOD CHAMPION OF CHAMPIONS - JEFFREY PEARSON. Countywise; 1988 1st Paperback Edition; 95 pages. A biography of the greatest sportswoman of her time written with the assistance of her family. Many photographs.
Mint £12.50 (approx $21.25)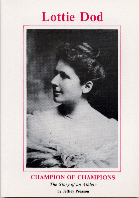 ---
CHRIS EVERT
CHRIS EVERT - S H BURCHARD. Harcourt Brace Jovanovich; 1976 US Edition; 64 pages. An early biography of Chris Evert aimed at the younger reader. Follows the early part of her career up to her win at Forest Hills in 1975. Many b&w photos. Scarce.
Good (ex library copy with usual ink stamps and front endpaper removed) £25.00 (approx $42.50)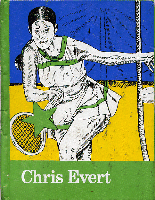 <![if !supportLineBreakNewLine]>
<![endif]> CHRIS EVERT - JAY H SMITH. Creative Education; 1975 1st US Edition; 31 pages. Early biography of Chris Evert aimed at the younger reader. Follows her career up to her achieving the number 1 ranking in the US in 1974. Illustrated by colour drawings. Scarce.
Good (wear to edges of boards; surface damage to part of rear board where label removed; ex library with usual ink stamps and ticket holder) £25.00 (approx $42.50)

CHRIS EVERT PRINCESS OF TENNIS - JULIAN MAY. Crestwood House; 1978 revised US Edition; 48 pages. An early biography of Chris Evert aimed at the younger reader. Follows the early part of her career up to 1977. Many B&W photos. Extremely scarce.
VG (minor wrinkling to front cover where label removed, minors bumps to ends of spine) £35.00 (approx $59.50)

CHRIS EVERT THE YOUNG CHAMPION - LYNN HANEY. Putnam; 1976 US Edition; 127 pages. An early biography of Chris Evert aimed at the younger reader. Follows the early part of her career up to her being world number one at 21. Many b&w photographs.
VG in edgeworn D/W (Ex library copy with usual ink stamps and front endpapers pasted to the inside of front board) £25.00 (approx $42.50) SOLD OUT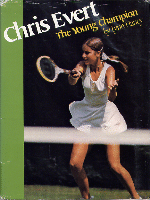 <![if !supportLineBreakNewLine]>
<![endif]> CHRIS EVERT WINNING TENNIS STAR - MARY JO O'SHEA. Creative Education; 1977 1st US Softcover Edition; 31 pages. Very scarce early biography of Chris Evert aimed at young children. Text on lefthand pages, photos on righthand pages.
VG £30.00 (approx $51.00)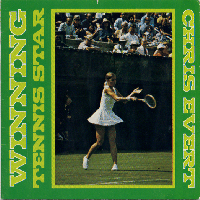 CHRIS EVERT WOMENS TENNIS CHAMPION - DOROTHY CHILDERS SCHMITZ. Crestwood House; 1977 1st Edition; 47 pages. An early biography of Chris Evert aimed at the younger reader. Covers her career up to her 1976 US Open win. Many photographs. Scarce.
Good (Ex library copy with usual ink stamps and ticket holder; edge wear to covers) £40.00 (approx $68.00)

CHRISSIE - CHRIS EVERT LLOYD WITH NEIL AMDUR. Methuen; 1982 1st Edition; 261 pages. Story of the woman who dominated tennis in the late 1970s - her life on and off court.24 pages of b&w photographs.
VG in VG D/W £15.00 (approx $25.50)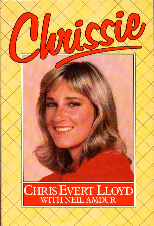 CHRISSIE - CHRIS EVERT LLOYD WITH NEIL AMDUR. NEL; 1983 1st Paperback Edition; 239 pages. Story of the woman who dominated tennis in the late 1970s - her life on and off court.
VG £5.00 (approx $8.50)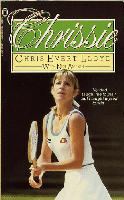 CHRISSIE: MY OWN STORY - CHRIS EVERT LLOYD WITH NEIL AMDUR. Simon & Schuster; 1982 1st US Edition; 238 pages. The American edition of Chris's autobiography. 24 pages of b&w photos.
VG in VG D/W £15.00 (approx $25.50)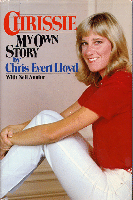 <![if !supportLineBreakNewLine]>
<![endif]> LLOYD ON LLOYD - CHRIS & JOHN LLOYD WITH CAROL THATCHER. Collins Willow; 1985 1st Edition; 213 pages. Chris Evert and John Lloyd talk frankly about the strains of marriage and tennis at top of the international circuit.
VG in VG D/W £15.00 (approx $25.50)
Good in Good D/W £7.50 (approx $12.75)

LLOYD ON LLOYD - CHRIS & JOHN LLOYD WITH CAROL THATCHER. Fontana; 1986 1st Paperback Edition; 206 pages. Chris Evert and John Lloyd talk frankly about the strains of marriage and tennis at top of the international circuit.
VG £4.50 (approx $7.65)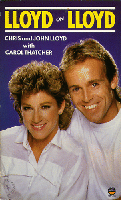 Good (crease to front cover) £3.00

THE RIVALS: CHRIS EVERT VERSUS MARTINA NAVRATILOVA – JOHNETTE HOWARD. Yellow Jersey Press; 2005 1st Edition; 296 pages. An examination of the careers of Chris Evert and Martina Navratilova and their close friendship despite the fierce competition in the 80 matches they played. 16 pages of b&w photos. A fascinating look at the womens tennis tour in the 1970s and 1980s.
VG in lightly edgeworn D/W £17.50 (approx $29.75)
VG in edgeworn D/W £12.50 (approx $21.25)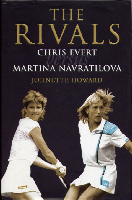 ---
MARY JOE FERNANDEZ
MARY JOE FERNANDEZ - MELANIE COLE. Mitchell Lane; 1998 1st US Edition; 32 pages. Part of the Real Life Reader Biography series this book, aimed at the younger reader, profiles the life of the Hispanic tennis player who, although turning professional as a teenager, continued her schooling and has become one of the world's top ranked players. Many black and white photos.
Mint £20.00 (approx $34.00)
---
ZINA GARRISON
ZINA GARRISON: ACE - A P PORTER. Lerner; 1991 1st US Edition; 64 pages. Biography of Zina Garrison who in 1990 became the first African-American woman in 32 years to reach the singles final at Wimbledon. Many photos.
Mint £12.50 (approx $21.25)
Softcover Edition; Mint £7.50 (approx $12.75)

ZINA: MY LIFE IN WOMEN'S TENNIS – ZINA GARRISON WITH DOUG SMITH. Frog; 2001 1st US Softcover Edition; 211 pages. Zina Garrison's autobiography describes learning tennis, entering the white world of professional tennis, glory of Wimbledon, and her battle with bulimia and depression. Foreword by Billie Jean King.
Near Mint £15.00 (approx $25.50) SOLD OUT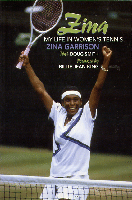 ---
ALTHEA GIBSON
I ALWAYS WANTED TO BE SOMEBODY - ALTHEA GIBSON. W H Allen; 1959 1st UK Edition; 175 pages. The biography of the 1957 & 1958 Wimbledon Champion and her struggle to become the first black champion.
VG in repaired D/W (some loss to lower edge of back) £15.00 (approx $25.50) SOLD OUT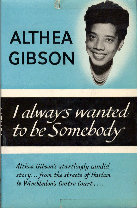 SO MUCH TO LIVE FOR - ALTHEA GIBSON WITH RICHARD CURTIS. Putnam; 1968 1st US Edition; 160 pages. The second instalment of autobiography from Althea Gibson which follows her life after retiring from amateur tennis in 1958.
VG in VG D/W (ex library copy with usual inkstamps/labels; some surface damage to the pastedowns and reverse of inner flaps of jacket; light wrinkling to the jacket) £25.00 (approx $42.50)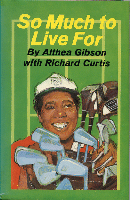 <![if !supportLineBreakNewLine]>
<![endif]> THE MATCH: ALTHEA GIBSON & ANGELA BUXTON – BRUCE SCHOENFELD. Amistad; 2004 1st US Edition; 304 pages. Biography of Althea Gibson & Angela Buxton and how they overcame racial and religious prejudice to triumph together at Wimbledon in 1956. An inspiring story of 2 underdogs who refused to let bigotry stop them.
VG in edgeworn D/W £15.00 (approx $25.50)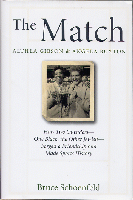 ---
KITTY GODFREE
(See also Lawn Tennis How To Improve Your Game under Instruction/Coaching)
KATHLEEN GODFREE - ALAN LITTLE. Wimbledon Museum; 1984 1st Paperback Edition; 24 pages. Biography of Britain's outstanding player of the 1920s who won Wimbledon in 1924 & 1926.
VG (code written in pen at upper edge of front cover) £7.50 (approx $12.75) SOLD OUT

KITTY GODFREE: LADY OF A GOLDEN AGE - GEOFFREY GREEN. Kingswood; 1987 1st Edition; 129 pages. Biography of Britains Wimbledon Ladies Champion of 1924 and 1926.
VG in VG D/W SIGNED 'KITTY GODFREE 1991' £50.00 (approx $85.00)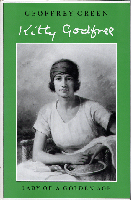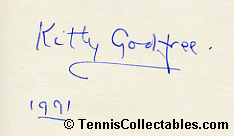 VG in VG D/W (bookplate to inside of front cover and date to title page) £15.00 (approx $25.50)
---
EVONNE GOOLAGONG
EVONNE - EVONNE GOOLAGONG, BUD COLLINS & VICTOR EDWARDS. Hart-Davis; 1975 1st Edition; 191 pages. Story of how the third daughter of Aborigine sheep-shearer became a world champion.
VG in VG D/W (pages browning) £12.50 (approx $21.25)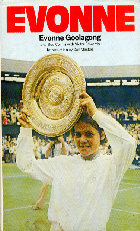 EVONNE GOOLAGONG - CHARLES AND ANN MORSE. Amecus Street; 1974 1st US Edition; 31 pages. A rare early biography of Evonne aimed at teenagers. Illustrated by colour drawings.
Near Mint (Although an ex school library copy the only sign is 2 small inkstamps) £25.00 (approx $42.50)
VG (ex library with usual ink stamps obliterated by black felt pen and removed ticket holder, numbers written on front endpaper) £15.00 (approx $25.50)

EVONNE GOOLAGONG SMASHER FROM AUSTRALIA - JULIAN MAY. Crestwood House; 1975 1st US Edition; 48 pages. A rare early biography of Evonne with lots of black and white photos.
VG with 2 light ink stamps £20.00 (approx $34.00)
VG (ex library copy which has been rebound in blue boards with usual ink stamps and front endpaper removed) £15.00 (approx $25.50)

EVONNE GOOLAGONG SMILES AND SMASHES - LINDA JACOBS. EMC Corporation; 1975 US Edition; 40 pages. A rare early biography of Evonne with lots of black and white photos.
VG £30.00 (approx $51.00)

FREE SPIRIT: EVONNE GOOLAGONG - D J HERDA. Raintree; 1976 1st US Edition; 47 pages. A biography of Evonne aimed at children. Many colour and B&W photos. Scarce.
VG (ex library copy, front endpaper removed, ink stamps) £20.00 (approx $34.00)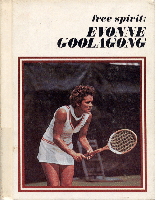 ---
STEFFI GRAF
DANKE, STEFFI - ROLF HAUSCHILD, HANSJORG FALZ, PAUL ZIMMER. Sportverlag Berlin; 1999 1st German Edition; 130 pages. Large format German language tribute to Steffi Graf. Covers her whole career with many colour photos. Detailed career results from 1982 to 1999.
Mint £35.00 (approx $59.50) SOLD OUT

STEFFI GRAF - DORIS HENKEL. Copress; 1993 1st German Edition; 112 pages. A large format German language book reviewing Steffi's career. Many excellent colour photos.
VG £30.00 (approx $51.00) SOLD OUT

STEFFI GRAF- LAURA HILGERS. Lerner; 1990 1st US Softcover Edition; 118 pages. A biography of Steffi aimed at the younger reader. Also contains colour photographs and a comic-book style insert.
VG £10.00 (approx $17.00)

STEFFI GRAF - RON KNAPP. Enslow; 1995 1st US Edition; 64 pages. Another biography of Steffi aimed at the younger reader which covers her career through to the end of 1994. Many black & white photographs.
Mint £22.50 (approx $38.25)

STEFFI GRAF - JUDY MONROE. Crestwood House; 1987 US Edition; 48 pages. An early biography of Steffi Graf which is aimed at the younger reader. Many photos. A very difficult book to locate.
Near Mint £35.00 (approx $59.50)
VG £30.00 (approx $51.00)
VG (ex library copy with usual ink stamps and stickers) £15.00 (approx $25.50)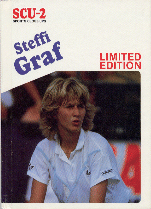 STEFFI GRAF - HANS RESKI & IRMGARD STOFFELS. Bastei Lubbe; 1987 1st German Paperback Edition; 221 pages. German language biography of Steffi Graf illustrated by black and white photographs throughout the text.
VG £20.00 (approx $34.00)
<![if !supportLineBreakNewLine]>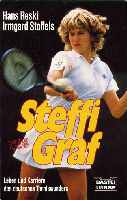 <![endif]> STEFFI GRAF - JAMES ROTHAUS. Childs World; 1991 US Edition; 31 pages. Lots of colour pictures of Steffi illustrate this biography of the popular German. Aimed at the younger reader.
Mint £30.00 (approx $51.00) SOLD OUT

STEFFI GRAF AUFSCHLAG ZUM ERFOLG – EIN TRAUM HAT SICH ERFULLT – MARITA WEBER. Delphin Verlag; 1987 1st German Edition; 120 pages. A large format German language book celebrating Steffi's rise to Number 1 in the world rankings with photos from throughout her career on most pages.
VG £30.00 (approx $51.00)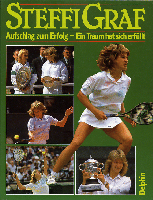 STEFFI GRAF SUPERSTAR - HANS-DIETER SCHUTT. Sportverlag Berlin 1993 1st German Paperback Edition; 288 pages. German language book of quotations from interviews given by Steffi Graf. Gives detailed match career record to February 1993. Black and white photographs.
Mint £20.00 (approx $34.00)

STEFFI GRAF TENNIS CHAMP - PHILIP BROOKS. Children's Press; 1996 1st US Edition; 48 pages. A biography of Steffi Graf aimed at the younger reader illustrated by colour photos.
Mint £20.00 (approx $34.00)

STEFFI: PUBLIC POWER, PRIVATE PAIN - SUE HEADY. Virgin; 1995 1st Edition; 196 pages. A biography of Steffi Graf which looks behind the public image to reveal the true Steffi. 8 pages of black and white photographs.
VG in VG D/W £15.00 (approx $25.50)


VG in VG D/W (bump to top edge of board) £12.50 (approx $21.25)
VG in edgetorn D/W £10.00
Good in lightly edgeworn D/W (ex-library copy with usual inkstamps etc) £6.00 (approx $10.20)
1996 Paperback Edition; 241 pages. VG £7.50 (approx $12.75)
---
DORIS HART
TENNIS WITH HART - DORIS HART. Lippincott; 1955 1st US Edition; 192 pages. Doris Hart recounts the triumphs and joys, defeats & disappointments of her life in tennis. 8 pages of b&w photos.
VG in VG D/W £17.50 (approx $29.75) SOLD OUT

TENNIS WITH HART - DORIS HART. Lutterworth; 1956 1st Edition; 192 pages. Doris Hart recounts the triumphs and joys, defeats & disappointments of her life in tennis.
VG in edgetorn D/W (small piece missing from upper edge of back of D/W) £14.00 (approx $23.80)
---
JUSTINE HENIN HARDENNE
BELLES DE MATCH: HISTOIRES BELGES & BELLES VICTOIRES - MIGUEL TASSO. Editions Reporters; 2003 1st Belgian Edition; 207 pages. Spectacular large format book celebrating the 2003 tennis year from a Belgian perspective. Reviews the 4 Grand Slams, Proximus Diamond Games, and The Masters and celebrates the successes of Justine Henin and Kim Clijsters. Also includes profiles of Belgium's other leading players – Els Callens, Olivier Rochus, Kristof Vliegen, Xavier Malisse, Christophe Rochus, and Kirsten Flipkens. Book full of stunning colour photographs by Philippe Buissin and Didier Mossiat (many full page) which are accompanied by text (in French language) by Miguel Tasso.
Mint apart from some bumping to the corners and the lower edge of front board £40.00 (approx $68.00) SOLD OUT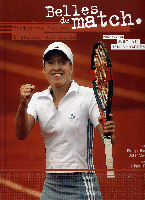 TIE-BREAK! JUSTINE HENIN-HARDENNE, TRAGEDY & TRIUMPH – MARK RYAN. Robson Books; 2004 1st Edition; 225 pages. The first biography of Justine Henin recalling her triumphs on the tennis court and the tragedies and discord that have torn her family apart. 16 pages of colour photos.
Mint in Mint D/W £20.00 (approx $34.00)
VG in VG D/W £15.00 (approx $25.50)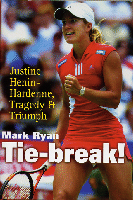 ---
MARTINA HINGIS
GRAND SLAM STARS: MARTINA HINGIS AND VENUS WILLIAMS - MICHAEL TEITELBAUM. Harper Collins; 1998 1st US Softcover Edition; 120 pages. Back-to-back biography of the two young stars. Eight pages of photographs.
Mint £10.00 (approx $17.00)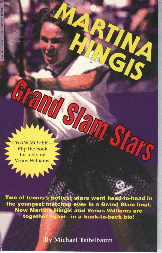 MARTINA HINGIS – CHRISTIN DITCHFIELD. Chelsea House; 2001 1st US Edition; 64 pages. Biography of Martina Hingis aimed at teenagers and published in the Women Who Win series. Colour photos.
Mint £22.50 (approx $38.25)

MARTINA HINGIS – CHRISTIN DITCHFIELD. Chelsea House; 2001 1st US Softcover Edition; 64 pages. Biography of Martina Hingis aimed at teenagers and published in the Women Who Win series. Colour photos.
Mint £12.50 (approx $21.25)

MARTINA HINGIS - RICHARD RAMBECK. Childs World; 1999 1st US Edition; 23 pages. Biography of Martina Hingis aimed at young children which contains 10 full page colour photos of Martina.
Mint £22.50 (approx $38.25)

MARTINA HINGIS OU LA BEAUTE DU JEU - ETIENNE BARILIER. Editions Zoe; 1997 1st Swiss Softcover Edition; 141 pages. French language biography of Martina Hingis with some black and white photographs plus detailed match results.
VG £25.00 (approx $42.50)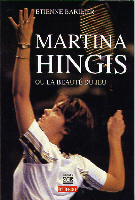 MARTINA HINGIS TEEN TENNIS SENSATION - BEV SPENCER. Warwick; 1999 1st US Edition; 107 pages. Biography of Martina Hingis aimed at the young adult reader which looks at the life of this teenage phenomenon. Includes b&w photos
Mint £22.50 (approx $38.25)

MARTINA HINGIS TEEN TENNIS SENSATION - BEV SPENCER. Warwick; 1999 1st US Softcover Edition; 107 pages. Biography of Martina Hingis aimed at the young adult reader which looks at the life of this teenage phenomenon. Includes b&w photos
Mint £12.50 (approx $21.25)
VG (very minor creasing to top corner) £8.00 (approx $13.60)

MARTINA HINGIS YOMIURI SPECIAL 1. 1997 Japanese Softcover Edition; 82 pages. Spectacular large format book full of stunning colour photographs of Martina Hingis, including many off court pictures. Includes chapters on the first three Grand Slams of 1997. Most of the picture captions are in English but there is some Japanese text.
Mint £50.00 (approx $85.00)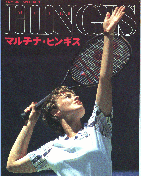 TENNIS KONIGIN MIT 16 - HELMUT ZIMMERMANN. Copress; 1997 1st Softcover Edition; 112 pages. German language biography of Martina Hingis with many colour photographs. Includes career head-to-head record.
Near Mint £22.50 (approx $38.25)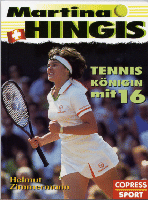 ---
HELEN HULL JACOBS
(See also Gallery Of Champions under Compilation Biographies; Modern Tennis under Coaching/Instruction)
BEYOND THE GAME - HELEN HULL JACOBS. Sampson Low Marston; 1st Edition (?1936); 212 pages. Miss Jacobs tells her story from her aspirations as a young player through to her life as a top player. She also provides an interesting insight into her contemporaries.
VG (cover faded) £30.00 (approx $51.00)
1936 1st US Edition; 275pages + illustrations. VG £30.00 (approx $51.00)
---
ANDREA JAEGER
ANDREA JAEGER PRO IN PONYTAILS - RAY SONS. Childrens Press; 1981 1st US Edition; 45 pages. Aimed at the younger reader this book follows the early career of Andrea who, at 14, became the youngest ever player to turn pro. Many b&w photographs of Andrea. Scarce.
VG (Ex library copy with one label and glue marks to front endpaper and minor surface damage to cover at spine where labels removed) £25.00 (approx $42.50)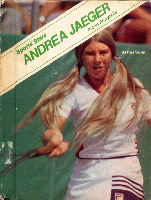 ANDREA JAEGER TENNIS CHAMPION - JULIANNA FOGEL & MARY WATKINS. J B Lippincott; 1980 1st US Edition; 42 pages. Aimed at the younger reader this book follows 14 year old Andrea's early career and her first visit to Wimbledon to play in the junior girls event. Full of photographs of Andrea.
VG in edgeworn D/W £22.50 (approx $38.25)

FIRST SERVICE: FOLLOWING GOD'S CALLING & FINDING LIFE'S PURPOSE – ANDREA JAEGER. Health Communications; 2004 1st US Edition; 323 pages. Autobiography of Andrea Jaeger covering her tennis career which was prematurely ended by a shoulder injury and the establishment of her Silver Lining Foundation in Colarado which benefits children with cancer. 24 pages of photos.
Mint in Mint D/W (minor wear to upper edge of jacket) £22.50 (approx $38.25)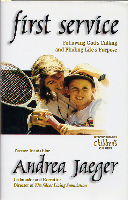 ---
ANN JONES
GAME TO LOVE - ANN JONES. Stanley Paul; 1971 1st Edition; 180 pages. Biography of Britain's 1969 Wimbledon Champion. 16 pages of b&w photos.
VG in VG D/W £15.00 (approx $25.50) SOLD OUT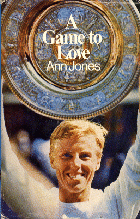 ---
BILLIE JEAN KING
(See also How To Play Mixed Doubles, Play Better Tennis With Billie Jean King, Tennis Love, Tennis To Win under Coaching/Instruction; We Have Come A Long Way under Histories)
BILLIE JEAN - BILLIE JEAN KING WITH KIM CHAPIN. W H Allen; 1975 1st Edition; 208 pages. Billie Jean recounts the struggles of her amateur days through to the 'Battle of the Sexes' match against Bobby Riggs. 16 pages of b&w photos.
VG in VG D/W £15.00 (approx $25.50)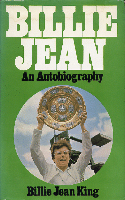 <![if !supportLineBreakNewLine]>
<![endif]> Good in Good D/W (ex library copy with usual inkstamps and labels; ¼" trimmed from lower edge of jacket) £5.00 (approx $8.50)
<![if !supportLineBreakNewLine]> <![endif]>
BILLIE JEAN KING - JIM BAKER. Grosset & Dunlap; 1974 1st US Edition; 90 pages. Biography of Billie Jean King aimed at the younger reader. Lots of black and white photos. Scarce.
VG (ex library copy with usual ink stamps and ticket holder) £25.00 (approx $42.50)

BILLIE JEAN KING - MARSHALL & SUE BURCHARD. Putnam; 1975 1st US Edition; 96 pages. Biography of Billie Jean King published in the Sports Hero series and aimed at the younger reader. Lots of black and white photos. Scarce.
VG in VG D/W (ex library copy with usual ink stamps and ticket holder) £30.00 (approx $51.00)
1975 3rd Impression; VG £20.00 (approx $34.00)

BILLIE JEAN KING - WILLIAM SANFORD & CARL GREEN. Crestwood House; 1993 1st US Edition; 48 pages. Part of the Sports Immortals series this biography of Billie Jean is aimed at the teenage reader. Many black & white photos.
Mint £20.00 (approx $34.00)



BILLIE JEAN KING THE AUTOBIOGRAPHY - BILLIE JEAN KING & FRANK DEFORD. Granada; 1982 1st Edition; 207 pages. The second volume of autobiography of the most influential woman player of recent years.
VG in VG D/W £12.50 (approx $21.25)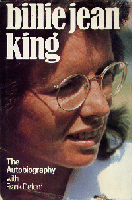 1982 US Edition; 182 pages. VG in VG D/W £12.50 (approx $21.25)

BILLIE JEAN KING THE AUTOBIOGRAPHY - BILLIE JEAN KING & FRANK DEFORD. Granada; 1983 1st Paperback Edition; 252 pages. The second volume of autobiography of the most influential woman player of recent years. 16 pages of b&w photographs.
VG £4.50 (approx $7.65)
Good £3.00 (approx $5.10)

BILLIE JEAN KING THE LADY OF THE COURT - JAMES T OLSEN. Creative Education; 1974 1st US Edition; 31 pages. A rare early biography of Billie Jean aimed at teenagers. Illustrated by colour drawings.
VG (Ex library copy in excellent almost unused condition but with usual inkstamps and ticket holder) £30.00 (approx $51.00)

KING ON THE COURT: BILLIE JEAN KING - LEILA BOYLE GEMME. Raintree; 1976 1st US Edition; 47 pages. A biography of Billie Jean aimed at children. Many colour photos. Scarce.
VG (Ex library copy with usual ink stamps and ticket holder) £30.00 (approx $51.00)

TENNIS CHAMPION: BILLIE JEAN KING - A R MORSE. Creative Education; 1976 1st US Edition; 31 pages. Biography of Billie Jean King aimed at the younger reader. Lots of colour and black and white photos. Scarce.
VG (ex library copy with front endpaper removed) £15.00 (approx $25.50)
---
ANNA KOURNIKOVA
ANNA KOURNIKOVA – AMANDA MAWRENCE. Carlton; 2001 1st Softcover Edition; 48 pages. Unofficial biography of Anna Kournikova under chapter headings The Beginning, Annamania, Money Making Machine, Anna & Alla, Anna's Guys, The Competitor, The Future, and The Real Anna. 17 full page and many smaller colour photos.
Mint £10.00 (approx $17.00)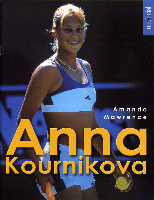 VG (light creasing to covers) £7.50 (approx $12.75)

HOT SHOTS SPECIAL: KOURNIKOVA POSTER SPECIAL. Dennis Oneshots Ltd; 1999 1st Edition; 16 pages. Colour magazine devoted to Anna Kournikova, with brief biography and lots of colour photographs. Contains large double-sided poster plus 4 other pinups.
Mint £20.00 (approx $34.00)
---
SUZANNE LENGLEN
(See also Initiation Au Tennis, Lawn Tennis For Girls, Lawn Tennis Game Of Nations under Coaching/Instruction)
SUZANNE LENGLEN: TENNIS IDOL OF THE TWENTIES - ALAN LITTLE. Wimbledon Museum; 1988 1st Edition; 104 pages. Biography of the French player who dominated tennis in the 1920s. Many photographs.
VG SIGNED TO INSIDE OF FRONT COVER 'Mrs Sylvia Mayne, With Compliments, Alan Little, Wimbledon 1988' £17.50 (approx $29.75)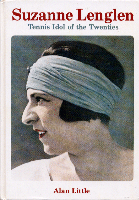 SUZANNE LENGLEN: TENNIS IDOL OF THE TWENTIES - ALAN LITTLE. Wimbledon Museum; 2007 Revised Softcover Edition; 216 pages. Updated edition of the biography of the French player who dominated tennis in the 1920s. Now contains a detailed results section. Many photographs.
Mint £22.50 (approx $38.25)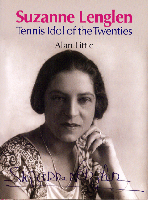 ---
HANA MANDLIKOVA
HANA: AN AUTOBIOGRAPHY - HANA MANDLIKOVA WITH MALCOLM FOLLEY. Arthur Barker; 1989 1st Edition; 184 pages. Hana talks revealingly about her life on the circuit and her marriage and subsequent divorce. 16 pages of b&w photos.
VG in VG D/W £15.00 (approx $25.50)
VG in VG D/W (ex library copy with usual inkstamps and labels) £10.00 (approx $17.00)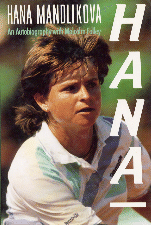 ---
ALICE MARBLE
COURTING DANGER - ALICE MARBLE WITH DALE LEATHERMAN. St Martins Press; 1991 1st US Edition; 255 pages. An excellent biography of Alice Marble and her struggle to overcome illness to triumph at Wimbledon. Also a fascinating account of her wartime spying activities.
VG in edgeworn D/W (Ex library copy; wrapper stuck to boards) £12.50 (approx $21.25)



ROAD TO WIMBLEDON - ALICE MARBLE. W H Allen; ?1947 1st Edition; 166 pages. Biography of the American who won Wimbledon in 1939. 8 pages of b&w photos.
VG in very worn D/W (most of spine of D/W missing) £17.50 (approx $29.75)
VG £15.00 (approx $25.50)
---
ANGELA MORTIMER
MY WAITING GAME - ANGELA MORTIMER. Muller; 1962 1st Edition; 196 pages. Autobiography of Britains 1961 Wimbledon Champion.
VG in VG D/W PASTED TO HALF-TITLE PAGE IS WHITE CARD SIGNED 'BEST WISHES ANGELA MORTIMER' £25.00 (approx $42.50) SOLD OUT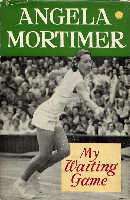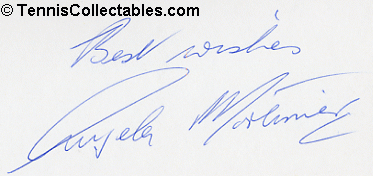 ---
MARTINA NAVRATILOVA
(See also Rick Elstein's Tennis Kinetics, Tennis My Way under Instruction/Coaching; Breaking Point, Killer Instinct, Total Zone under Novels)
BEING MYSELF - MARTINA NAVRATILOVA WITH GEORGE VECSEY. Collins; 1985 1st Edition; 272 pages. Martina's excellent autobiography gives intimate details of her life on and off court.
VG in VG D/W £20.00 (approx $34.00)
VG in lightly edgeworn D/W (inscription on endpaper) £17.50 (approx $29.75)
VG in edgeworn D/W £12.50 (approx 21.25)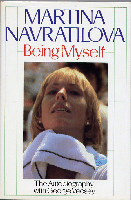 LADY MAGIC - NANCY LIEBERMAN-CLINE. Sagamore; 1992 1st US Edition; 239 pages. The autobiography of basketball pro Nancy Lieberman who became the trainer of Martina Navratilova. There are several chapters devoted to her personal and professional relationship with Navratilova who has written the foreword.12 pages b&w photos.
VG in VG D/W £15.00 (approx $25.50)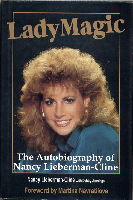 LESBIAN IDOL: MARTINA, KD AND THE CONSUMPTION OF LESBIAN MASCULINITY - LOUISE ALLEN. Cassell; 1997 1st Softcover Edition; 184 pages. A critical analysis of the relationship between Martina Navratilova and k d lang and their fans, and the way they are portrayed in the mainstream media.
VG £15.00 (approx $25.50)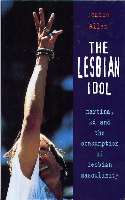 <![if !supportLineBreakNewLine]>
<![endif]> LOVE MATCH: NELSON VS NAVRATILOVA - SANDRA FAULKNER & JUDY NELSON. Birch Lane Press; 1993 1st US Edition; 215 pages. Judy Nelson's account of her life with Martina and the subsequent 'palimony' case. Introduction by Rita Mae Brown. A must for all Martina fans.
Mint in Mint D/W £25.00 (approx $42.50)
VG in VG D/W £20.00 (approx $34.00)

MARTINA - MARTINA NAVRATILOVA WITH GEORGE VECSEY. Knopf; 1985 1st US Edition; 287 pages. American edition of Martina's autobiography - has different final chapter to 'Being Myself'.
VG in edgeworn D/W £25.00 (approx $42.50)
1985 Reprint; VG in VG D/W £20.00 (approx $34.00)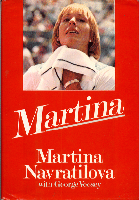 1986 1st US Paperback Edition; 321 pages; VG (spine creased) £9.00 (approx $15.30)
1991/1992 US Paperback Edition; 321 pages; VG £9.00 (approx $15.30)

MARTINA NAVRATILOVA - JULIA HOLT. ALBSU; 1994 1st Softcover Edition; 16 pages. Part of the 'Real Lives' series this biography is aimed at helping adult literacy. The text is therefore very basic but there are 5 full page black & white photographs plus a colour photograph on the cover.
Mint £7.50 (approx $12.75)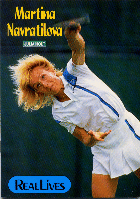 MARTINA NAVRATILOVA - JANE MERSKY LEDER. Crestwood House; 1985 1st US Edition; 48 pages. Another very scarce early biography of Martina which covers her life and career up to 1984. Many photographs. Aimed at the younger reader.
VG (Ex library copy with rear endpaper removed) £15.00 (approx $25.50)
Ex library copy which internally is in VG condition, apart from rear endpaper removed, but externally part of surface of rear board damaged due to removal of 2 adhesive labels £12.50 (approx $21.25)

MARTINA NAVRATILOVA: TENNIS FURY - LINDA JACOBS. EMC Corporation; 1976 1st US Edition; 40 pages. Part of the 'Women Who Win' series this is a biography of Martina's early life and career up to her defection at the 1975 US Open. Many photos. Book aimed at young readers. Extremely scarce.
VG (previous owner name on front endpaper) £100.00 (approx $170.00)
An ex library copy which internally is in VG condition apart from front endpaper removed; externally 2 labels to covers and boards lightly marked £50.00 (approx $85.00)

MARTINA NAVRATILOVA TENNIS POWER - R R KNUDSON. Viking Kestrel; 1986 1st US Edition; 58 pages. Part of the 'Women of Our Time' series this account of Martina's early life and career is aimed at the 7-11 age group. Scarce.
VG (Very nice ex library copy with usual ink stamps and ticket holder) £20.00 (approx $34.00)

MARTINA NAVRATILOVA: THE TENNIS STAR WHO CHOSE FREEDOM - DOLAN & LYTTLE. Doubleday; 1977 1st US Edition; 81 pages. The first biography of Martina which covers her early life up to her defection from Czechoslovakia. Many black and white photographs. Scarce.
VG in VG D/W (ex library copy with usual inkstamps and ticket holder removed) £30.00 (approx $51.00)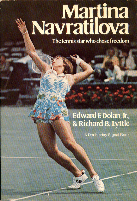 MARTINA UNAUTHORISED - ADRIANNE BLUE. Gollancz; 1994 1st Edition; 224 pages + 16 pages of photos. A biography of Martina Navratilova which ends with the emotion of the 1994 Wimbledon final. Martina did not assist in the writing of the book although she knew of its existence. Contains much about her off-court relationships and interviews/quotes from people such as Billie Jean King and Pam Shriver.
Mint in Mint D/W £17.50 (approx $29.75)

MARTINA UNAUTHORISED - ADRIANNE BLUE. Gollancz; 1995 1st Paperback Edition; 226 pages + 16 pages of photos. A biography of Martina Navratilova which ends with the emotion of the 1994 Wimbledon final. Martina did not assist in the writing of the book although she knew of its existence. Contains much about her off-court relationships and interviews/quotes from people such as Billie Jean King and Pam Shriver.
VG £7.00 (approx $11.90)

THE RIVALS: CHRIS EVERT VERSUS MARTINA NAVRATILOVA – JOHNETTE HOWARD. Yellow Jersey Press; 2005 1st Edition; 296 pages. An examination of the careers of Chris Evert and Martina Navratilova and their close friendship despite the fierce competition in the 80 matches they played. 16 pages of b&w photos. A fascinating look at the womens tennis tour in the 1970s and 1980s.
VG in lightly edgeworn D/W £17.50 (approx $29.75)
VG in edgeworn D/W £12.50 (approx $21.25)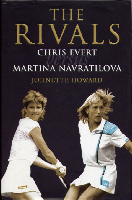 SHAPE YOUR SELF: AN INSPIRATIONAL GUIDE TO ACHIEVING YOUR PERSONAL BEST – MARTINA NAVRATILOVA. Time Warner; 2006 1st Edition; 232 pages. Martina Navratilova shares the simple strategies, tips and small lifestyle changes that will enable anyone to tune up their body, mind and spirit. Includes many anecdotes from Martina's life and tennis career. Many cpolour photos of Martina demonstrating the exercises.
VG in VG D/W £15.00 (approx $25.50)
VG in VG D/W (some wrinkling to the right hand edge of pages) £12.50 (approx $21.25)
VG in edgeworn D/W (ex-library copy with some wrinkling to the right hand edge of pages) £10.00 (approx $17.00)

---
MARY PIERCE
MA VIE COTE COURT, COTE JARDIN - MARY PIERCE WITH GILLES LHOTE. Michel Lafon; 1995 1st French Edition; 144 pages. French language autobiography of Mary Pierce packed with colour photos both on and off the court.
VG in VG D/W £50.00 (approx $85.00)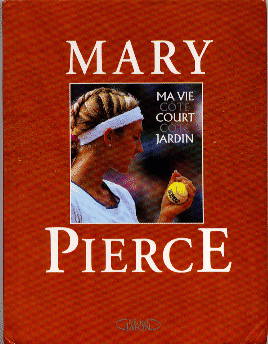 ---
LENA RICE
LENA RICE - ALAN LITTLE. Wimbledon Museum; 1985 1st Paperback Edition; 12 pages. A biography of the only Irish Wimbledon lady champion.
Mint £3.50 (approx $5.95)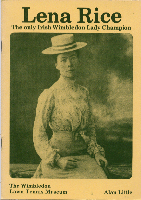 ---
RENEE RICHARDS
SECOND SERVE: THE RENEE RICHARDS STORY - RENEE RICHARDS. Stein & Day; 1983 1st US Edition; 373 pages. The story of how Richard Raskind became Renee Richards professional tennis player and coached Martina Navratilova to her 1982 Wimbledon triumph. 16 pages of b&w photos.
VG in VG D/W (small stain to inner surface of jacket) £25.00 (approx $42.50)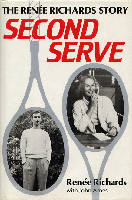 ---
GABRIELA SABATINI
MY STORY - GABRIELA SABATINI. Avatar General Corporation; 1995 US Paperback Edition; 112 pages. A biography of the popular Argentinean written for the younger reader. Part of the 'Motivational Career Series' it is aimed at inspiring youngsters to find their special gifts in life. Includes black and white photos of Gabriela from the family archives. Difficult to find.
VG £25.00 (approx $42.50)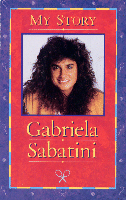 ---
ARANTXA SANCHEZ-VICARIO
ARANTXA SANCHEZ-VICARIO: FIGHTER, SURVIVOR, CHAMPION - CAROLINE BURNET & CAROLINE HARDING. Writers Club Press; 2000 1st US Softcover Edition; 331 pages. Comprehensive biography of Arantxa. Appendices include her career titles and Grand Slam and Number 1 ranking details. 15 pages of b&w pictures.
VG £25.00 (approx $42.50) SOLD OUT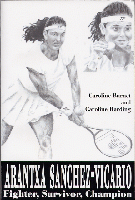 ---
MONICA SELES
MONICA: FROM FEAR TO VICTORY - MONICA SELES. Harper Collins; 1996 1st US Edition; 240 pages. Autobiography of Monica Seles in which, for the first time, she describes her fears and depression following the Hamburg stabbing incident. Also covers her extraordinary life as a child prodigy through to her triumphant return to tennis.
VG in VG D/W £20.00 (approx $34.00)

MONICA: FROM FEAR TO VICTORY - MONICA SELES. Harper Collins; 1996 1st UK Edition; 240 pages. Autobiography of Monica Seles in which, for the first time, she describes her fears and depression following the Hamburg stabbing incident. Also covers her extraordinary life as a child prodigy through to her triumphant return to tennis.
VG in VG D/W £17.50 (approx $29.75)
VG in VG D/W (minor damage to edge of rear cover) £10.00 (approx $17.00)
Good in VG D/W (ex library copy with usual inkstamps) £7.5<![if !supportLineBreakNewLine]>0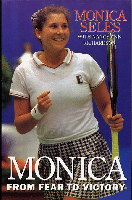 <![endif]>
MONICA: FROM FEAR TO VICTORY - MONICA SELES. Harper Collins; 1996 1st UK Softcover Edition; 240 pages. Autobiography of Monica Seles in which, for the first time, she describes her fears and depression following the Hamburg stabbing incident. Also covers her extraordinary life as a child prodigy through to her triumphant return to tennis. 16 pages of photos.
VG £10.00 (approx $17.00)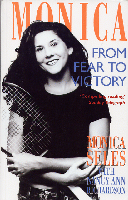 <![if !supportLineBreakNewLine]>
<![endif]>MONICA SELES - MICHAEL GOODMAN. Creative Education; 1998 1st US Edition; 31pages. Large format biography aimed at the younger reader. There are over 40 colour photos of Monica.
Mint £20.00 (approx $34.00)

MONICA SELES CHAMPION TENNIS PLAYER - LIZA BURBY. Rosen; 1997 1st US Edition; 24 pages. Biography aimed at young children which contains 9 full page colour photos of Monica.
Mint £17.50 (approx $29.75)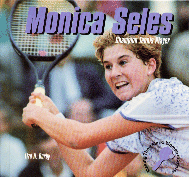 MONICA SELES OVERCOMING THE ODDS - SUZANNE J MURDICO. Raintree; 1998 1st US Softcover Edition; 48 pages. Biography aimed at children which contains colour photos of Monica.
Mint £12.50 (approx $21.25)

MONICA SELES: RETURNING CHAMPION - KRISTIN SMITH FEHR. Lerner; 1997 1st US Edition; 64 pages. A biography that follows Monica's rise to the top of tennis and her comeback after the Hamburg stabbing. Many colour photos.
Mint £25.00 (approx $42.50)

MONICA SELES: RETURNING CHAMPION - KRISTIN SMITH FEHR. First Avenue Editions; 1997 1st US Softcover Edition; 64 pages. A biography that follows Monica's rise to the top of tennis and her comeback after the Hamburg stabbing. Many colour photos.
Near Mint £12.50 (approx $21.25)

MONICA SELES STORY: RETURN OF A CHAMPION - JOE LAYDEN. St Martins Press; 1996 1st US Paperback Edition; 275 pages. An unauthorised biography of Monica Seles and her return to the tour after the events of 1993.
Mint £10.00 (approx $17.00)

MONICA SELES: THE COMEBACK KID - MARK STEWART. Children's Press; 1997 1st US Edition; 48 pages. Another unofficial biography of Monica Seles aimed at children with many colour and black and white photos.
Mint £20.00 (approx $34.00)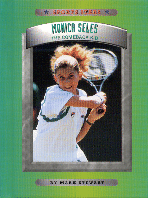 ---
PAM SHRIVER
PASSING SHOTS: PAM SHRIVER ON TOUR - PAM SHRIVER, FRANK DEFORD & SUSAN ADAMS. McGraw Hill; 1987 1st US Edition; 211 pages. Pam Shriver's candid record of her life on and off the court in 1985.
VG in VG D/W SIGNED BY PAM SHRIVER £30.00 (approx $51.00)<![if !supportLineBreakNewLine]>
<![endif]>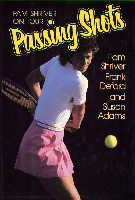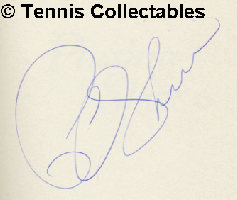 ---
MAY SUTTON
MAY SUTTON - ALAN LITTLE. Wimbledon Museum; 1984 1st Paperback Edition; 24 pages. Biography of the first overseas player to become Wimbledon champion.
Mint £3.50 (approx $5.95)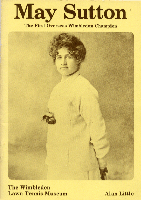 ---
ELEANOR 'TEACH' TENNANT
'TEACH' TENNANT - NANCY SPAIN. Werner Laurie; 1953 1st Edition; 112 pages. Biography of Eleanor Tennant who is perhaps best remembered as Little Mo's coach.
VG in VG D/W £25.00 (approx $42.50) SOLD OUT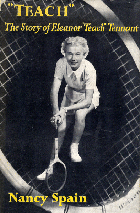 ---
CHRISTINE TRUMAN
(See also Tennis under Coaching/Instruction)
TENNIS TODAY - CHRISTINE TRUMAN. Arthur Barker; 1961 1st Edition; 119 pages. Autobiography of the British player who went on to be a Wimbledon finalist and is now a well known BBC Radio commentator. Many photographs.
Good in worn D/W (some loss to ends of spine) PASTED TO TITLE PAGE IS WHITE CARD SIGNED 'BEST WISHES CHRISTINE TRUMAN' £20.00 (approx $34.00)
VG in worn D/W £7.50 (approx $12.75)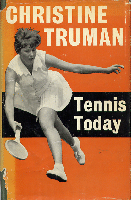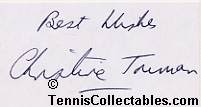 ---
VIRGINIA WADE
(See also Ladies of the Court under Histories)
COURTING TRIUMPH - VIRGINIA WADE WITH MARY LOU MELLACE. Hodder & Stoughton; 1978 1st Edition; 192 pages. Virginia's own account of her triumph on the Centre Court at Centenary Wimbledon.
VG in VG D/W £12.50 (approx $21.25)
1978 1st US Edition; VG in VG D/W £12.50 (approx $21.25)
Proof Copy; VG in VG D/W £10.00 (approx $17.00)
1979 Paperback Edition; VG £3.00 (approx $5.10)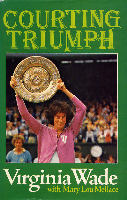 ---
MAUD WATSON
MAUD WATSON - ALAN LITTLE. Wimbledon Museum; 1983 1st Paperback Edition; 16 pages. Biography of the first Wimbledon lady champion.
Mint £3.50 (approx $5.95)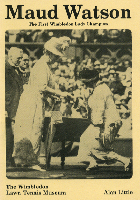 ---
SERENA WILLIAMS
QUEEN OF THE COURT: MY LIFE - SERENA WILLIAMS WITH DANIEL PAISNER. Simon & Schuster; 2009 1st Edition; 257 pages. Serena Williams' autobiography from growing up in Compton, California through to World Number 1 and capturing 11 Grand Slam titles. 16 pages of b&w photographs.
Mint in Mint D/W £12.50 (approx $21.25)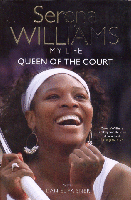 ---
VENUS WILLIAMS
GRAND SLAM STARS: MARTINA HINGIS AND VENUS WILLIAMS - MICHAEL TEITELBAUM. Harper Collins; 1998 1st US Softcover Edition; 128 pages. Back-to-back biography of the two young stars. Eight pages of photographs.
Mint £10.00 (approx $17.00)
---
VENUS AND SERENA WILLIAMS
(See also How To Play Tennis under Coaching/Instruction)
SERENA AND VENUS WILLIAMS – VIRGINIA ARONSON. Chelsea House; 2001 1st US Edition; 64 pages. Biography of Serena and Venus Williams aimed at teenagers and published in the Women Who Win series. Colour photos.
Near Mint £20.00 (approx $34.00)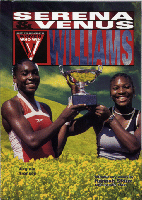 <![if !supportLineBreakNewLine]>
<![endif]> VENUS AND SERENA WILLIAMS - GABRIEL FLYNN. Childs World; 1999 1st US Edition; 24 pages. Biography of Venus and Serena Williams aimed at the younger reader. Many colour photos.
Mint £17.50 (approx $29.75)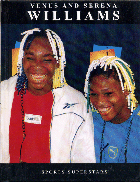 VENUS AND SERENA WILLIAMS: GRAND SLAM SISTERS - TERRI MORGAN. Lerner Sports; 2001 1st US Softcover Edition; 64 pages. Biography of the Williams Sisters aimed at the younger reader. Career highlights to end of 2000. Many colour photos.
Mint £12.50 (approx $21.25)
---
HELEN WILLS
(See also Tennis under Instruction/Coaching; Death Serves An Ace under Novels)
FIFTEEN-THIRTY - HELEN WILLS. Scribners; 1937 1st US Edition; 311 pages. Helen Wills' biography covers her rivalries with Suzanne Lenglen and Helen Jacobs as well as her life outside tennis. An excellent book which is difficult to find.
VG in edgeworn D/W (the scarce jacket has small loss at corners and the ends of spine) THIS COPY SIGNED ON FRONT ENDPAPER BY MAX ROBERTSON AND HAS HIS BOOKPLATE ON THE FRONT PASTEDOWN £125.00 (approx $212.50) SOLD OUT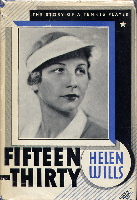 <![if !supportLineBreakNewLine]>
<![endif]>VG (some fraying to corners of covers and spine) £75.00 (approx $127.50)
VG - an ex-library copy bound in blue cloth with gilt lettering to spine; usual inkstamps and remains of labels £45.00 (approx $76.50)
---