---
Media Guides
---
Aimed at journalists these softcover books contain a wealth of information - some weigh 1 kilo! The media guides on the women's and men's games include a factsheet on each player plus results and many photographs. The event media guides contain details of the competing players plus results from previous years. All are at least VG condition.
All books are softcover editions without dustwrapper (D/W) in at least Very Good condition unless otherwise stated.
As stock is continually changing please email Tennis Collectables with a list of the item(s) you are interested in. We will then get back to you with details of postage costs. All prices include postage within the UK; overseas customers will be charged postage – it costs around $6 to send an average hardback book by Priority Airmail to the USA. We can accept payment by PayPal, Sterling cheques and Postal Orders, and International Money Orders in sterling.
---
WOMEN'S TOUR
The player appearing on the front cover is named.
1975 Virginia Slims Women's Tennis Guide; 108 pages £45.00 (approx $76.50) SOLD OUT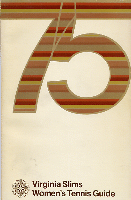 1978 Colgate Series Media Guide; 197 pages £40.00 (approx $68.00) SOLD OUT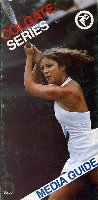 1983 WTA Media Guide; 240 pages (2" tear to upper edge of rear cover) £30.00<![if !supportLineBreakNewLine]> (approx $51.00) <![endif]> SOLD OUT<![if !supportLineBreakNewLine]>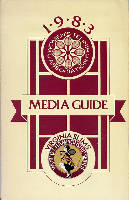 <![endif]> <![if !supportLineBreakNewLine]> <![endif]>1984-85 WTA Media Guide; 240 pages £30.00<![if !supportLineBreakNewLine]> (approx $51.00) <![endif]> SOLD OUT<![if !supportLineBreakNewLine]>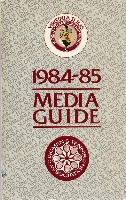 <![endif]>1987 WITA Media Guide; 360 pages £25.00 (approx $42.50)<![if !supportLineBreakNewLine]>
<![endif]> 1988 WITA Media Guide; 432 pages £25.00 (approx $42.50)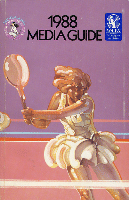 1989 WITA Media Guide; 456 pages £22.50 (approx $38.25)
1989 WITA Media Guide; 456 pages (covers creased) £17.50 (approx $29.75)
1990 WITA Media Guide; 424 pages £22.50 (approx $38.25)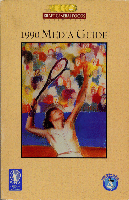 1991 WTA Media Guide; 428 pages £22.50 (approx $38.25)
1992 WTA Media Guide; 420 pages £22.50 (approx $38.25)
1993 WTA Media Guide; 424 pages £22.50 (approx $38.25)
1994 WTA Tour Media Guide; 410 pages £22.50 (approx $38.25)
1994 WTA Tour Media Guide; 410 pages (light creasing to covers) £17.50 (approx $29.75)
1995 WTA Tour Media Guide; 414 pages £22.50 (approx $38.25)
1996 Corel WTA Media Guide; 207 pages £22.50 (approx $38.25)
1997 Corel WTA Tour Player Guide; 416 pages £22.50 (approx $38.25)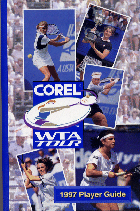 1997 Corel WTA Tour Player Guide; 416 pages (minor damage to cover at spine) £17.50 (approx $29.75)
1998 Corel WTA Tour Player Guide; 415 pages £22.50 (approx $38.25)
1999 WTA Tour Player Guide; Hingis/Sanchez/Davenport/Novotna; 416 pages £25.00 (approx $42.50)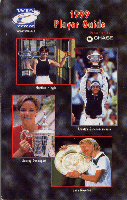 2000 WTA Tour Player Guide; 416 pages £25.00 (approx $42.50)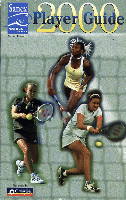 2001 Sanex WTA Tour Player Guide; Hingis/V Williams/Davenport; 479 pages £25.00 (approx $42.50)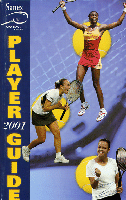 2001 Sanex WTA Tour Player Guide; Hingis/V Williams/Davenport; 479 pages. Spiral bound £25.00 (approx $42.50)
2001 Sanex WTA Tour Player Guide; Hingis/V Williams/Davenport; 479 pages. Spiral bound (small tear to corner of front cover) £22.50 (approx $38.25)
2002 Sanex WTA Tour Player Guide; Davenport/Capriati/V Williams/Hingis; 470 pages £25.00 (approx $42.50)


2003 WTA Tour Player Guide; Serena Williams; 475 pages £25.00 (approx $42.50) SOLD OUT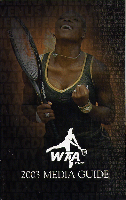 2004 WTA Tour Media Guide; Justine Henin; approx 400 pages £20.00 (approx $34.00) SOLD OUT


2005 Official Guide to Professional Tennis (WTA & ATP Player Guide); Davenport/ Federer; 800 pages £27.50 (approx $46.75)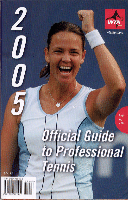 ---
MEN'S TOUR
The player appearing on the front cover is named.
WCT 74 Media Guide; 124 pages £25.00 (approx $42.50) SOLD OUT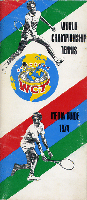 WCT 75 Media Guide; 112 pages £20.00 (approx $34.00) SOLD OUT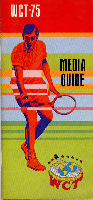 WCT 76 Media Guide; 108 pages (marks to rear cover) £20.00 (approx $34.00) SOLD OUT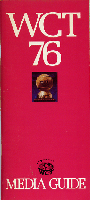 WCT 77 Media Guide; 84 pages £20.00 (approx $34.00) SOLD OUT
1980 ATP Media Guide to the 1980 Volvo Grand Prix; 327 pages £27.50 (approx $46.75) SOLD OUT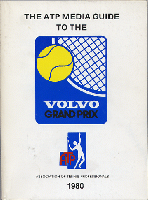 1981 ATP Media Guide to the 1981 Volvo Grand Prix; 288 pages £27.50 (approx $46.75) SOLD OUT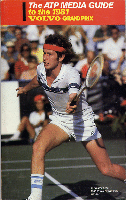 1982 WCT Media Guide; 292 pages (previous owner name written on foredge) £25.00 ($42.50) SOLD OUT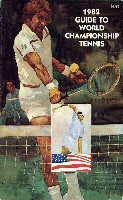 1982 ATP Media Guide to the 1982 Volvo Grand Prix; 288 pages £27.50 (approx $46.75) SOLD OUT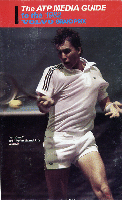 <![if !supportLineBreakNewLine]>
<![endif]> 1983 Volvo Grand Prix Media Guide; 272 pages £25.00 (approx $42.50) SOLD OUT
1983 Volvo Grand Prix; 28 pages (gives background to the Volvo circuit & tournaments but does not contain player profiles) £7.50 (approx $12.75)
Official 1985 MIPTC Yearbook; 609 pages £25.00 (approx $42.50) SOLD OUT
Official 1986 MIPTC Media Guide; 413 pages (crease to corner of rear cover) £25.00 (approx $42.50) SOLD OUT
Official 1988 MIPTC Media Guide; 555 pages (some light creasing to covers) £25.00 (approx $42.50) SOLD OUT
Official 1989 MTC Media Guide; 525 pages (some light creasing to edges of covers) £25.00 (approx $42.50) SOLD OUT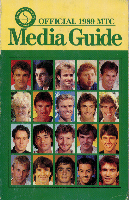 IBM/ATP Tour 1990 Player Guide; 544 pages (light crease to cover) £25.00 (approx $42.50) SOLD OUT
IBM/ATP Tour 1991 Player Guide; 608 pages (some light creasing to covers) £25.00 (approx $42.50) SOLD OUT
IBM/ATP Tour 1992 Player Guide; 576 pages £22.50 (approx $38.25)
IBM/ATP Tour 1994 Player Guide; 530 pages £22.50 (approx $38.25)


IBM/ATP Tour 1995 Player Guide; Sampras; 427 pages £22.50 (approx $38.25)
ATP Tour 1996 Player Guide; Sampras; 420 pages £22.50 (approx $38.25)
ATP Tour 1996 Player Guide; Sampras; 420 pages spiral bound with section dividers £22.50 (approx $38.25)
ATP Tour 1997 Player Guide; Sampras; 428 pages £22.50 (approx $38.25)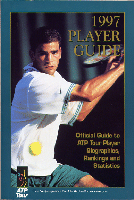 ATP Tour 1998 Player Guide; Sampras; 438 pages £25.00 (approx $42.50)
ATP Tour 1999 Player Guide; Sampras/Rios/Rafter/Corretja; 438 pages £25.00 (approx $42.50)


ATP Tour 1999 Player Guide; Sampras/Rios/Rafter/Corretja; 438 pages (previous owners name written on page edges) £20.00 (approx $34.00)
ATP Tour 2000 Media Guide; Agassi; 509 pages £25.00 (approx $42.50)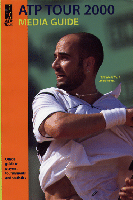 ATP Tour 2001 Player Guide; Kuerten; 511 pages £25.00 (approx $42.50)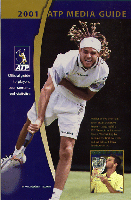 ATP Tour 2002 Player Guide; Hewitt; 427 pages £27.50 (approx $46.75)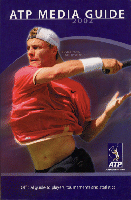 ATP Official Guide 2003; Hewitt; 430 pages £25.00 (approx $42.50)
ATP Official Guide 2003; Hewitt; 430 pages (bump to lower corner) £22.50 (approx $38.25)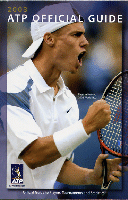 2005 Official Guide to Professional Tennis (WTA & ATP Player Guide); Davenport/ Federer; 800 pages £27.50 (approx $46.75)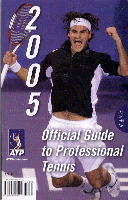 ---
ATP SENIOR TOUR
ATP Senior Tour 1992 Player Guide; 125 pages; Light pen marks on front cover £12.50 (approx $21.25)
ATP Senior Tour 1993 Player Guide; 152 pages £15.00 (approx $25.50)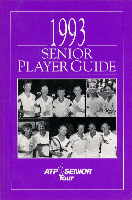 ---
FRENCH OPEN
Roland Garros Media Guides contain masses of statistical information including a win/loss summary of all individual player records at the French Open from 1968 onwards, plus lots of other player statistics, tournament history, press information etc. Roland Garros Player Guides contain results of the qualifying events, profiles of the top 16 seeds and the French players, and lists the 128 players in each of the singles draws.
The Media at Roland Garros 1989; 36 pages. Booklet detailing facilities available for journalists and photographers at Roland Garros (no player information) £5.00 (approx $8.50)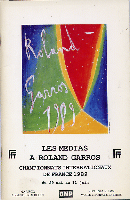 <![if !supportLineBreakNewLine]>
<![endif]> Roland Garros 1993 Media Guide; 188 pages; £22.50 (approx $38.25)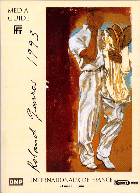 Roland Garros 1994 Media Guide; 195 pages; £22.50 (approx $38.25)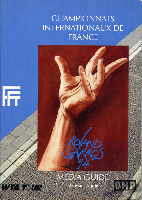 Roland Garros 1996 Media Guide; 266 pages; £22.50 (approx $38.25)
Roland Garros 1997 Media Guide; 285 pages; £25.00 (approx $42.50)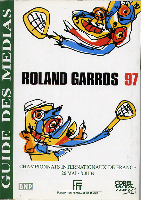 Roland Garros 1997 Player Guide; 75 pages (light edgewear at spine) £15.00 (approx $25.50)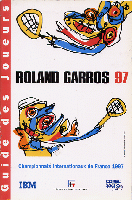 Roland Garros 1998 Media Guide; 295 pages; £25.00 (approx $42.50)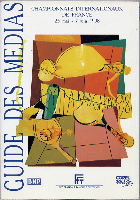 Roland Garros 1998 Player Guide; 64 pages £15.00 (approx $25.50)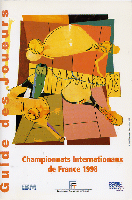 Roland Garros 1999 Media Guide; 293 pages; English Language edition £25.00 (approx $42.50)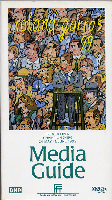 Roland Garros 2003 Media Guide; 362 pages; spiral bound with section dividers (English language edition) (corners of covers creased) £25.00 (approx $42.50)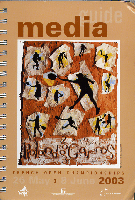 ---
WIMBLEDON
Lawn Tennis Championships Media Guide 1996; 40 pages £7.50 (approx $12.75)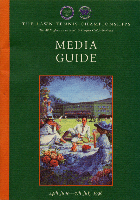 Lawn Tennis Championships Media Guide 1997; 40 pages £7.50 (approx $12.75)
Lawn Tennis Championships Media Guide 1998; 40 pages £7.50 (approx $12.75)
Lawn Tennis Championships Broadcast Centre Guide 1998; 26 pages £7.50 (approx $12.75)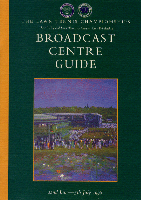 LTA Media Guide Wimbledon Championships 2002; 81 pages (covers the British players at Wimbledon with British Grand Slam stats from 1979) £12.50 (approx $21.25)
The Championships Wimbledon Media Guide 2003; 122 pages £15.00 (approx $25.50)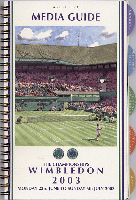 ---
US OPEN
1982 US Open Tennis Championships Media Guide; 55 pages £12.50 (approx $21.25)
1985 US Open Tennis Championships Media Guide; 67 pages (slight water staining plus edgewear to cover) £12.50 (approx $21.25)
1989 US Open Media Guide; 79 pages £12.50 (approx $21.25)
1992 US Open Media Guide; 74 pages £12.50 (approx $21.25)
1994 US Open Media Guide; 80 pages £12.50 (approx $21.25)


1999 US Open Media Guide; 191 pages £20.00 (approx $34.00)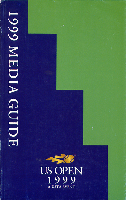 ---
FEDERATION CUP
1995 Fed Cup Media Guide; 124 pages; Includes nation by nation win/loss records, player records etc £22.50 (approx $38.25)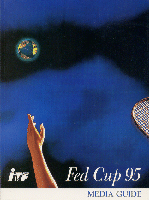 1996 Fed Cup Media Guide; 136 pages; Includes nation by nation win/loss records, player records etc £22.50 (approx $38.25)
1998 Fed Cup Media Guide; 154 pages; Includes 1998 Draw Sheets, nation by nation win/loss records, player records etc £22.50 (approx $38.25)
1999 Fed Cup Media Guide; 154 pages; Includes 1999 Draw Sheets, nation by nation win/loss records, player records etc £22.50 (approx $38.25)


2003 Fed Cup Media Guide; 147 pages; Includes 2003 Draw Sheets, 2002 results, nation by nation win/loss records, player records etc £25.00 (approx $42.50)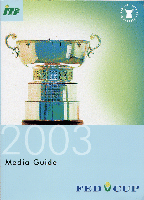 2005 Fed Cup Media Guide; 178 pages; Includes 2005 Draw Sheets, 2004 results, World Group I & II records & player biographies, nation by nation win/loss records, player records etc £25.00 (approx $42.50)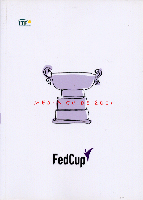 ---
DAVIS CUP
1996 Davis Cup Media Guide; 205 pages £22.50 (approx $38.25)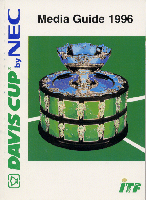 1999 Davis Cup Media Guide; 224 pages £22.50 (approx $38.25)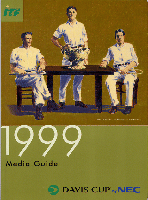 2000 Davis Cup Media Guide; 230 pages £22.50 (approx $38.25)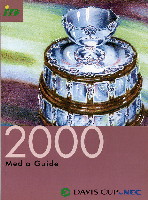 2001 Davis Cup Media Guide; 227 pages (creasing to front cover, notes written on 3 pages) £17.50 (approx $29.75)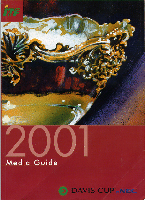 2005 Davis Cup Media Guide; 247 pages £22.50 (approx $38.25)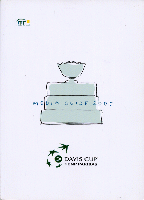 ---
WORLD TEAM TENNIS
World Team Tennis, the idea of Billie Jean & Larry King, started in 1974 in Philadelphia. Teams are based in major US cities and play each other in a league basis. The media guides give details of the teams and their players.
1978 Los Angeles Strings Media Information; 29 pages. (Players included Evert, Nastase, Amritraj brothers) £10.00 (approx $17.00)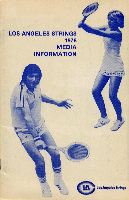 1991 World Team Tennis Media Guide; 41 pages (Martina Navratilova & Jimmy Connors on cover) £15.00 (approx $25.50)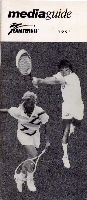 ---
OTHER MEDIA GUIDES
ATP MASTERS FINALS MEDIA GUIDES
Large format softcover books which give results information for the leading players plus detailed results of the previous Masters events.
IBM ATP Tour World Championship, Frankfurt, November 1993; 52 pages (profiles with colour photo of the players Becker, Bruguera, Chang, Courier, Edberg, Ivanisevic, Medvedev, Sampras, Stich) Winner Stich £15.00 (approx $25.50)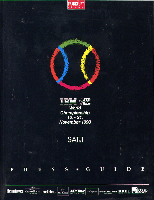 ATP MASTERS SERIES MEDIA GUIDES
Softcover media guides for the Masters Series tournament held in November annually at Paris, Bercy. They contain tournament history with complete draw sheets for each year, tournament organisation, and a comprehensive records and statistics section.
1998 13th Open de Paris, Bercy November 1998 Media Guide; 236 pages (text in both English and French) £20.00 (approx $34.00)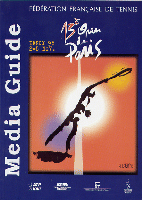 2000 Tennis Masters Series Paris, Bercy November 2000 Media Guide; 260 pages (text in both English and French) £20.00 (approx $34.00)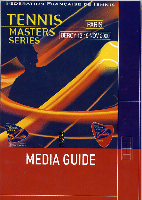 2001 Tennis Masters Series Paris, Bercy November 2001 Media Guide; 134 pages (spiral bound, text in French) £20.00 (approx $34.00)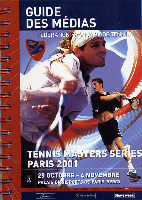 LTA MEDIA GUIDES
LTA Media Guide Wimbledon Championships 2002; 81 pages (covers the British players at Wimbledon with British Grand Slam stats from 1979) £12.50 (approx $21.25)
LTA Media Guide 2003; approx 50 pages (covers British Grass Court Tournaments, facts and figures about British tennis, British players Grand Slam stats from 1979 but does not contain individual player profiles) £7.50 (approx $12.75)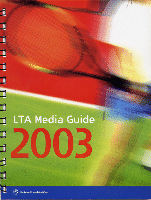 ---