New Items:
1. New Books
2. New Collectables
3. New Tournament Programmes
4. New Tennis Magazines
5. New Posters & Photographs
6. Wimbledon Towels

---
New Tournament Programmes
---
This section contains newly acquired tournament programmes and allows customers to quickly find our new stock. All items listed here are also listed in the appropriate section within the main Tournament Programmes category.
All items are in very good condition unless otherwise stated.
As stock is continually changing please email Tennis Collectables with a list of the item(s) you are interested in, not forgetting to tell us which country you are in. We will then get back to you with details of postage costs. All prices include postage within the UK; overseas customers will be charged postage – it costs around $6 to send an average hardback book by Priority Airmail to the USA. We can accept payment by Credit Card (Visa, Mastercard and American Express), PayPal, Sterling cheques and Postal Orders, Switch/Maestro, and International Money Orders in sterling.
---
2. CUP PROGRAMMES
DAVIS CUP PROGRAMMES
1969 European Zone A Semifinal GB v Germany, Edgbaston June 1969 Teams included Cox, Stilwell, Battrick, Curtis, Bungert, Kuhnke. 12 pages. £5.00 (approx $8.50)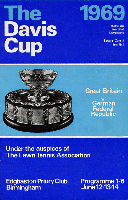 1969 Inter Zone Final GB v Rumania, Wimbledon August 1969 Teams included Cox, Stilwell, Battrick, Curtis, Nastase, Tiriac. 12 pages. £5.00 (approx $8.50)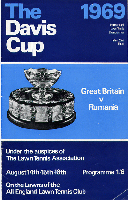 1975 World Final Sweden v Czechoslovakia, Stockholm December 1975 (in Swedish) Teams included Borg, Bengtson, Hrebec, Kodes. 20 pages. £20.00 (approx $34.00)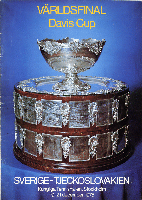 2000 World Group Semi Final July 2000 Spain v USA, Santander July 2000 Profiles of both teams – Corretja, Costa, Ferrero, Balcells, Agassi, Sampras, Martin, Gambill. 72 pages. £15.00 (approx $25.50)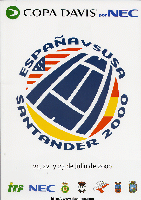 2003 World Group Final Australia v Spain, Melbourne, November 2003 Profiles of both teams - Arthurs, Philippoussis, Reid, Hewitt, Woodbridge, Ferrero, Corretja, Costa, Lopez, Moya. Lleyton Hewitt on front cover. 90 pages. £15.00 (approx $25.50)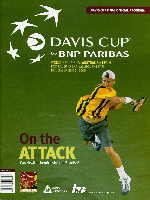 ---
4. EUROPEAN PROGRAMMES
FRENCH PROGRAMMES
Open Gaz De France, Paris, February 2004 Profiles of Kim Clijsters, Serena Williams, Amelie Mauresmo, Elena Dementieva, Daniela Hantuchova, Mary Pierce, Sandrine Testud (Winner Kim Clijsters) £15.00 (approx $25.50)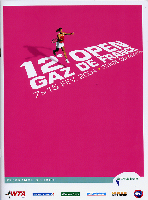 ---
6. AUSTRALIAN PROGRAMMES
AUSTRALIAN PROGRAMMES
1999 Australian Open, January 1999 Features on Pat Rafter, Martina Hingis, Mark Philippoussis, packed with photos plus profiles on leading players (Winners Kafelnikov/Hingis) £20.00 (approx $34.00)

2004 Australian Open, January 2004 218 pages packed with photos and profiles plus features on Andre Agassi, Serena Williams, Lleyton Hewitt & Mark Philippoussis, Paradorn Srichaphan, and Martina Navratilova. £22.50 (approx $38.25)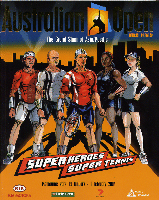 ---