New Items:
1. New Books
2. New Collectables
3. New Tournament Programmes
4. New Tennis Magazines
5. New Posters & Photographs
6. Wimbledon Towels

---
New Collectables
---
This section contains newly acquired collectable items and allows customers to quickly find our new stock. All items listed here are also listed in the appropriate section within the main Collectables category. Items in this section are listed by category - click on the category heading to go to the full listing of the items in that category.
The items listed in this section have been divided into 19 broad categories. All items are guaranteed genuine. All items are in very good condition unless otherwise stated.
As stock is continually changing please email Tennis Collectables with a list of the item(s) you are interested in and we will then get back to you with details of postage costs. All prices include postage within the UK; overseas customers will be charged additional postage. We can accept payment by Credit Card (Visa, Mastercard and American Express), PayPal, Sterling cheques and Postal Orders, Switch/Maestro, and International Money Orders in sterling.
---
---
---
---
---
---
19. YEARBOOKS
WIMBLEDON 82 16 pages. Cover McEnroe/Evert/Shriver/Connors. Unofficial guide to Wimbledon with profiles of the leading players with many colour pictures. £10.00 (approx $17.00)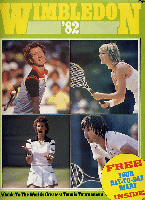 WIMBLEDON 89 COMPLETE TV VIEWERS GUIDE 36 pages. Cover Sabatini. Unofficial guide to Wimbledon with profiles of the top players. Full page colour pictures of Lendl, Edberg, Shriver and Sabatini with pull-out poster of Becker and Graf (small stain to centre of front cover also affecting first 6 pages) £7.50 (approx $12.75)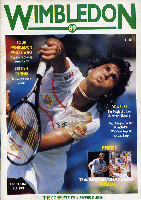 WIMBLEDON 91 THE COMPLETE TV VIEWERS GUIDE An unofficial guide to Wimbledon. Cover Edberg. Features on Seles and Borg. Full page colour pictures of Sabatini, Becker, Lendl, Edberg, Navratilova, Graf, Seles, Borg, Bates. (Double-sided colour poster of Agassi and Seles missing) £7.50 (approx $12.75)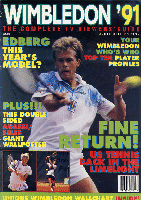 WIMBLEDON 92 COMPLETE TV VIEWERS GUIDE 36 pages. Cover Agassi. An unofficial guide to Wimbledon. Feature on Andre Agassi. Full page colour pictures of Andre Agassi, Gabriela Sabatini, Stefan Edberg, Boris Becker, Steffi Graf, Martina Navratilova, Jennifer Capriati.(Double-sided colour poster of Andre Agassi and Gabriela Sabatini missing) £7.50 (approx $112.75)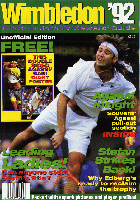 WIMBLEDON 93 TOP GUIDE TO TV ACTION 36 pages. Cover Agassi. Unofficial guide to Wimbledon. Features on Andre Agassi and Steffi Graf. Full page colour pictures of Andre Agassi, Boris Becker, Stefan Edberg, Gabriela Sabatini, Martina Navratilova, Steffi Graf, Jennifer Capriati. (Double-sided colour poster of Agassi and Sabatini missing) £7.50 (approx $12.75)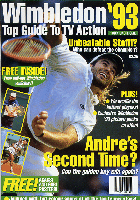 WIMBLEDON 94 SUPERSTARS 36 pages. Cover Agassi. Unofficial guide to Wimbledon. Profiles of all the top contenders with full page colour pictures of Stefan Edberg, Steffi Graf, Martina Navratilova, Gabriela Sabatini, & Pete Sampras and a 12 page pullout section on Andre Agassi. £10.00 (approx $17.00)