---
Wimbledon Programmes
1948 to 1976
---
Wimbledon is unique among the Grand Slam tournaments in that the draw sheet and results-to-date are contained within the official programme and an updated programme is issued for each day of the tournament. The results to date are printed in the draw sheets and the daily order of play is printed in the programme. Wimbledon Final Programmes containing the complete results are issued after the tournament is completed. For histories of Wimbledon see section Wimbledon Books in the Books section.
As stock is continually changing please email Tennis Collectables with a list of the item(s) you are interested in and we will then get back to you with details of postage costs. All prices include postage within the UK; overseas customers will be charged additional postage. We can accept payment by PayPal, Sterling cheques and Postal Orders, and International Money Orders in sterling.
---
Wimbledon Daily Programmes 1948-1976
These programmes contain between 32 and 48 pages. The following abbreviations are used in the descriptions: R - results written in by hand; F - has been folded. The player appearing on the front cover is also named (each daily programme features a different black and white photograph on the front cover, usually of a player). Lots of interesting tennis equipment and tennis clothing adverts. All are in very good condition unless otherwise stated.

02 July 1949 (Day 12 Ladies Final); Aerial View of Wimbledon; Covers split and worn/torn at spine; staples rusty £7.50 (approx $12.75) SOLD OUT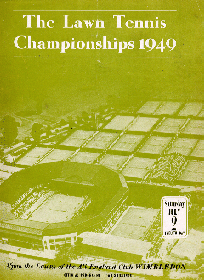 28 June 1950 (Day 3); R; Tony Mottram; Centre pages loose £7.50 (approx $12.75)

01 July 1950 (Day 6); R, F; Margaret du Pont; Covers rubbed at spine; £10.00 (approx $17.00)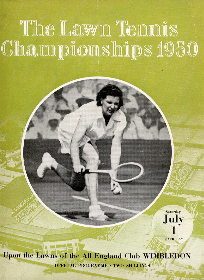 06 July 1951 (Day 11 Mens Final); R; Art Larsen; Some rust to staples; £12.50 (approx $21.25)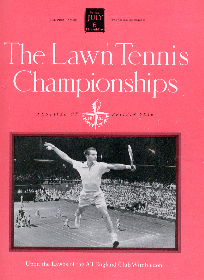 27 June 1952 (Day 5); Frank Sedgman; Some creasing to front cover; £10.00 (approx $17.00)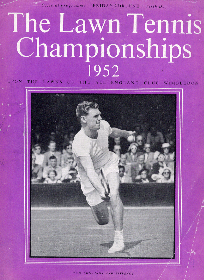 28 June 1952 (Day 6); Shirley Fry; Light wear/marking to covers; £10.00 (approx $17.00)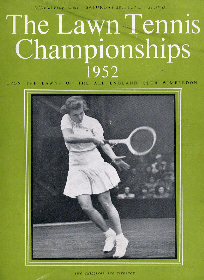 05 July 1952 (Day 12 Ladies Final); Ken McGregor; £12.50 (approx $21.25)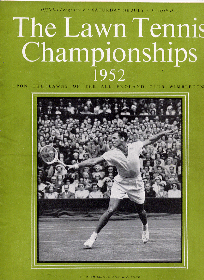 27 June 1953 (Day 6); R; Sven Davidson; £10.00 (approx $17.00)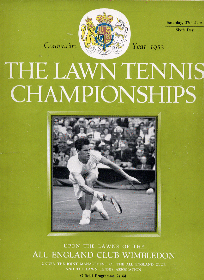 03 July 1954 (Day 12 Ladies Final); R; Aerial View of Wimbledon; Minor mark to front cover; £12.50 (approx $21.25) SOLD OUT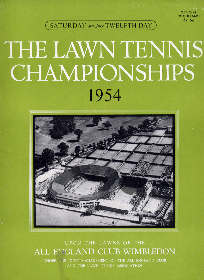 02 July 1955 (Day 12 Ladies Final); R; Members entrance;£12.50 (approx $21.25)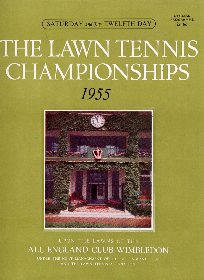 07 July 1956 (Day 12 Ladies Final); R; Front Entrance; Covers lightly edgeworn £12.50 (approx $21.25)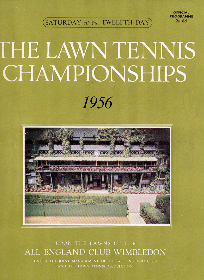 06 July 1957 (Day 12 Ladies Final); R; Outside courts; Light cover wear £12.50 (approx $21.25)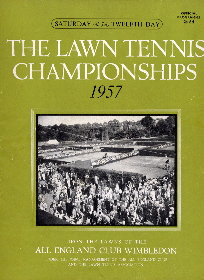 05 July 1958 (Day 12 Ladies Final); R; View of grounds; £12.50 (approx $21.25)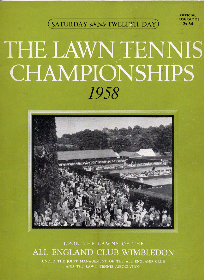 20 June 1960 (Day 1); Barry MacKay; Cover split at spine £7.50 (approx $12.75) SOLD OUT

08 July 1961 (Day 12 Ladies Final); R, F; Aerial View of Wimbledon; Light cover wear at spine £12.50 (approx $21.25) SOLD OUT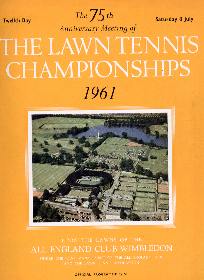 07 July 1962 (Day 12 Ladies Final); R, F; Centre Court; Light cover wear at spine £12.50 (approx $21.25)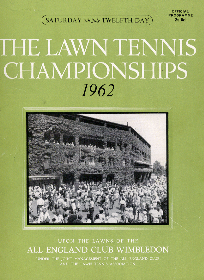 27 June 1964 (Day 6); R; Billie Jean King £7.50 (approx $12.75)
04 July 1964 (Day 12 Ladies Final); R; Aerial View of Wimbledon; £12.50 (approx $21.25)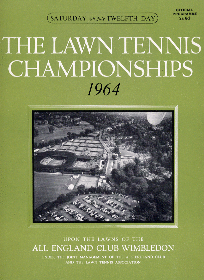 03 July 1965 (Day 12 Ladies Final); R, F; Maria Bueno; £12.50 (approx $21.25)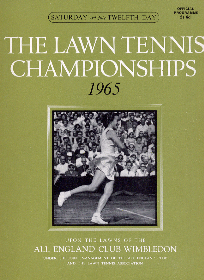 25 June 1966 (Day 6); R; Billie Jean King £7.50 (approx $12.75)
<![if !supportLineBreakNewLine]>
<![endif]> 02 July 1966 (Day 12 Ladies Final); R, F; Outside courts; £12.50 (approx $21.25)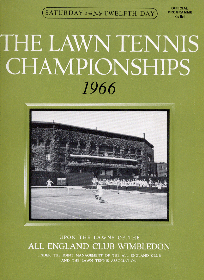 08 July 1967 (Day 12 Ladies Final); R, F; Centre Court; £12.50 (approx $21.25)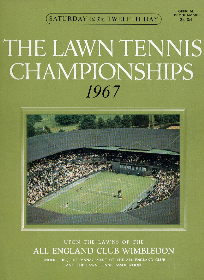 24 June 1968 (Day 1); R; Mark Cox £7.50 (approx $12.75)

24 June 1968 (Day 1); R; Mark Cox; Water stain/wrinkle to top corner and creases to lower corner front cover £5.00 (approx $8.50)

29 June 1968 (Day 6); R, F; Margaret Court £7.50 (approx $12.75)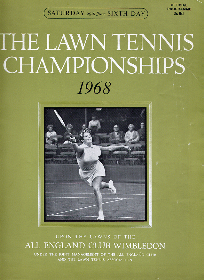 22 June 1970 (Day 1); R; Ann Jones £7.50 (approx $12.75)

27 June 1970 (Day 6); R, F; Margaret Court £7.50 (approx $12.75) SOLD OUT

04 July 1970 (Day 12 Mens Final); R; Maureen Connolly; £12.50 (approx $21.25)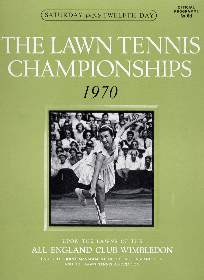 30 June 1973 (Day 6); F; Billie Jean King; Light creasing to covers £7.50 (approx $12.75)

26 June 1974 (Day 3); R; Jack Crawford; Cover faded at edges £7.50 (approx $12.75)

29 June 1974 (Day 6); Maureen Connolly £7.50 (approx $12.75)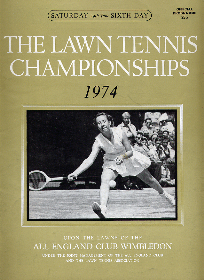 01 July 1974 (Day 7); Jean Borotra; Cover splitting at spine £7.50 (approx $12.75)

04 July 1974 (Day 10); Frank Sedgman & Ken McGregor; £7.50 (approx $12.75)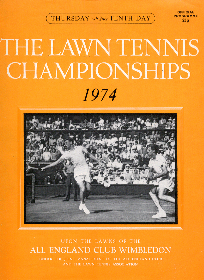 26 June 1975 (Day 4); Ken Rosewall £7.50 (approx $12.75)

28 June 1975 (Day 6); Billie Jean King £7.50 (approx $12.75)

28 June 1975 (Day 6); R; Billie Jean King £7.50 (approx $12.75)

28 June 1975 (Day 6); R, F; Billie Jean King; Light wear to covers £7.50 (approx $12.75)

02 July 1975 (Day 9); R,F; Evonne Goolagong; Light creasing to covers £7.50 (approx $12.75)



28 June 1976 (Day 7); Virginia Wade; Light wear to covers £7.50 (approx $12.75)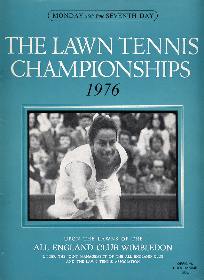 ---