---
Pat Rafter
---
This section contains a selection of posters and photographs of Pat Rafter. All items are in very good condition unless otherwise stated.
As stock is continually changing please email Tennis Collectables with a list of the item(s) you are interested in and we will then get back to you with details of postage costs. All prices include postage within the UK; overseas customers will be charged additional postage. We can accept payment by Credit Card (Visa, Mastercard and American Express), PayPal, Sterling cheques and Postal Orders, Switch/Maestro, and International Money Orders in sterling.
---
Posters
<![if !supportLineBreakNewLine]> All posters are in colour and unfolded unless otherwise stated. A description of the picture is given, together with approximate size, publisher (where known), estimated date of publication and price. Scans give an indication of the picture - most do not show the complete image as they are too large to scan fully. <![endif]>(© TennisCollectables.com does NOT appear on the actual items).<![if !supportLineBreakNewLine]><![endif]>

2. Waist length, serving. 40x54 cms. Tennis Australia magazine 1997. Folded. £4.50 (approx $7.65)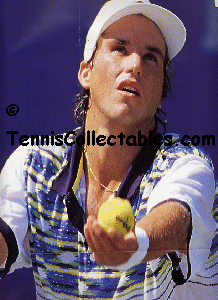 3. Waist length off court portrait. 42x28 cms. International Tennis magazine 1998. Folded. £4.00 (approx $6.80)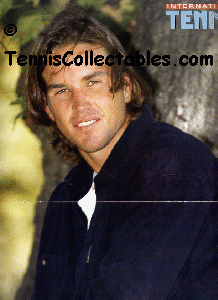 4. Poster with 2 separate pictures of Pat (playing a backhand, arms raised in victory) with caption 'Patrick Rafter, US Open Champion 1997'. 48x66 cms. Prince 1997. Very minor wear to edges. £15.00 in tube (approx $25.50) Scan shows small part of poster only.




6. Waist length profile shot with flying hair dramatically back-lit. 59x42 cms. Wimbledon Museum 1999. £10.00 in tube (approx $17.00)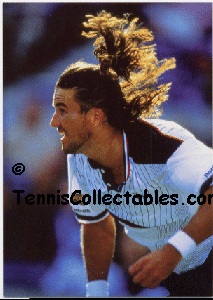 7. Waist length with clenched fist. 53x41 cms. Tennis Australia magazine 1994. Folded. £5.00 (approx $8.50)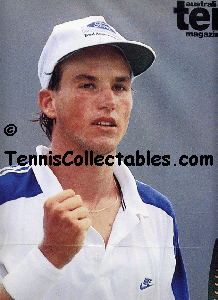 8. Full length, end of serve, with long hair tied up. 42x28 cms. Bravo Sport magazine ?1999. Folded £4.00 (approx $6.80)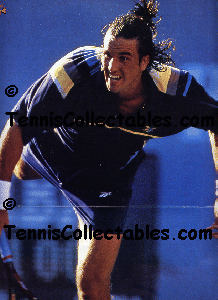 9. Knee length preparing to serve wearing yellow shirt at Lipton. 42x29 cms. Wimbledon Museum ?2001. £10.00 in tube (approx $17.00) SOLD OUT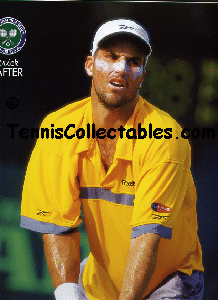 10. Full length playing low backhand volley at US Open 1997. Poster produced in Australia to publicise the book Learn To Play Tennis With Patrick Rafter; scan shows the image used on the poster: the actual poster has book's logo in lower right corner and Pat's facsimile autograph is down the right edge rather than top left corner. 66x48 cms. £15.00 in tube (approx $25.50)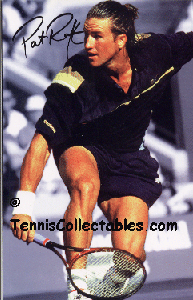 ---