---
Miscellaneous Items
---
A selection of miscellaneous collectable items.
As stock is continually changing please email Tennis Collectables with a list of the item(s) you are interested in and we will then get back to you with details of postage costs. All prices include postage within the UK; overseas customers will be charged additional postage. We can accept payment by Credit Card (Visa, Mastercard and American Express), PayPal, Sterling cheques and Postal Orders, Switch/Maestro, and International Money Orders in sterling.
---
Andre Agassi White baseball style cap with long blonde pony tail at rear and 'Andre Agassi' printed in large blue letters on front. Lightly soiled £5.00 (approx $8.50)
---
Bjorn Borg Bjorn Borg on front cover of 3 copies of Swedish teenage comic magazine Buster from 1976 and 1978. Internally all contain features on Bjorn Borg £12.50 (approx $21.25)
---
Charlesworth and Chisworth Tennis Club Programme card celebrating the official opening of the Charlesworth & Chisworth Tennis Club (Derbyshire) on 31 July 1920. The card gives the Programme for a Whist drive and Tea and a Dance in the Liberal Hall. 3.5" x 4.5". Nice clean condition £4.00 (approx $6.80) SOLD OUT!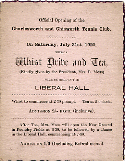 ---
Christie's Auction Catalogues Illustrated catalogues for Christie's annual auctions held in London in June:
Tennis Auction 16 June 1995 (160 lots) with prices realised sheet £7.50 (approx $12.75)
Tennis & Traditional Sports 21 June 1996 (152 tennis lots) £7.50 (approx $12.75)
Tennis including The Fred Perry Collection 20 June 1997 (299 lots) £15.00 (approx $25.50)
Traditional Sports 19 June 1998 (122 tennis lots) £7.50 (approx $12.75)
Tennis including The Helen Wills Collection 25 June 1999 (239 lots) £15.00 (approx $25.50)
Tennis including The Helen Wills Collection 25 June 1999 (239 lots) (vertical fold) £10.00 (approx $17.00)
---
Cleave's Tennis Racket Catalogue 6 page brochure describing with pictures 16 of the tennis rackets manufactured by J H Cleave & Son of Bradford. Also includes sports bag, presses, gut and repairs. Undated but would appear to be 1930s. Lightly folded £10.00 (approx $17.00)
---
Dunlop Maxply Bookmark A 6.5" x 2" card bookmark advertising Dunlop Maxply racket on one side and Dunlop Fort tennis ball on other with caption 'For truer flight and longer life'. Green, white & black with original string. Photo of racket & ball. Not dated but 1940s £5.00 (approx $8.50)

Dunlop Maxply Bookmark A 6.5" x 2" card bookmark advertising Dunlop Maxply racket on one side and Dunlop Fort tennis ball on other with caption 'Deeper nap cover gives more games of good play'. Green, white & black with original string. Photo of racket & ball. Not dated but 1940s £5.00 (approx $8.50)





Dunlop Maxply Bookmark A 6.5" x 2" card bookmark advertising Dunlop Maxply racket on one side and Dunlop tennis ball on other with caption 'You cant beat Dunlop'. Green, white & black with original string. Photo of racket & ball. Not dated but 1940s £5.00 (approx $8.50)
---
Evonne Goolagong Tennis Tips With Evonne Goolagong. An American 7" record in which Evonne offers her own personalised tennis tips covering the forehand, backhand, service and volley. Narrated by Bud Collins. In picture sleeve £12.50 (approx $21.25)
---
Greetings Cards: All unused, blank for your own message and with original envelope unless otherwise stated
Ayres - Colour card featuring 4 sporting scenes (tennis, rugby, cricket, lacrosse) advertising F H Ayres, manufacturers of indoor and outdoor games and sports. Modern reproduction of an early advertisement £2.50 (approx $4.25)
Brylcreem - Colour card featuring picture of male player volleying at net with caption 'Net Results - Brilliance'. Modern reproduction of a ?1930s Brylcreem advertisement £2.50 (approx $4.25)
Jennifer Capriati Birthday Card - colour card featuring picture of Jennifer playing backhand with caption 'Have Fun Now You Are 10'. Birthday greeting printed internally. Not dated but early 1990s £5.00 (approx $8.50)
Martina Navratilova Birthday Card - colour card featuring picture of Martina playing forehand volley with caption 'Have Fun Now You Are 10'. Birthday greeting printed internally. Not dated but early 1990s £5.00 (approx $8.50)
Martina Hingis A colour 8" x 6" greetings card featuring Martina Hingis holding Australian Open trophy in 1997 £2.50 (approx $4.25)
Teddy Bear - Pack of nine 7 x 5 inch greetings cards featuring a 3.5 inch square painting of a Teddy Bear wearing a neck-tie and surrounded by tennis racket and balls. The inside of the card is blank making it ideal for all occasions £11.00 (approx $18.70)
---
Hot Hits 12 12" record issued by Music For Pleasure in 1972 which features on the cover bikini-clad models on a grass tennis court (scan shows part of front of sleeve) £12.50 (approx 21.25)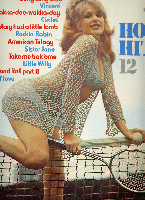 ---
Jewellery:
A 2.25" modern gilt brooch in the form of a tennis racket. An imitation pearl fixed to strings represents ball. Reverse has full-length pin with safety fastening £5.00 (approx $8.50)
A 2" ?1960's brooch in the form of a tennis racket. Predominantly cream in colour but with brown, red and black markings that are a little rubbed. Reverse has 1" pin £5.00 (approx $8.50)
---
Anna Kournikova Copy of UK PlayStation magazine for August 1999 which contains a 1 page review of Anna Kournikova's Smash Tennis game. There is a demo of the game on the attached CD which has a colour picture of Anna on the cover £5.00 (approx $8.50)
---
Amelie Mauresmo An 8" diameter mouse mat for the 10th Open Gaz de France tournament 2002 featuring action shot of Amelie Mauresmo with facsimile autograph £5.00 (approx $8.50)
---
Medal 1 inch diameter silver hallmarked (Birmingham 1937) medallion with gilt crossed rackets emblem on front. Reverse engraved 'Evening Despatch Tennis Tournament 1938 Semi-Finalist'. In excellent condition in original presentation box £30.00 (approx $51.00)
---
Martina Navratilova Small laminated card featuring action b&w photo of Martina on front and the New Jersey Stars Team Tennis home schedule for 1994 on reverse £1.50 (approx $2.55)

---
Penknife A brass-cased penknife with embossed tennis player playing backhand with volleyball player on other side. Has 6 blades that are all well used with the corkscrew missing 3/4" of its worm. Not dated but judging from long-trousered player, around 1930s. Largest blade marked Coursolle £25.00 (approx $42.50)
---
Pencil Sharpener Standard pencil sharpener which fits into shavings holder which has a crossed rackets and balls logo £1.50 (approx $2.55)
---
Photograph Frame:
8" x 6" wooden photo frame with 2 miniature tennis rackets and 3 tennis balls attached to edge of frame. Made in England; in mint condition. Picture size is approx 7" x 5" £7.50 (approx $12.75)
---
PRESS PACK FOR 1973 VIRGINIA SLIMS CIRCUIT An official press information folder for the 1973 Virginia Slims Women's Professional Tennis circuit. Folder contains 4 page history of VS Women's Circuit, 4 page 1972 Final Prize Money listing, plus 2 or 3 page profiles with separate b&w photographs of each of the following 15 players – Rosemary Casals, Margaret Court, Francoise Durr, Helen Gourlay, Nancy Gunter, Kerry Harris, Julie Heldman, Lesley Hunt, Billie Jean King, Karen Krantzcke, Kerry Melville, Wendy Overton, Betty Stove, Pam Teeguarden and Valerie Zeenfuss. Also included is a 4.5" diameter unused sticker featuring the Virginia Slims logo/emblem. A scarce piece of tennis memorabilia from the early days of the womens professional era. Folder worn at edges and lightly marked; photo of Nancy Gunter trimmed at 1 edge £50.00 (approx $85.00)
---
PRINTERS BLOCK 1.3" x 0.8" printers wooden block with metal ink stamp of female player playing forehand. Not dated but probably 1950s. £10.00 (approx $17.00)
---
Prints. A selection of tennis related prints supplied in frames or card mounts where stated; otherwise unfolded in tube.
Babar Prints. Reproduction set of 8 prints by Jean de Brunhoff originally published in the classic children's books. Includes tennis scene of Babar and Celeste playing tennis with Mr & Mrs Pilophage from the book Babar The King. Prints measure approx 14" x 11". All in original folder. Published 1991 by Conran Octopus £12.50 (approx $21.25)
Dear Little Girl. A 14" x 11" reproduction of a tennis cartoon which shows 2 drawings of a tennis couple and how the girl changes from a dear little girl to a whirling dervish when she takes to the tennis court. Printed on cream paper and hand coloured with water colour paints £10.00 (approx $17.00)
R.F. Doherty. A 12" x 8" drawing by Charles Ambrose issued with Lawn Tennis & Badminton Magazine in May 1906. Shows full length portrait of R F Doherty with racket. Light vertical fold and some light wear to edges £10.00 (approx $17.00)
Dunlop Motoring Posters. Reproduction set of 4 classic prints originally published as adverts for Dunlop in the 1920s. All feature a sporting scene with a car with a Dunlop tyre in the picture. Includes tennis scene of a couple in tennis whites with Dunlop racket and tennis balls talking to another couple in a car. The other 3 prints feature polo, fishing, and horse racing. Images measure approx 10" x 8". All in original folder with one mount measuring approx 14" x 10". Published 1992 £12.50 (approx $21.25)
Long-skirt Year. A 11" x 14" reproduction of a tennis cartoon which shows dominant woman at net at Wimbledon during a ladies doubles match. Printed on cream paper and hand coloured with water colour paints £10.00 (approx $17.00)
Martina Navratilova Framed Print. A print by LeRoy Neiman showing Martina in action in brightly coloured 'impressionist' style. In the margin is a reproduction of Martina's signature. The print is professionally framed in black wood and glazed. The overall size is approximately 29 x 16 inches £50.00 (approx $85.00)
Martina Navratilova Limited Edition Print. Number 63 of 1000 from an airbrushed watercolour and gouache original by Robert T Everitt. Dated 1 June 1990 it features Martina playing a backhand and is 29.5 x 21 cm £15.00 (approx $25.50)
Martina Navratilova Limited Edition Fine Art Poster. These A2 sized prints produced in June 1994, titled 7 July 1990 are by Denise Dean and commemorate Martina's last Wimbledon singles win. They show Martina holding the Wimbledon trophy. Limited to 400 copies. Numbered and signed by artist. Supplied in poster tube £21.00 (approx $35.70)
The Intruder. A 13" x 11" reproduction of 1923 tennis cartoon which shows 4 drawings of a dominant young lady ordering her male partner around the court. Printed on cream paper and hand coloured with water colour paints £10.00 (approx $17.00)
Tennis Stars. A 14" x 11" reproduction of a tennis cartoon which shows 10 drawings of the numerous occasions when 2 tennis champions shake hands with each other. Printed on cream paper and hand coloured with water colour paints £10.00 (approx $17.00)
Louis Wain. An over mounted modern colour reproduction of a Louis Wain illustration showing 2 cats – female cat is holding a tennis racket and reading book 'One To Love' with male cat watching. Print size approx 11" x 8"; overall size 16" x 13" £12.50 (approx $21.25)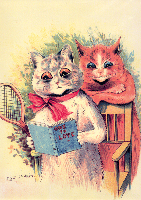 ---
Queen's Club Emergency Rainwear A red plastic rain cape for the Stella Artois tournament at Queens Club. Cape has Stella Artois logo with crossed rackets in white and is in original packaging £3.50 (approx $5.95)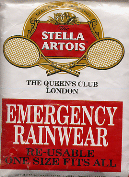 ---
Pat Rafter Lipton Beaker A 6" tall white thin plastic drinks beaker issued at The Lipton Tournament with black and white printed transfer picture of Pat Rafter and Lipton logos £3.50 (approx $5.95)
---
Roland Garros La Griffe 1994 A 32 page catalogue of merchandise sold under the Roland Garros logo £3.50 (approx $5.95)

Roland Garros La Griffe 1996 A 36 page catalogue of merchandise sold under the Roland Garros logo. Contains article on Marcel Bernard £3.50 (approx $5.95)
---
Scoring Sheets Hardback book 8" x 5" containing 40 scoring sheets. Each sheet is perforated for tearing out. Book complete and unused. Undated ?1960s £3.50 (approx $5.95)
---
Summer Sports Catalogue 1939 28 page booklet of indoor and outdoor sports equipment published by William Lindop of Manchester. Includes 8 pages of tennis items - rackets, balls, posts, nets, holdalls, presses and eye shades!. Illustrated with photographs. Also includes details of golf, cricket, badminton, croquet and fishing equipment. Pages edges very lightly marked and corner of cover/first page lightly creased £17.50 (approx $29.75)
---
Tazo 1.5" diameter plastic tazo issued by Walkers crisps in 1997 which shows colour picture of Bugs Bunny wielding tennis racket £1.50 (approx $2.55)
---
Tennis Racket Cigarette Lighter Cigarette lighter in the shape of a tennis racket and ball. In cream and brown plastic with 'Smash' logo. Some discolouration and empty £3.00 (approx $5.10)
---
Theatre Programme 1983 programme for Joking Apart by Alan Ayckbourn at Crucible Theatre September 1983. Front cover of programme has drawing of couple playing tennis and play is set around tennis £3.00 (approx $5.10)
---
Trophies The following have been awarded to tournament winners. Unless otherwise stated all are tarnished
4" high (?EPNS) vase shaped cup with decorative handles and embossed with cross-rackets insignia. Engraved to E Goodyear in 1934 by HPTC (?Horton Park Tennis Club). Base slightly misshapen £10.00 (approx $17.00)
4.5" high (?EPNS) vase shaped cup with decorative handles. Engraved 'Foxcroft Tennis Doubles 1942 Won By'. On 1.5" high black ?Bakelite base. American £17.50 (approx $29.75)
5" high shield (?bakelite) with decorative shiny chrome face with enamelled rackets and court insert. Engraved 'B.T.C. Mens Singles Winner 1961' £5.00 (approx $8.50)
---
US Open 1998 Passport 28 page booklet in the style of a passport that is a guide to the US Open. Gives map of National Tennis Center, USTA information, television broadcast schedules. Includes full page colour photo of Martina Hingis £1.50 (approx $2.55)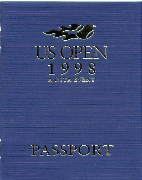 ---
World Team Tennis 1994 Package containing Super Tiebreaker (the official magazine/programme), 10" x 8" colour team photo of the New Jersey Stars featuring Martina Navratilova, laminated b&w action picture of Martina with New Jersey match schedule on reverse, assortment of results sheets and a New Jersey Stars fan £12.50 (approx $21.25)
---